For the fifth time since 2012, the name Steve Blackburn Jr. will appear on the Bill Barbour Cup.
Blackburn paired with Jimmy Wild to shoot a 6-under 65 in the 6/6/6 format CMG season-finale at Sleepy Hollow on Saturday.
This was Wild's second Barbour Cup victory.
Brian Juguilon and John Svadba finished one shot behind.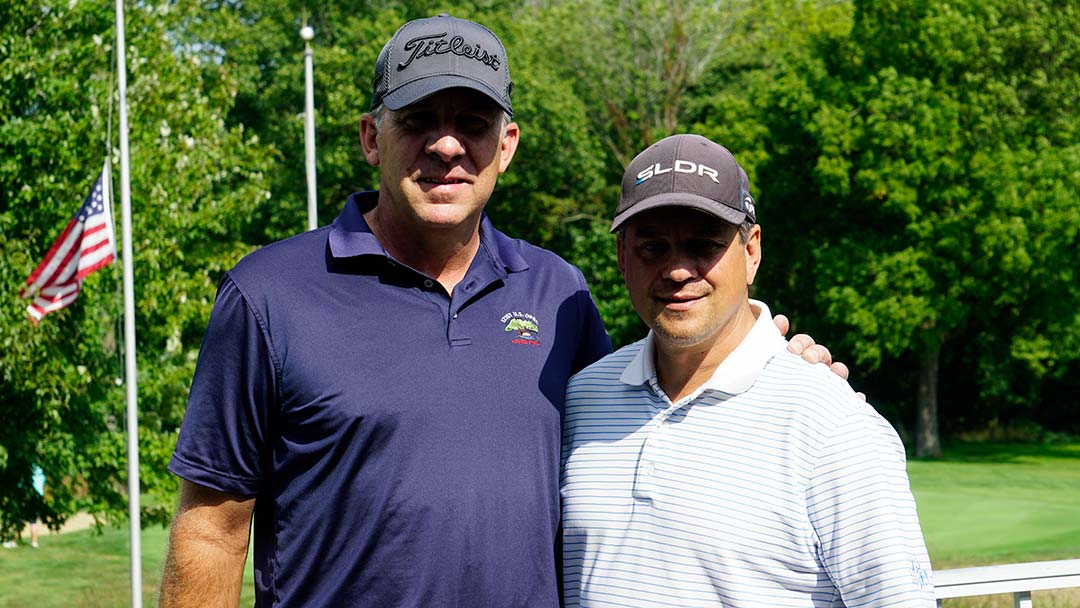 Blackburn and Wild had decent first six holes in the scramble format shooting 3-under par. But it was their 4-under par middle six holes of better-ball that helped them outdistance the field.
Thank you to all of the players who competed today, and thank you to Chad Lewanski and his crew for the great course conditions and set-up.
INSTRUCTIONS: Click any thumbnail to launch the photo viewer. Hover your cursor over a photo in the viewer to display arrows to move between photos. Click (x) to exit the current batch after viewing. Then use the navigation below the thumbnails to see additional photos in this gallery.
FINAL RESULTS: Cleveland Metroparks Golf
2021 Bill Barbour Cup
Sleepy Hollow Golf Course, Brecksville
Saturday, Sept 11, 2021
FORMAT: six holes each of scramble / better ball / modified alternate shot
Jimmy Wild + Steve Blackburn Jr. 65 | -3 -4 +1 $800.00
Brian Juguilon + John Svadba 66 | -4 +1 -2 $480.00
Nick Anagnost + David Sotka 67 | -5 +1 E $320.00
Adam Frey + David Snacki 68 | -3 -1 +1 $245.00
Matt Frey + Shawn Kloetzer 68 | -3 E E $245.00
Ryan Stefanski + Tyler Watkins 69 | -3 +1 E $70.00
Allen Freeman + Justin Trzebuckowski 69 | -4 +1 +1 $70.00
Rick Deichert + Ryan Wirtz 69 | -3 E +1 $70.00
Scott Canupp + Todd Desmarais 70 | -2 E +1
Mark Ciccarello + Ray Durban 71 | -1 -3 +4
Brian Beebe + David Trier 71 | -2 +2 E
Mike Simpson + Vaughn Snyder 72 | -3 +1 +3
William Speirs + Eric Simon 73 | -3 +4 +1
Frank Kocet + Wyatt Suntala 74 | -2 +1 +4
Jack Garswood + John Garswood 74 | E +1 +3
Zorn Karic + Bobby Harmon 75 | +1 E +3
Ryan Augustitus + Jim Barber 75 | -2 +5 +1
Anthony Marozzi + John Toth 76 | +1 +4 E
Don Hubert + Mark Hubert 76 | +2 +2 +1
Lou D'Amico + Clay Mayor 77 | -1 +3 +4
Mike Dota + Garth Paul 79 | -2 +5 +5
Jordan Evanko + Michael Riley 80 | E +4 +5
Gary Congin + Rick Walters 81 | -1 +6 +5
Benjamin Ranta + Nolan Zubin 82 | +4 +2 +5
Larry Zgrabik + Andrew Zgrabik 84 | +1 +5 +7

SKINS: $176 ea
Blackburn/Wild – Eagle on 4
Zgrabik/Zgrabik – Birdie on 6
Blackburn/Wild – Birdie on 11
Hubert/Hubert – Birdie on 16
Walters/Congin – Birdie on 18