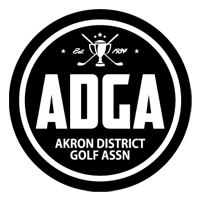 A pair of teams tied at the top of each Division on Saturday in the first event of the Akron District Golf Association season.
Historically, a 4-under par score of 67 is the over/under for a share of the Parke H. Thornton 2-Man Better Ball title at Turkeyfoot Lake Golf Links. The 2021 results added to that dataset.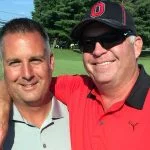 In the Championship Division, Steve Blackburn Jr. and Howard Clendenin turned the front side in solid 3-under par 33, and they looked to be on their way. But the pair stalled a bit on the inward half, finishing the back nine with a 1-under par score that included pars at both closing par-5s.
Later as the clouds rolled in, the temps dropped and an annoying drizzle began, Shaun Kloetzer and Kyle Jones worked hard to catch the leaders in the clubhouse. They birdied 8 and 9 to turn at 33 as well, but couldn't get any back nine momentum going at all. In fact, they made par on every hole on the back side until their birdie on the 18th allowed them match the 4-under par total.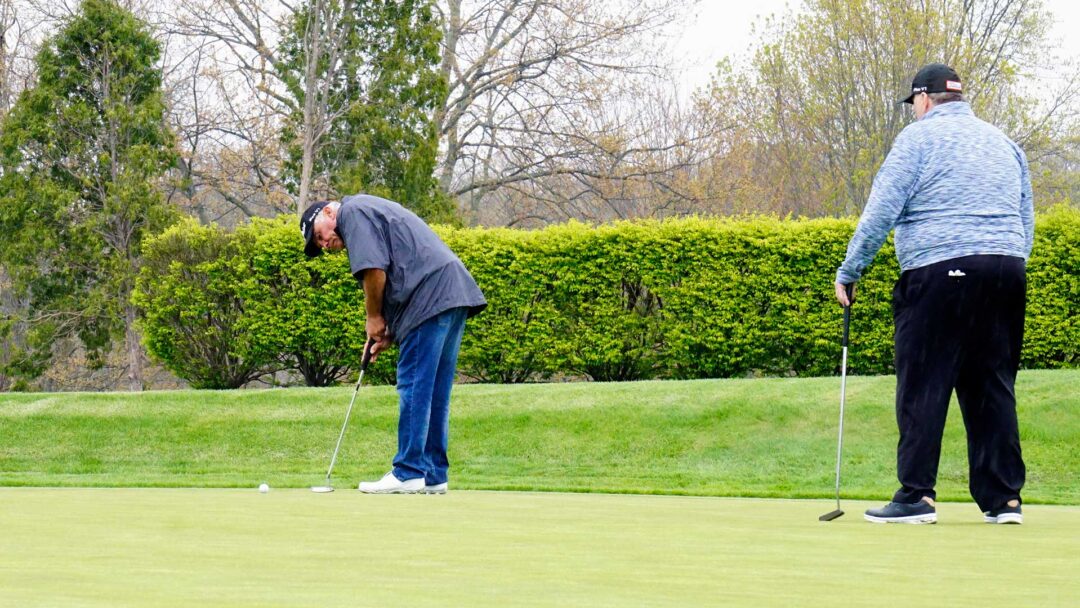 In the Senior Division, veteran ADGA stalwarts Ron Bell and Jim Cea put together a tidy ham-and-egg round of 67, with each player putting well. They finished bogey-free on the day, making birdies at 2, 7, 14 and 16.
Near the end of the field, Rob Wakeling and Joe Nemeth had a Senior victory in their sights. The pair made eagle at the par-5 16th hole to reach 5-under par on the day. But in the rain, both players knocked their tee shots onto the road from the 18th tee. Wakeling made a solid 20-footer at the last to cover bogey and finish in a tie.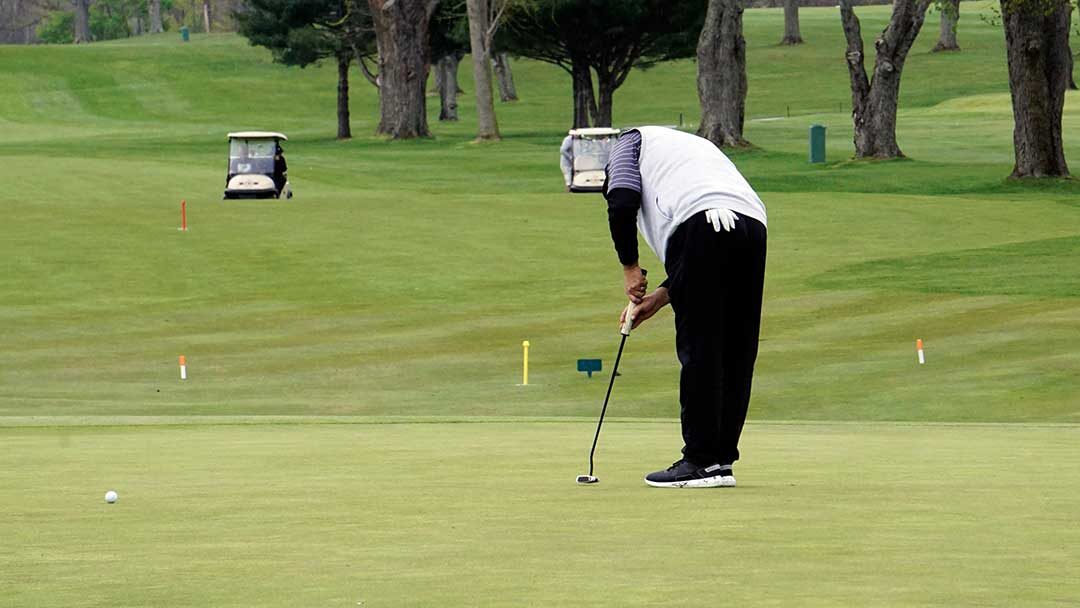 The turf conditions at Turkeyfoot were spectacular on Saturday; the greens were a treat to putt. Those same conditions should in play again in two weeks when tournament action returns for the 2021 Turkeyfoot Spring 2-M Scramble on Saturday, May 8th. Variable tees by age will be in play, which should make for an even bigger field than normal.
The next event on the Akron District schedule is the ADGA 4-M Scramble at Seven Hills Golf Course in Hartville on Sat May 22nd.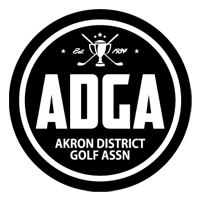 FINAL RESULTS:
Akron District Golf Association
2021 Parke H. Thornton 2-Man Better Ball
Turkeyfoot Lake Golf Links, Akron
Saturday, April 24, 2021
CHAMPIONSHIP DIVISION
Clendenin / Blackburn 33 – 34 = 67 $650.00
Jones / Kloetzer 33 – 34 = 67 $650.00
Angelo / Ferrara 37 – 31 = 68 $360.00
Bowman / Shannon 35 – 33 = 68 $360.00
Oates / Snyder 36 – 32 = 68 $360.00
Mallette / Dr. Mallette 36 – 32 = 68 $360.00
Trzebuckowski / Stefanski 33 – 35 = 68 $360.00
Simpson / Krivanek 36 – 33 = 69 $75.00
Adkins / Honaker 37 – 32 = 69 $75.00
Toth / Foschia 36 – 33 = 69 $75.00
Wild / Frey 33 – 36 = 69 $75.00
Culbertson / Detwiler 36 – 34 = 70
McVey / Lieser 36 – 34 = 70
Hull / Shisler 36 – 34 = 70
Brouser / Reuscher 36 – 35 = 71
Beebe / Crones 38 – 33 = 71
Cohen / Blechschmidt 38 – 33 = 71
Sutter / Phifer 37 – 34 = 71
Crewse / Marr 36 – 35 = 71
Luckenbaugh / Byers 37 – 35 = 72
Eggleton / Brennan 36 – 36 = 72
Deichert / Lambert 36 – 36 = 72
Vellios / Gamble 37 – 35 = 72
Wenger / Wenger 36 – 36 = 72
Diebold / Canter 38 – 35 = 73
Trent / Steiger 38 – 35 = 73
Armon / Patton 38 – 35 = 73
Watkins / Loftin 37 – 36 = 73
DeCheco / Marozzi 39 – 34 = 73
Schneider / Prok 42 – 33 = 75
Terry / Breen 41 – 36 = 77
McClary / Meighen 39 – 40 = 79
Corliss / Wheeler 42 – 40 = 82
CHAMPIONSHIP SKINS: $113 ea
Birdie 2, Hole 2 Jones/Kloetzer
Birdie 3, Hole 3 Luckenbaugh/Byers
Birdie 3, Hole 4 Mallette/ Dr. Mallette
Eagle 2, Hole 14 Angelo Ferrarar
Eagle 3, Hole 16 Adkins/Honkaker
Eagle 3, Hole 18 Mallette/Dr. Mallette
SENIOR DIVISION
Cea / Bell 34 – 33 = 67 $525.00
Wakeling / Nemeth 35 – 32 = 67 $525.00
Skidmore / Vincelette 36 – 32 = 68 $350.00
Guadagni / Durr 37 – 32 = 69 $250.00
Cutler / Stormer 38 – 31 = 69 $250.00
Huntley / Crider 36 – 34 = 70 $50.00
Freeman / Bishop 35 – 35 = 70 $50.00
Wadsworth / Malkus 38 – 33 = 71
Seever / Hull 34 – 37 = 71
Rybka / Fleming 36 – 36 = 72
Trier / Armour 35 – 37 = 72
Ciccarello / Scott 37 – 36 = 73
Martin / Stack 39 – 34 = 73
Bryson / Merrow 40 – 33 = 73
Dean / Dean 35 – 39 = 74
Allen / Schustrich 38 – 36 = 74
Lahnan / Miller 38 – 37 = 75
Cutlip / Marsinek 37 – 38 = 75
Lowry / Fricker 39 – 39 = 78
Sattler / Johnston 43 – 38 = 81
SENIOR SKINS: $100 ea
Birdie 4, Hole 6 Cutlip/Marsinek
Birdie 2, Hole 8 Wadsworth/Malkus
Birdie 3, Hole 9 Martin/Stack
Eagle 3, Hole 16 Wakeling/Nemeth