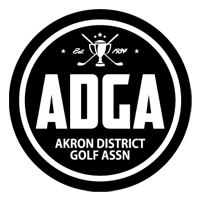 Kyle Jones, Barry Riggs, Ryan Stocke and Frank Groves made one eagle and two pars on their way to victory in the Akron District Golf Association's 4-Player Scramble on Saturday at Seven Hills Golf Club.
Their 17-under par total was good for a one-shot victory over a pair of teams: Fred Miller, Tom Baugh, Monty Guest and Tom Laubacher (who also won one of two skins on the day with an eagle at the reachable par-4 16th); and the foursome of Allen Freeman, Shaun Kloetzer, Tyler Watkins and Justin Trzebuckowski.
Five teams finished tied for fourth place at 15-under par to earn the final piece of the payouts.
The second skin won on the day came at the long par-5 14th hole, an eagle-3 by Rick Bryson, Jim Herchek, Randy Crider and Joe Holden.
Raul Mendoza and Zach Drukenbrod each both holed out a 50-yard+ pitch shot for eagle-2 on the par-4 fifth hole, canceling a skin that would normally hold up.
The next event on the schedule is the ADGA 3-Man Shamble at Chippewa Golf Club in Doylestown on Saturday, July 17th.

FINAL RESULTS: Akron District Golf Association
4-Player Scramble
Seven Hills Golf Club, Hartville
Saturday, May 22, 2021
1 Kyle Jones, Barry Riggs, Ryan Stocke, Frank Groves 28 – 27 = 55 (-17) $1,600.00
T2 Fred Miller, Tom Baugh, Monty Guest, Tom Laubacher 29 – 27 = 56 (-16) $1,000
T2 Allen Freeman, Shaun Kloetzer, Tyler Watkins, Justin Trzebuckowski 28 – 28 = 56 (-16) $1,000
T4 Thomas , Mendoza , Diebold , Canter 28 – 29 = 57 $200.00
T4 Miano , Giaimo , McCaulley , Trier 27 – 30 = 57 $200.00
T4 Dean , Dean , Bishop , Jones 29 – 28 = 57 $200.00
T4 Wild , Clendenin , Blackburn , Stefanski 29 – 28 = 57 $200.00
T4 Nemeth , Wakeling , Oates , Vaughn 28 – 29 = 57 $200.00
Out of the Money:
Frey , Fierst , Gamble , Decheco 29 – 29 = 58
Cutlip , Cutlip , Stormer , Federonick 28 – 31 = 59
Bell , Cea , Spino , Van Nostran 30 – 29 = 59
Bryson , Herchek , Holden , Crider 30 – 29 = 59
Malkus , Malkus , Malkus , Wadsworth 30 – 30 = 60
Borlin , Elber , Linquist , Cheetha 29 – 31 = 60
Skidmore , Downing , Vincelette , Davis 29 – 31 = 60
Hull , Sutter , Phifer , Drukenbrod 29 – 32 = 61
Czetli , Czetli , Snyder , Wenger 31 – 31 = 62
Wade , Vellios , Jones , Jones 30 – 33 = 63
Szwast , Hull , Hull , Shisler 29 – 34 = 63
Martin , Stack , Hedrick , Tarter 31 – 32 = 63
Miller , Miller , Bechy , Wentzel 31 – 33 = 64
Renner , Tyler , Ensley , Musacchia 33 – 32 = 65
Guadagni , Durr , Arredy , Boyer DQ

SKINS: $480 ea
Rick Bryson, Jim Herchek, Randy Crider, Joe Holden – Eagle 3, Hole 14
Fred Miller, Tom Baugh, Monty Guest and Tom Laubacher – Eagle 2, Hole 16