Chris Okeson spent all day lurking. Then he made birdie on the finishing par-5 at Plum Brook to win the 2020 Northern Ohio Golf Association's Scratch Summer Stroke Play.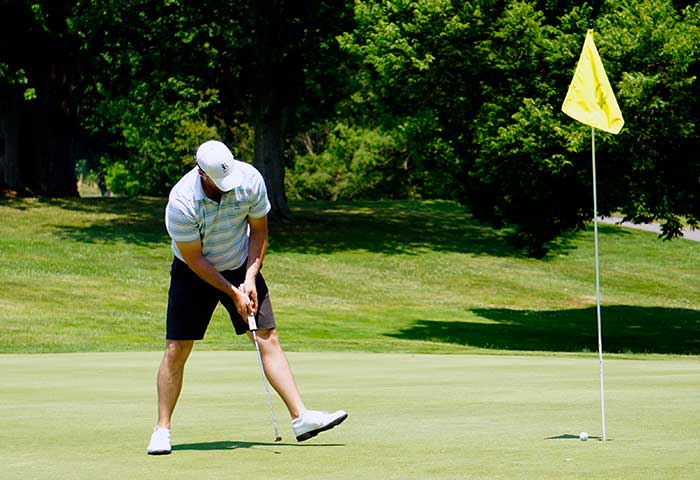 With Jack Garswood already in the clubhouse with an even-par 71 posted ("I didn't hit it well, chipped terrible but made everything"), Okeson knew he was tied for the lead coming into the reachable par-5 18th in Sandusky.
Okeson had been watching the scoring app, so he knew exactly what he needed to do.
The second shot from the defending NOGA Player of the Year reached the front-right fringe, and from there he knocked his approach putt to about five feet. He then converted the birdie putt you see in the photo above for victory.
But check the results below to see the warning shot that was fired by the scratch-handicap women golfers of Northeast Ohio. Two of the top-5 players in this NOGA Scratch Summer Stroke Play event were women: Shirley Vaughn from Congress Lake shot 1-over par 72 to finish third, and Suzi Spotleson from Brookside finished fifth with a 74 (and won two skins, too). They played the Plum Brook golf course at a healthy yardage in comparison to the men in the field, so their finish positions were well earned. Don't be surprised to see a NOGA Great Lakes Auto Scratch Series event won by a woman in short order.
SENIOR DIVISION
In the Senior Division, a pair of players finished tied at the top.
Mark Borlin roller-coastered his way to a 1-under score of par 70. Borlin made 6 birdies and 5 bogeys going out in the first group of the day.
That 70 total was matched by Senior NEO Am champ Monty Guest late in the day, in a round that included a birdie at the last to tie for a share of the victory.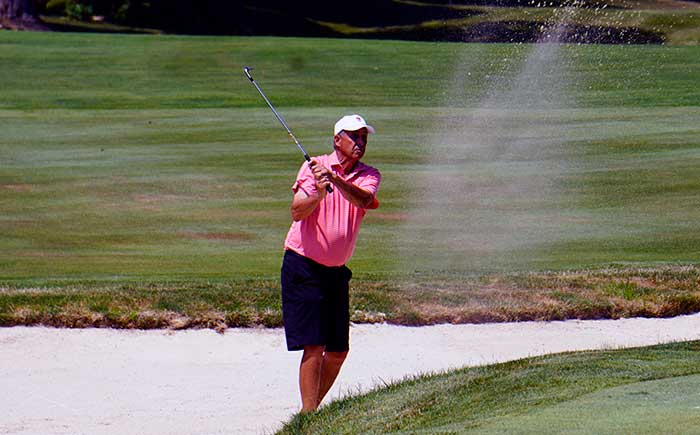 Oh yeah, there was a Golf Board sighting in the field at Plum Brook, too…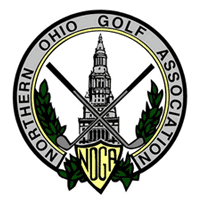 FINAL RESULTS: Northern Ohio Golf Association
2020 NOGA Summer Stroke Play
part of the Great Lakes Auto Scratch Series
Plum Brook Golf Club, Sandusky, Ohio | Par 71
Wednesday, July 8, 2020
CHAMPIONSHIP DIVISION
1 Chris Okeson, Stonewater Golf Club -1 70 300
2 Jack Garswood, NEOH.GOLF Club E 71 225
3 Shirley Vaughn, Congress Lake Club 1 72 200
4 Saumil Jhaveri, Avon Oaks Country Club 2 73 175
5 Suzi Spotleson, Brookside Country Club 3 74 150
T6 Brad Steven, Quail Hollow Country Club 4 75
T6 John Lord, Mallard Creek Golf Club 4 75
T6 Brian Polick, Weymouth & Fox Meadow CC 4 75
T6 Brian Smith, Oberlin Golf Club 4 75
T10 Robert Schustrich, Windmill Lakes Golf Club 5 76
T10 Jason Stiwald, Oberlin Golf Club 5 76
T12 Ryan Dorf, fAvon Oaks Country Club 6 77
T12 Doug Barber, NEOH.GOLF Club 6 77
T14 Marc Blaushild, Beechmont Country Club 9 80
T14 Andy Carr, NEOH.GOLF Club 9 80
16 Emily Baumgartner, Club Walden 10 81
T17 Jeremy Olsen, NEOH.GOLF Club 12 83
T17 Kevin Rowe, Avon Oaks Country Club 12 83
19 Andrew Zgrabik, Sleepy Hollow Golf Course 13 84
20 Raymond Freed, NEOH.GOLF Club 18 89
WD Brian Beebe, Ohio Prestwick Country Club WD
CHAMPIONSHIP SKINS: $24.44 ea
Saumil Jhaveri (3) Birdie on 2, Birdie on 8, Birdie on 15
Jack Garswood (2) Birdie on 9, Birdie on 17
Suzi Spotleson (2) Birdie on 10, Birdie on 18
Andrew Zgrabik Birdie on 14
Emily Baumgartner Birdie on 5
SENIOR DIVISION
T1 Mark Borlin, NEOH.GOLF Club 70 250
T1 Monty Guest, Silver Lake Country Club 70 250
3 Tom Laubacher, Club Walden 74 100
4 Allen Freeman, NEOH.GOLF Club 77
5 Britt Lilley, Oberlin Golf Club 78
6 Bob Weaver, Oberlin Golf Club 79
7 John Toth, Fox Den Golf Course 80
8 Marc Fried, Signature of Solon 81
9 David Devault, Quail Hollow Country Club 82
10 Ron Hulett, Sleepy Hollow Golf Course 84
T11 Paul Ferguson, Big Met Golf Course 85
T11 Joe Kokinda, Oberlin Golf Club 85
SENIOR SKINS: $40.00 ea
Britt Lilley Birdie on 3
Ron Hulett Birdie on 12
Bob Weaver Birdie on 15
Allen Freeman Birdie on 17