Perhaps the golf course was the unnamed winner at the NOGA Roche Wealth Management Stroke Play West, as Oberlin Country Club played extremely tough in the event held there on Thursday, June 25th.
With a double-bogey at the 18th for a total of 3-over par 75, Brian Polick of Weymouth/Fox Meadow still captured the A Flight by one shot over home club Oberlin member Brian Smith.
A trio of players — Dante D'Andrea, Brant Harbert and Mark Hach — tied for the top spot in the B Flight at 83, while another Weymouth/Fox Meadow player, Gary Weinhauer, earned the solo victory in the C Flight with an 84.
On the senior side, Oberlin home club member Britt Lilley tied with Sleepy Hollow's Ron Hulett at 75 to share the Senior A Flight title.
Madison Country Club's Mike Blauman shot 78 to win the Senior B Flight. Another Oberlin CC guy, Jim Roche, tied Quail Hollow's Denny Cendrowski at 83 to share the Senior C Flight.
The next Flighted event on the 2020 NOGA schedule is the Blue Technologies Four-Ball at Barrington Golf Club in Aurora on Mon July 6th.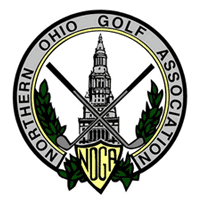 FINAL RESULTS: Northern Ohio Golf Association
2020 Roche Wealth Management Stroke Play West
Oberlin Country Club, Oberlin, Ohio
Thursday, June 25, 2020
A FLIGHT
1 Polick, Brian, Weymouth & Fox Meadow CC 75 $140.00
2 Smith, Brian, Oberlin Golf Club 76 $70.00
T3 Beebe, Brian, Ohio Prestwick Country Club 79 $15.00
T3 Carney-DeBord, Tyler, Kirtland Country Club 79 $15.00
5 Trem, Andrew, Sleepy Hollow Golf Course 80
6 Haley, RyanS, weetbriar Golf Club 81
7 Bova, Matt, Ellsworth Meadows Golf Club 83
8 Prince, Paul, Red Tail Golf Club 85
B FLIGHT
T1 D'Andrea, Dante, Good Park Golf Course 83 $90.00
T1 Harbert, Brant, NEOH.GOLF Club 83 $90.00
T1 Hach, Mark, Sleepy Hollow Golf Course 83 $90.00
4 Kazan, Aaron, Ellsworth Meadows Golf Club 86
T5 Freed, Raymond, NEOH.GOLF Club 87
T5 Ereditario, Aaron, NEOH.GOLF Club 87
7 Mirelli, Jeff, Good Park Golf Course 90
8 Burger, Brian, Sweetbriar Golf Club 94
9 Mangano, Samuel, Valley of the Eagles 106
C FLIGHT
1 Weinhauer, Gary, Weymouth & Fox Meadow CC 84
2 Pronesti, Joe, Oberlin Golf Club 88
3 Pollhammer, Mike, Cleveland II TG GC 89
4 Ledman, Larry, Turkeyfoot Lake Golf Links 90
5 Klang, Anthony, Quail Hollow Country Club 94
6 Scafidi, Bryan, Weymouth & Fox Meadow CC 98
7 Barker, Alec, Columbia Hills Golf & Swim 101
8 Fennell, Joseph, NEOH.GOLF Club 106
SENIOR A FLIGHT
T1 Lilley, Britt, Oberlin Golf Club 75 $105.00
T1 Hulett, Ron, Sleepy Hollow Golf Course 75 $105.00
3 Bedell, Steve, Sleepy Hollow Golf Course 76
T4 McNiece, Ray, Manakiki Golf Course 77
T4 Barnish, Thomas, Ellsworth Meadows Golf Club 77
6 Kokinda, JoeO, berlin Golf Club 82
7 Mendoza, Raul, Good Park Golf Course 85
SENIOR B FLIGHT
1 Blauman, Mike, Madison Country Club 78 $140.00
2 Norris, Rick, Oberlin Golf Club 79 $70.00
T3 Butler, Mike, Good Park Golf Course 82
T3 Bingman, George, Firestone Country Club 82
5 Jones, Roy, Avon Oaks Country Club 85
6 Rosen, Jim, Firestone Country Club 88
7 Henn, Mitchell, Madison Country Club 95
SENIOR C FLIGHT
T1 Roche, Jim, Oberlin Golf Club 83 $110.00
T1 Cendrowski, Denny, Quail Hollow Country Club 83 $110.00
3 Fujka, Dennis, Red Tail Golf Club 86 $50.00
4 Axson, David, Firestone Country Club 88
5 Herschel, Tom, Signature of Solon 91
6 Dutt, MikeS, leepy Hollow Golf Course 95
7 Strunk, Jim, Sweetbriar Golf Club 97
8 Champagne, Bradley, Grey Hawk Golf Club 104
9 Graham, Pat, Grey Hawk Golf Club 110