There were as many ties as outright winners as the Northern Ohio Golf Association played the flighted Jackson, Dieken & Associates Fall Four-Ball at Fairlawn Country Club on Monday.
In the A Flight, Logan Bratsch + Jimmy Clark tied with Steve Blackburn + Adam Sanden at 66 for the low rounds of the day.
Other tied-at-the-top co-winners included Mark Hach + Alan Rothstein with Frank Rihtar + Eric Kaleal at 68 in the B Flight, Timothy Blondheim + Rick Bock with Jeff Mirelli + Dante D'Andrea at 78 in the D Flight, and Clifford Tims + Paul Rezabe with Douglas Fleming + Steven Wilson at 68 in the Senior A Flight.
Outright winners were Aaron Kazan + Kevin Mcafee with a solid 67 in the C Flight, Senior B Flight champs John Melnik + Carl Van Bolderen with 73, and Robert Potopsky + Brian Pfeil shooting 78 in Senior C Flight.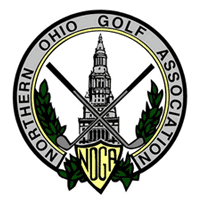 FINAL RESULTS: Northern Ohio Golf Association
2020 Jackson, Dieken & Associates Fall Four-Ball
Fairlawn Country Club, Akron, Ohio
Monday, Sep 28, 2020
A Flight
T1 Logan Bratsch + Jimmy Clark 66 $180.00
T1 Steve Blackburn + Adam Sanden 66 $180.00
T3 Michael Riley + Jeremy Harpley 68 $50.00
T3 Shaun Kloetzer + Jeff Burch 68 $50.00
5 Rob Venrose + Ross Smith 70
6 Jeremy Knight + Abhijit Shetti 71
7 Andrew Zgrabik + Larry Zgrabik 75
WD Dean Austalosh + Brian Austalosh WD
SKINS: $70 ea
Blackburn, Steve / Sanden, Adam Eagle on 3, Birdie on 6
Burch, Jeff / Kloetzer, Shaun Birdie on 18
Knight, Jeremy / Shetti, Abhijit Birdie on 5
B Flight
T1 Mark Hach + Alan Rothstein 68 $180.00
T1 Frank Rihtar + Eric Kaleal 68 $180.00
T3 Tom Jalbert + Jake Holland 70 $50.00
T3 Andy Brouse + Christopher Reuscher 70 $50.00
5 Aaron Cuddy + Raymond Freed 72
T6 Sean Abrams + Marco Montefiori 75
T6 Mike Kobelak + Dan Zinna 75
SKINS: $40 ea
Holland, Jake / Jalbert, Tom Birdie on 10, Birdie on 17
Cuddy, Aaron / Freed, Raymond Birdie on 2, Eagle on 3
Kaleal, Eric / Rihtar, Frank Birdie on 4
Kobelak, Mike / Zinna, Dan Birdie on 1
C Flight
1 Aaron Kazan + Kevin Mcafee 67 $220.00
2 Rob Miller + Cody Miller 68 $140.00
T3 Eric Etling + Joe Fernandez 77 $50.00
T3 Craig Sippola + Fred Villao 77 $50.00
5 Bradley Burns + Shawn Stradwick 78
6 Jake Mussay + Will Degyansky 80
7 Pierce Hamilton + Rick Hamilton 81
SKINS: $21.54 ea
Kazan, Aaron / Mcafee, Kevin Birdie on 1, Birdie on 6, Birdie on 10, Birdie on 11, Birdie on 18
Miller, Cody / Miller, Rob Birdie on 2, Birdie on 5, Birdie on 8
Sippola, Craig / Villao, Fred Birdie on 9, Birdie on 16
Etling, Eric / Fernandez, Joe Birdie on 15
Degyansky, Will / Mussay, Jake Birdie on 4
Burns, Bradley / Stradwick, Shawn Birdie on 14
D Flight
T1 Timothy Blondheim + Rick Bock 78 $150.00
T1 Jeff Mirelli + Dante D'Andrea 78 $150.00
3 Robert Miller + Chris Tolbert 83
4 Doug Phillips + Adam Farrell 84
5 Brian Hamilton + Dave Palchesko 86
SKINS: $40 ea
D'Andrea, Dante / Mirelli, Jeff Par on 2, Par on 18
Blondheim, Timothy / Bock, Rick Birdie on 13
Farrell, Adam / Phillips, Doug Par on 14
SENIOR DIVISION
Senior A Flight
T1 Clifford Tims + Paul Rezabe 68 $180.00
T1 Douglas Fleming + Steven Wilson 68 $180.00
3 John Wagner + Randy Skeen 70 $100.00
4 James Williams + David Fries 72
5 Ed Ruper + Ken Bauza 74
6 David Goldense + Brian Duffin 75
7 Hugh Morgan + Richard Weiss 76
8 Robert Edelstein + Donald King 81
SKINS: $56.00 ea
Ed Ruper + Ken Bauza Birdie on 11, Birdie on 14
David Goldense + Brian Duffin Birdie on 4
Hugh Morgan + Richard Weiss Birdie on 5
Clifford Tims + Paul Rezabek Birdie on 8
Senior B Flight
1 John Melnik + Carl Van Bolderen 73 $220.00
2 Jim Rosen + Rich Rosen 75 $140.00
3 Pat Tournoux + Mike Masterson 76 $100.00
4 WILLIAM ZAPF + Tom AdamsSweetbriar Golf Club 77
5 Mark Wilhelm + Kurt Fuetter 78
6 Alan Dimare + Mike Blauman 79
7 Mike Butler + David Sattler 86
8 Mark Kluck + kevin Synk 91
SKINS: $26.66 ea
John Melnik + Carl Van Bolderen Birdie on 3, Par on 7, Birdie on 14, Eagle on 15
Pat TOURNOUX + Mike Masterson Par on 1, Birdie on 10, Birdie on 12
Mark Wilhelm + Kurt Fuetter Par on 9, Par on 16
Senior C Flight
1 Robert Potopsky + Brian Pfeil 78 $220.00
2 Mike Kaltenstein + Lou Kaltenstein 79 $140.00
3 James Vinciquerra + Richard Vinciquerra 83 $100.00
4 Pete Kalgreen + Roy Hogan 86
5 Paul Lamison + Paul Li 87
6 Terry Chadwick + Mike Dutt 89
7 George Zollos + Bud Douglas 90
SKINS: $26.66 ea
Robert Potopsky + Brian Pfeil Par on 2, Birdie on 15, Birdie on 17, Par on 18
Mike Kaltenstein + Lou Kaltenstein Birdie on 3
Pete Kalgreen + Roy Hogan Par on 8