On a gorgeous but windy pre-Labor Day Friday, Aaron Crewse of North Canton posted 1-under par 71 at Raintree Golf Center in Green to win the 2020 NEOH.GOLF Championship by one shot.
Since Crewse is a NOGA GHIN member of the NEOH.GOLF Club, his victory has earned him a spot to compete in the Northern Ohio Golf Association's Tournament of Champions at The Country Club in Pepper Pike on Tuesday, Sep 22nd.
Crewse turned in even par 36, then made a string of pars until back-to-back birdies: at the par-5 15th; then a skin-winner at the par-3 16th. He made bogey at the last for a back nine 35.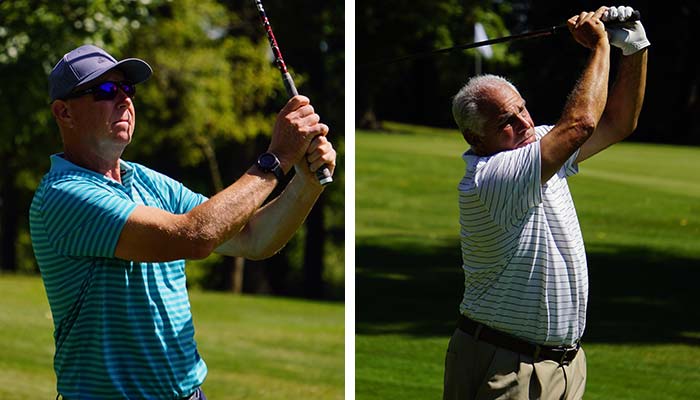 Lou Boarman and Jim Cea finished in a tie for second place, one shot behind at even par 72, both shooting identical 37-35 nines. Cea made double-bogey six at the ninth, but bounced back with birdies at 10 and 13 before a costly bogey at 17. Boarman had a consistent day, making two birdies against two bogeys and 14 pars.
With the windy conditions, a whopping eight skins were won on the day — all with birdies — with Danny Marr the only player to win two skins.
Thanks to Patty Gaston at Raintree Golf & Events Center for their hospitality, and thank you to all of the players who competed!
PHOTO GALLERY
INSTRUCTIONS: Click any thumbnail to launch the photo viewer. Hover your cursor over a photo in the viewer to display arrows to move between photos. Click (x) to exit the current batch after viewing. Then use the navigation below the thumbnails to see additional photos in this gallery.
FINAL RESULTS:
2020 NEOH.GOLF Championship
Raintree Golf & Events Center, Green | Par 72
Friday, September 4, 2020

Aaron Crewse 36 – 35 = 71 $470.00
Lou Boarman 37 – 35 = 72 $285.00
Jim Cea 37 – 35 = 72 $285.00
Larry Lahnan 36 – 38 = 74 $125.00
Jeremy Knight 37 – 38 = 75 $90.00
John Zitkovic 38 – 38 = 76 $27.00
Rob Schustrich 40 – 36 = 76 $27.00
Fred Miller 38 – 38 = 76 $27.00
Brian Huntley 36 – 40 = 76 $27.00
Allen Freeman 37 – 39 = 76 $27.00
Out of the Money:
John Karamas 39 – 38 = 77
John Toth 37 – 41 = 78
Nate Garwood 39 – 39 = 78
Doug Flemming 35 – 44 = 79
Randy Crider 40 – 39 = 79
Mike Patton 43 – 37 = 80
Andrew Zgrabik 39 – 41 = 80
Jordan Grubb 40 – 40 = 80
Joe Sutter 41 – 39 = 80
Shayne Bishop 43 – 37 = 80
Dan Marr 40 – 40 = 80
Jack Cox 41 – 40 = 81
Don Blocker 38 – 43 = 81
Shaun Kloetzer 42 – 39 = 81
Vaughn Snyder 36 – 45 = 81
Adam Arman 45 – 37 = 82
Dan Terry 40 – 42 = 82
Aaron Czetli 42 – 40 = 82
Mark Thomas 41 – 42 = 83
Dave Snyder 43 – 40 = 83
Brian Beebe 45 – 39 = 84
Alex Loftin 41 – 43 = 84
Shawn Jacklitch 45 – 39 = 84
Dave Wible 45 – WD
Kory Hull 40 – WD
SKINS: $87.50 ea
Dan Marr – Birdie 3, Hole 3
Dann Marr – Birdie 2, Hole 4
Allen Freeman – Birdie 3, Hole 6
Larry Lahnan – Birdie 2, Hole 8
Jim Cea – Birdie 3, Hole 13
Jack Cox – Birdie 3, Hole 14
Aaron Crewse – Birdie 2, Hole 16
Mike Patton – Birdie 3, Hole 17