The teams of Ryan Stefanski + Brian Smith and Allen Freeman + Justin Trzebuckowski excelled in the Modified Alternate Shot format to pull away from the rest of the field in Cleveland Metroparks Golf's 2020 Bill Barbour Cup at Sleepy Hollow Golf Course in Brecksville on Labor Day Saturday.
Finishing at 7-under par for the day and tying for first place, the winners were two of only three teams to play under par in the alternate shot format over the tournament's final six holes.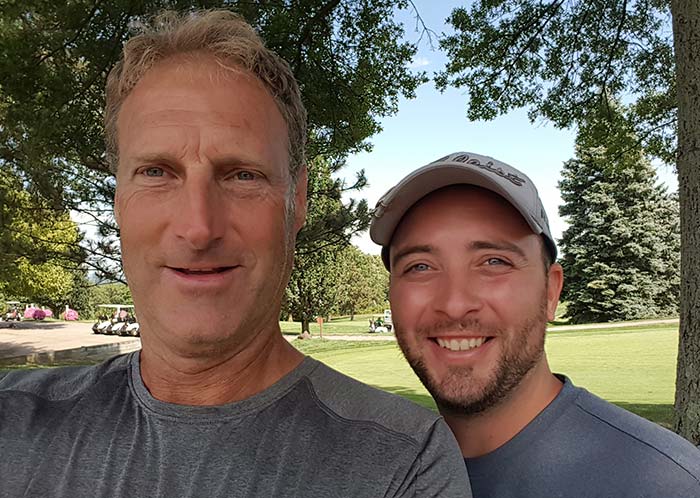 Eric Wonkovich + Jacob Zbin came in third place with a 4-under par 67 total.
To keep everyone on their toes, some par-4 tees were moved up to make them reachable. It made for interesting strategy and received many compliments.
Thanks to all of our players who competed during the 2020 Cleveland Metroparks Golf season!
FINAL RESULTS:
Cleveland Metroparks Golf
2020 Bill Barbour Cup
Sleepy Hollow Golf Course, Brecksville, Ohio
Saturday, September 5, 2020
Holes 1-6 Scramble; Holes 7-12 Better Ball; Holes 13-18 Modified Alternate Shot
Ryan Stefanski + Brian Smith -3 -2 -2 64 $620/team
Allen Freeman + Justin Trzebuckowski -3 -1 -3 64 $620
Eric Wonkovich + Jacob Zbin -3 -1 E 67 $270
David Sotka + Nick Anagnost -4 E +2 69 $96
Jimmy Wild + Steve Blackburn Jr. -2 -1 +1 69 $96
Robert McMahon + Andy Blackburn -1 E -1 69 $96
Scott Cunupp + Todd Desmarais -4 +2 E 69 $96
David Snacki + William Schaefer -3 +1 +1 70
Ward Crane + Tim Nieman -3 +1 +1 70
Dan Sederholm + Eddie Neer -1 E +2 72
Tyler Ankrom + Scott Ankrom E +1 +1 73
Nicholas Foschia + Max Decheco -4 +2 +4 73
Anthony Marozzi + Collin Marozzi E -1 +4 74
Scott Sherman + Tom Minnillo -2 +4 +2 75
Gary Congin + Rick Walters -2 +2 +4 75
Matt Urie + Bill Page -2 +2 +4 75
Larry Zgrabik + Andrew Zgrabik E +2 +7 80
Jonathan Riemer + Johnathan Keppler +1 +4 +6 82
Michael Riley + Jordan Evanko +2 +5 +4 82
Steven Popovich + Tristan Bourdess +3 +6 +5 85
Sean MacIver + Jason Burmer +5 +10 +6 92
Todd Walsh + Joseph Walsh +5 +13 +8 97
SKINS: $120 ea
Scott Cunupp + Todd Desmarais – Eagle 3, Hole #1
Matt Urie + Bill Page – Birdie 3, Hole #7
Anthony Marozzi + Collin Marozzi – Birdie 3, Hole #11
Allen Freeman + Justin Trzebuckowski – Birdie 2, Hole #12
Jimmy Wild + Steve Blackburn Jr. – Birdie 3, Hole #14