A pair of teams tied at the top in advance of Independence Day, but the day's biggest winners holed a wedge shot for eagle-2 to scrape up the entire skins pot.
A whopping 126 players of all ages — including a couple of talented female competitors — took to the Rawiga Golf Club in Seville on Friday, July 3rd for the second annual NEOHgolf.com All-American 3-Player Scramble.
The temps pushed past a sizzling 90 degrees on a clear, sunny day with just a hint of breeze. But Rawiga's greens were in fantastic condition, leading to low scores.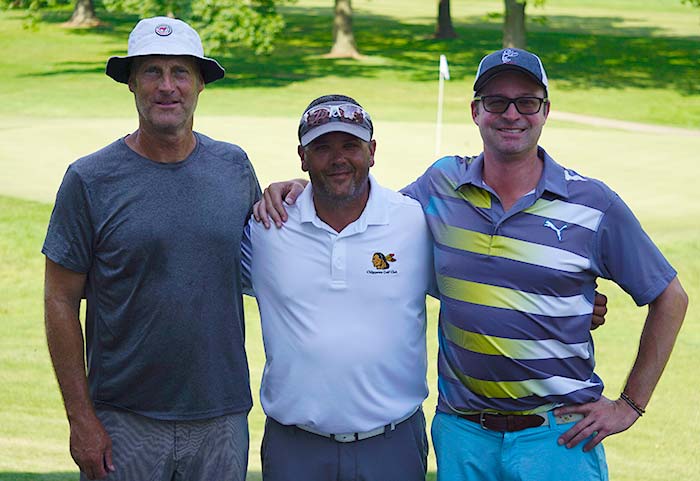 Allen Freeman, Ken Koprivec and Chris Okeson (above) went out early and posted a 16-under par score of 56 to set the marker.
For most of the day that score looked to be an outright winner, until the team of Kevin Miller, Mitch Levengood and Mike Weaver (below) went ballistic on the back nine at Rawiga, firing a 10-under par 26 on their final side to tie at -16.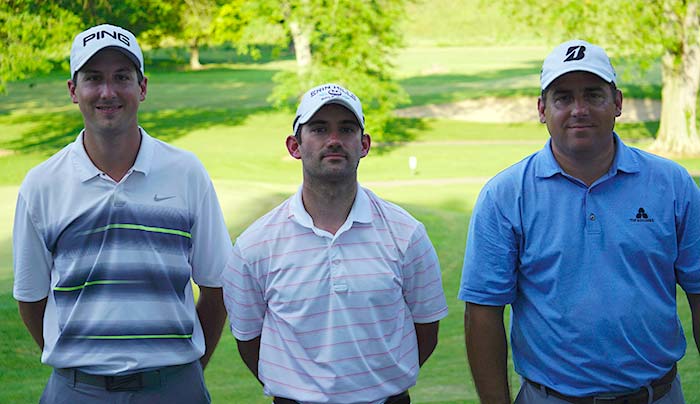 In the end those two teams shared the victory, two shots ahead of the rest of the 42-team field.
Aaron Crewse, Mark Schneider and Brian Vincelette shot a solid 58 to finish in a two-way tie for third with a team that played late in the day, Jon Lieser, Scott McVey and Shayne Bishop.
Team Lieser put forth a spectacular back nine run of their own, shooting 9-under par 27 coming in.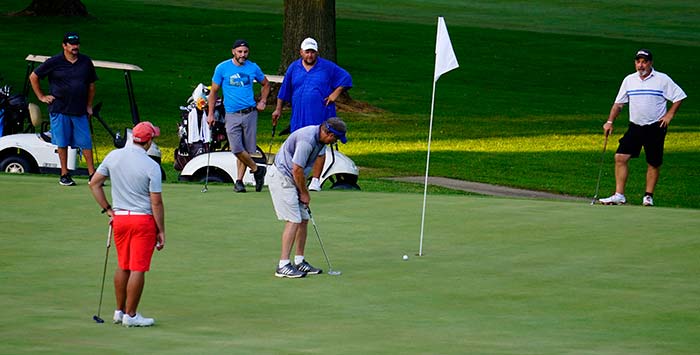 But the shot of the day led to yet another complete sweep of a giant big skins pot, a phenomenon that has happened frequently in this 2020 season. Dax Bramwell holed a wedge shot from 70 yards out at the dogleg par-4 sixth hole to allow him to share the lucre with his teammates Eric Coven and Troy Tait.
Now that's a great way to spend the day before July 4th: sweeping a big skins pot!
FINAL RESULTS:
Northeast Ohio Golf Tournament Series
2020 All-American 3-Player Scramble
Rawiga Golf Club, Seville, Ohio
Friday, July 3, 2020
Allen Freeman / Chris Okeson / Ken Koprivec 28 – 28 = 56 $1,365
Mitch Levengood / Mike Weaver / Kevin Miller 30 – 26 = 56 $1,365
Aaron Crewse / Mark Schneider / Brian Vincelette 29 – 29 = 58 $630
Jon Lieser / Scott McVey / Shayne Bishop 31 – 27 = 58 $630
Tim Hepner / Brian Gasser / Caine Bricker 30 – 29 = 59 $330
Shaun Kloetzer / John Karamas / Tom Skidmore 30 – 30 = 60 $165
Bud Radis / Andrew Hinton / Evan Lerner 30 – 30 = 60 $165
Tyler Watkins / Max Decheco / Brian Gamble 28 – 32 = 60 $165
Eric Coleman / Bobby Harmon / Jonathan Barber 31 – 29 = 60 $165
Paul LaGrotteria / Scott Saari / Mike Crawford 31 – 30 = 61 $15
John Toth / Matt Warren / Chris Jusczyk 32 – 29 = 61 $15
Dan Fearer / Patrick Sheerer / Jorden Alfery 31 – 30 = 61 $15
Jimmy Wild / Brian Smith / Ryan Stefanski 31 – 30 = 61 $15
Mike Armour / John Kabasky / Jeff Wenger 32 – 30 = 62
Dan Sabo / Dan Finlin / Mike Stuewe 32 – 30 = 62
Jeff Dean / Bruce Dean / Jeff Mallette 31 – 31 = 62
Josh Prok / Kent Monas / Danielle Nicholson 33 – 29 = 62
AJ Borisa / Niko Anagnost / Ryan Petretti 30 – 32 = 62
Connor McCaulley / Cody Nickson / Brandon Giaimo 31 – 32 = 63
Chris Haase / Tom DeFlorio / Tara Mormile 32 – 31 = 63
Ron Skirpstas / Justin Trzebuckowski / John Svadba 31 – 32 = 63
Dave Trier / Brian Beebe / Rob Schustrich 30 – 33 = 63
Austin Jenkins / Donald Jenkins / Dean Jenkins 31 – 32 = 63
Erik Mannarino / Robert Schregardus / Ryan Wichie 32 – 32 = 64
Tim Greff / Kyle Zimmer / Jarrett Moore 32 – 32 = 64
Brant Harbert / JP Kalenterides / Matt Malorni 33 – 32 = 65
Joe Welsch / Cory Sussel / Zach Moss 31 – 34 = 65
Zach Baker / Ian Sewolich / Josh Smith 32 – 33 = 65
Blake Doty / Aaron Detweiler / Zach Geyser 33 – 32 = 65
Brett Brown / Brad Chaffin / Drake Tobias 33 – 32 = 65
Matt Niskey / Jeff Knepper / Aaron Contreras 33 – 32 = 65
Alex Williams / Adam Cook / Evan Shafer 33 – 32 = 65
Mike Simpson / Aaron Czetli / Dave Snyder 32 – 33 = 65
Tom McHugh / Troy Hamilton / Joe Hritz 33 – 33 = 66
Erik Mosley / Wayne Mosley / Glen Konet 33 – 34 = 67
Dan Terry / Kevin Breen / Greg Taylor 34 – 34 = 68
Mike Harman / Tom Hoelting / Don Schaefer 34 – 34 = 68
Eric Coven / Dax Bramwell / Troy Tait 33 – 35 = 68
Anthony Marozzi / Mickey Marozzi / Ed Marsinek 35 – 34 = 69
Jeff Yannarell / Justin Roppel / Dale Roppel 37 – 33 = 70
Jack Cox / Matt Jurcevic / Rick Smith 36 – 35 = 71
Jake Kivett / Joe Sullivan / Ricky Farina 37 – 34 = 71

SKINS: $2,520
Eric Coven / Dax Bramwell / Troy Tait – Eagle-2 Hole #6