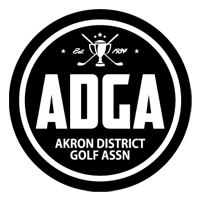 The ADGA is back! A giant field of 42 teams took to the Seven Hills Golf Course in Hartville for the 2020 edition of the Akron District Golf Association's 4-Man Scramble on Saturday.
The weather was perfect and the golf course was in phenomenal condition, so every player knew it was going to be a shootout — even though Seven Hills is a strong test of golf.
Playing in the very last group of the day, the team of Jay Hollifield, Jon Clark, Ken Keller and Noah Frase posted a mind-boggling 19-under par 53 to get the job done. They won the event by a margin of two shots, a big win in a 4-man scramble. The effort was good for a tidy $1,800 first place team prize.
The winning team also vacuumed up the entire skins pot as well with an eagle-2 on the par-4 16th hole, worth a whopping $1,680.
That's a good day.
Two teams finished in a tie for second place at a solid 17-under par. Ken Koprivec, Chris Okeson, Dr. Jeff Mallette and son Ryan Mallette shared runner-up honors with the Pittsburg team of Paul Ajak III, Brett Young, Rick Stimmel and Ryan Fichter.
Three teams tied for fourth place, and 12 teams earned a payout at day's end. Variable tees by age were in play, and it was cool to see the wide age range of players who competed and cashed.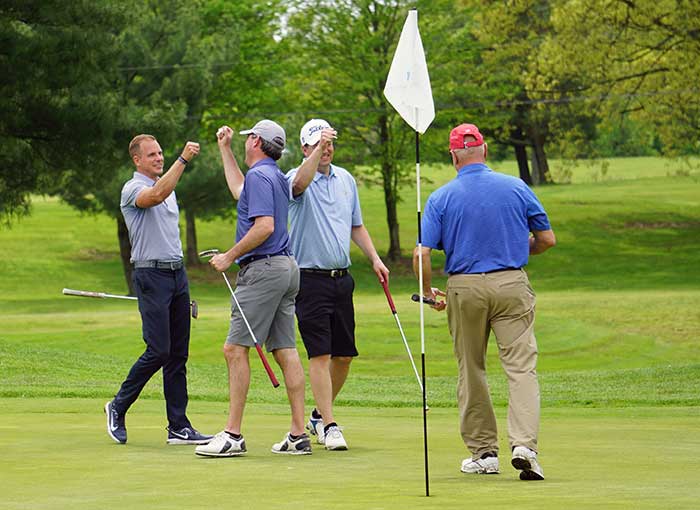 Fantastic show put on by the ADGA's Tim and Kristin Davis and the staff at Seven Hills; thanks for a great Memorial Day Saturday event. After all of the craziness this spring, it was certainly needed.
The next tournament on the 2020 ADGA calendar is the 3-Man Shamble at Chippewa Golf Club in Doylestown on Saturday, June 13.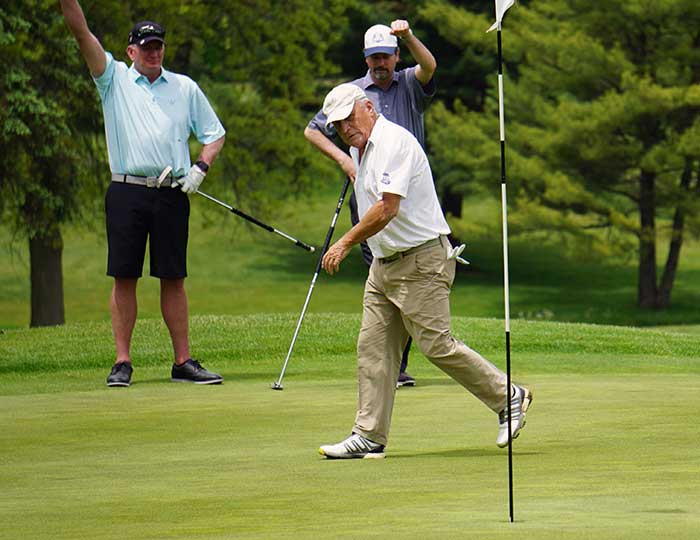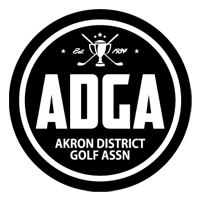 FINAL RESULTS:
Akron District Golf Association
2020 ADGA 4-Man Scramble
Seven Hills Golf Club, Hartville, Ohio
Saturday, May 23, 2020

1st Hollifield / Clark / Keller / Frase 26 – 27 = 53 $1,800.00
T2 Ajak III / Young / Stimmel / Fichter 27 – 28 = 55 $1,300.00
T2 Mallette / Mallette / Koprevic / Okeson 26 – 29 = 55 $1,300.00
T4 Smith / Stefanski / Wild / Hogan 27 – 29 = 56 $800.00
T4 Molder / Jacob / Walgate / Thigpen 27 – 29 = 56 $800.00
T4 Durr / Gaudagni / Guest / Miano 29 – 27 = 56 $800.00
T7 Elber / Borlin / Linquist / Cheetham 29 – 29 = 58 $400.00
T7 Spino / Chirumbolo / Cea / Bell 28 – 30 = 58 $400.00
T7 Marr / Horner / Nemeth / Moldovan 28 – 30 = 58 $400.00
T10 Martin / Stack / Hedrick / Tarter 29 – 30 = 59 $126.00
T10 Freeman / Kovach / Trier / Kloetzer 30 – 29 = 59 $126.00
T10 Skidmore / Vincelette / Downing / Baugh 30 – 29 = 59 $126.00
Out of the Money:
Hull / Shisler / Sutter / Hull 32 – 28 = 60
Grace / Grace / Rigney / Sanson 30 – 30 = 60
Decheco / Herbert / Mannion / Sample 30 – 30 = 60
Blackmon / McVey / Wade / Groves 31 – 29 = 60
Kirk / Headley / MacDonald / Hall 31 – 30 = 61
Hessel / Glasser / Kreutzer / Quallich 29 – 32 = 61
Miller / Huntley / Laubacher / Lahnan 30 – 31 = 61
Simpson / Oates / Wakeling / Snyder 33 – 28 = 61
Bader / Yanko / Demeter / Bird 30 – 32 = 62
Maple / Wagner / Skeen / Lawrence 31 – 31 = 62
VanNostran / VanNostran / Peterson / Mal 30 – 32 = 62
Bryson / Merrow / Herchek / Crider 31 – 31 = 62
Cutlip / Marsinek / Luckenbaugh / Lance 29 – 34 = 63
Lieser / Drumm / Weekly / Heavner 31 – 32 = 63
Vought / Canter / Diebold / Caporaletti 33 – 30 = 63
Thomas / Seever / Mendoza / Fleming 31 – 32 = 63
Brouse / Reuscher / Swiatkowski / Allen 32 – 32 = 64
Pentek / Franke / Holt / Pentek 32 – 32 = 64
Foschia / Hird / Carson / McGrew 32 – 32 = 64
Mirelli / Fricker / Carpenter / Butler 33 – 31 = 64
Wilson Sr. / Ream / Rybka / Grabowski 33 – 32 = 65
Knarr / Walter / Slepko / Knarr 33 – 32 = 65
Tucker / Kazan / Reynolds / McAfee 33 – 33 = 66
Jones / Vellios / Hazen / Gamble 34 – 32 = 66
Slayman / Slayman / Slayman / Slayman 32 – 34 = 66
Oberhauser / Wade / Vellios / Vanryzin 35 – 31 = 66
Tipton / Plants / TBD / Framer 35 – 32 = 67
Konyk / Skacan / Donnelly / Mazzan 34 – 35 = 69
Cunningham / Otte / Oakes / Hinkle = NC
Czetli / Czetli / Hardy / Snyder = NC

SKINS: $1,680
Hollifield / Clark / Keller / Frase – Eagle-2 Hole #16