The annual season-opening Yuengling 3-Man Stepback Scramble was held Saturday at Zoar Golf Club. Despite the rainy day, 27 teams competed in the format that requires the player's shot that is used is to "step back" for the next stroke.
The team of Ryan Stefanski, Brian Smith and Steve Blackburn, Jr. emerged as the winner with a 10-under par 62. That team also won two skins, with eagles on the par-5 holes #2 and #12.
There were two teams tied for second place at 64. Dan Terry, Greg Tayler and Chris Ramaglia posted a 32-32, while Allen Freeman, Ty Kovach and Justin Trzebuchowski went out in 30 strokes and came in with 34.
Two teams also tied for fourth place another stroke back at 65: Shayne Bishop, Kenny Kporivec and Mike Sizzler tied with Mike Witmer, Chris Eggleston and Bryan Bober.
In addition to the winners' pair of skins, he team of Raymond Miller, Aaron Miller and Lonnie Wengerd eagled the par-5 14th to capture the third skin on the day.
This tournament was the first of the 2019 Yuengling Scramble Series. The next event is the Zoar 2-man Spring Scramble on Saturday April 27th.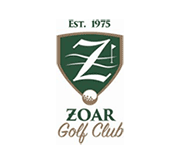 FINAL RESULTS:
2019 Zoar 3-Man Step Back Scramble
Zoar Golf Club, Zoar, Ohio
Saturday, March 30, 2019

62 Ryan Stefanski / Brian Smith / Steve Blackburn, Jr. $720
64 Danny Terry / Greg Tayler / Chris Ramaglia $315
64 Allen Freeman / Ty Kovach / Justin Trzebuchowski $315
65 Shayne Bishop / Ken Koprivec / Sizzler $110
65 Mike Witmer / Chris Eggleston / Bryan Bober $110
66 Raymond Miller / Aaron Miller / Lonnie Wengerd $30
66 Kory Hull / Doug Hull / Tom Seever $30
Out of the Money:
67 Davis Trem Brennan
67 Moomaw Accord Alfery
67 Hepner Gasser Gasser
67 Grubb Grover Creach
68 Simpson Spino Marr
69 Stormer Barry Trent
69 Greff Reid Zimmer
70 Beebe Trier Marsinek
71 Oberhauser, Vellios Wade
71 Watkins Drukenbrod Berkheimer
71 Deetz Fox Troyer
71 Schneider Thomas Moldovan
71 Prok Levengood Monas
72 Polanski Wick Toth
72 Jones Miller Perkowski
74 Stack Hedrick Martin
74 Mullet Green Krotine
76 Crider Cox Stradwick
76 Collins Mattingly Lally
NC Rine Copenhaver Kline
DNS Smith Cooper Wike
DNS Jeffries Vucelich Kircher
DNS Beck Barnett Woods
SKINS: $270 each
Stefanski Eagle #2
Stefanski Eagle #12
Miller Eagle #14