The annual Yuengling Spring 2-Man Scramble was played Saturday at Zoar Golf Club. 40 teams, some from as far away as Ft. Wayne, IN, competed on a course that was set with tough pins.
The team of Jimmy Wild and Matt Frey posted a stellar 64 to win by one shot.
The teams of Brian Smith / Ryan Stefanski and John Schnur / Mark Chrzanowski were next, tied at 7 under par 65.
A whopping seven teams tied for fourth place with a score of 67: Tim Hepner / Mitch Levengood; Mike Simpson / Vaughn Snyder; Jon Leiser / Ryan Wade; Lonnie Wengerd / Brandon Wengerd; Matt Gasser / Brian Gasser; Josh Prok / Kent Monas, and Zach Drukenbrod / Kyle Jones.
There were two skins won on the day, each worth $400: an eagle-3 on the par-5 second hole by Wengerd / Wengerd; and a birdie-2 on the long par-3 fourth hole by Eric Vought and Bobby Spino.
This was the second of the Yuengling Scramble Series at Zoar Golf Club. The next event at Zoar is the 36-hole Zoar Memorial over Memorial Day Saturday and Sunday.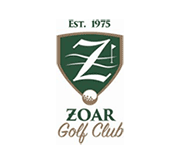 FINAL RESULTS:
2019 Yuengling Spring 2-Man Scramble
Zoar Golf Club, Zoar Ohio
Saturday, April 27, 2019

64 Jimmy Wild – Matt Frey ($600)
65 Smith-Stefanski ($250)
Schnur-Chrzanowski ($250)
67 Tim Hepner-Mitch Levengood ($70)
Mike Simpson-Vaughn Snyder ($70)
Jon Leiser-Ryan Wade ($70)
Lonnie & Brandon Wengerd ($70)
Matt & Brian Gasser ($70)
Josh Prok-Kent Monas ($70)
Zach Drukenbrod-Kyle Jones ($70)
68 Cutlip-Stormer
69 Harmon-Skirptas
Crone-Steiner
Wright-Evans
Beebe-Trier
70 McNeice-Carruth
Vought-Spino
Stewart-Jacklitch
Doon-Doon
Jurcevic-Lavechia
Slayman-Renner
72 Johnson-Oboyle
Schneider-Thomas
Clifford-Kester
Luckenbaugh-Lance
73 Nicely-Nicely
Wade-Belios
Jones-Dudley
Weaver-Miller
74 Radler-Radler
Barnett-Beck
Terry-Karic
Zitkovic-Davis
Gonter-Haynes
75 Patterson-Bright
Watkins-Berkheimer
77 Oberhauser-VanRyzn
82 Hunt-Lauvrey
Mullet-Green
84 Dyer-Kavarda
SKINS: $400 ea
Lonnie Wengerd / Brandon Wengerd – Eagle-3 Hole #2
Eric Vought and Bobby Spino – Birdie-2 Hole #4