A pair of players finished as co-medalists at the 2019 U.S. Women's Mid-Amateur Cleveland Qualifier, held today at Portage Country Club in Akron.
They each arrived at their final total in a completely different fashion.
Canton's Denise Callahan started out today's round at a blistering pace, shooting 1-under par on the front side of Portage CC. She maintained that consistency through most of the back nine, sitting at even par through 14 holes. But a double-bogey at 15 and a bogey at the last gave her a 3-over par total for the round, a great 74 with just a single tough hole.
With today's Mid-Am qualifier, Callahan earned her way into a second USGA national championship this year. In nine days, Callahan will be playing in the 2019 U.S. Senior Women's Amateur at Cedar Rapids Country Club in Iowa, having qualified out of Pennsylvania at the end of July.
Callahan also won the Senior Division of the inaugural NOGA Women's Stroke Play Championship earlier this year at Silver Lake.
So clearly, she is on a roll.
Cathleen Wong, the Golf & Tennis Coordinator at Ohio University in Athens, staged more of a come-back round to shoot her co-medal-winning 74.
Wong turned in 39 with a birdie at the first followed by four bogeys spread out across the outward half.
But Wong's played the back nine in even par 35, with birdies at 11 and 12 offset by bogies at 10 and 17, a strong finish.
Callahan and Wong head to the 2019 U.S. Women's Mid-Amateur Championship at Forest Highlands Golf Club in Flagstaff, AZ on Sep 14-19th.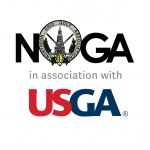 FINAL RESULTS:
United States Golf Association
2019 U.S. Women's Mid-Amateur Cleveland Qualifier
Portage Country Club, Akron, Ohio
Thursday, August 15, 2019
QUALIFYING PLAYERS:
T1 Cathleen Wong 74
T1 Denise Callahan 74
ALTERNATES:
3 Schultz, Christy 76
4 Vaughn, Shirley 77
DID NOT QUALIFY:
T5 Hochschwender, Olivia 81
T5 Baumgartner, Emily 81
WD Miles, Ann WD