Uniontown's Maxwell Moldovan continued his streak of success in Cleveland-area USGA qualifying tournaments, earning medalist honors at Lakewood Country Club and a spot in the 2019 U.S. Junior Amateur Championship at Toledo's Inverness Club July 15-20th.
Earlier in the season, Moldovan beat out a host of pros to earn one of the seven U.S. Open Local Qualifying spots at Beechmont.
Moldovan birdied his final hole of the day from 12 feet to shoot a back-nine 33 and finish as the only player under par for the tournament.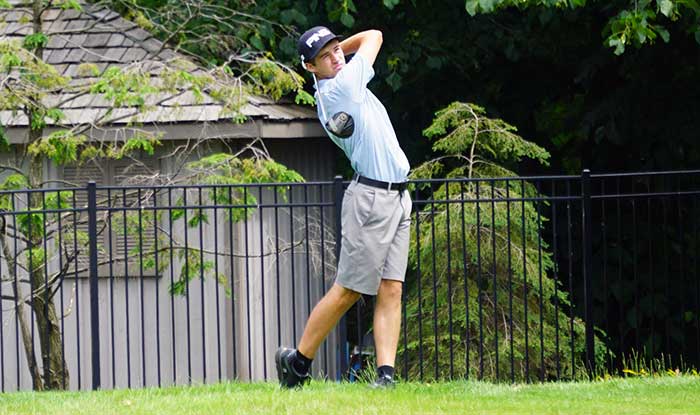 Green's Cade Breitenstine took the other qualifying spot for Inverness, posting a 1-over par 72. Breitenstine shot a steady round, making two birdies against three bogeys while finishing with a string of pars.
Moldovan and Breitenstine know each other well, having played together at Green High School and in numerous AJGA and local junior events.
Eric Cherubini of Dayton nabbed the first alternate spot with a roller coaster score of 73 that included four birdies and six bogeys.
Robert Kimmel of Shaker Heights won a three-way playoff at 74 for the final alternate spot, over Ali Khan of Westerville and Gunnar McCollins of Massillon.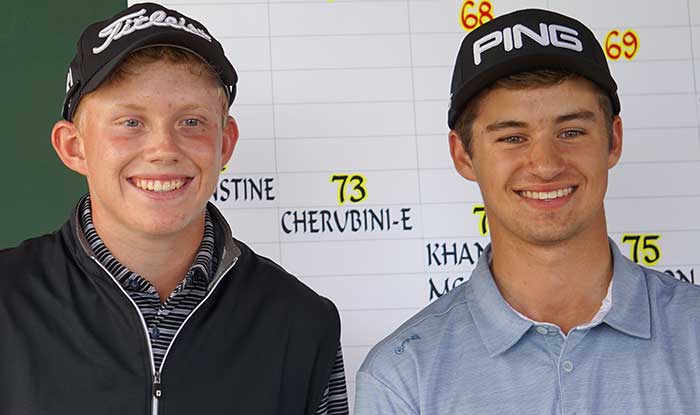 FINAL RESULTS:
United States Golf Association
2019 U.S. Junior Amateur Qualifier
Lakewood Country Club, Westlake, Ohio
Monday, June 24, 2019
QUALIFIERS:
1 Maxwell Moldovan, Uniontown 70
2 Cade Breitenstine, Green 72
ALTERNATES:
3 Eric Cherubini, Dayton 73 1st Alt
T4 Robert Kimmel, Shaker Heights 74 2nd Alt
DID NOT QUALIFY:
T4 Ali Khan, Westerville 74
T4 Gunnar McCollins, Massillon 74
T7 Christman, Cole Warrensville Heights 75
T7 Robinson, Keygan 75
T7 Gibson, Zander Chardon 75
T7 Bilby, Ryan Charleston 75
T7 Vincelette, Colton Warrensville Heights 75
T7 Chandler, Jackson Dublin 75
T13 Pierce, Nolan Oshawa 76
T13 Reed, Topher Columbia Station 76
T13 Mastros, Paul 76
T16 Schnee, Drew Beachwood 77
T16 Gdovin, Connor Highland Hts. 77
T16 Dunphy, Brendan Pickering 77
T16 Ankrom, Tyler Akron 77
T16 Longano, Nicholas 77
T16 Montgomery, Brett Tiffin 77
T22 Kelly, Patrick Erie 78
T22 Watson, Max 78
T22 Talmage, Daniel Toronto 78
T25 Paris, Max Erie 79
T25 Steyer, Josh 79
T25 Bodziony, Antonio Chardon 79
T25 Sabo, Tyler Ashland 79
T29 Dorman, Ian Warrensville Heights 80
T29 Petrie, SolomonW arrensville Heights 80
T29 Bouchard, Felix Sainte Julie 80
T29 Vazquez, Javier Bogota 80
T29 Ilyenko, Yaroslav Gormley 80
T29 Hrabak, Cooper 80
T35 Kaye, Andrew Avon 81
T35 Ottaway, Liam Pepper Pike 81
T35 Austalosh, Dean Warrensville Heights 81
T38 Martin, Andrew Westlake 82
T38 Teeter, Ross Johnstown 82
40 Miller, Jake Richmond 83
T41 Yun, Tae Kyoung (Eric) Toronto 84
T41 Mault, Trevin McDermott 84
T43 Cherubini, AJ Dayton 85
T43 White, Max Bloomfield Hills 85
T45 Bennett, Blake Pickerington 86
T45 Groom, John Cincinnati 86
T45 Yoder, Bruce Millersburg 86
48 Backus, Stewart Dayton 87
T49 Bowers, JR Powell 88
T49 De Luca, Domenic Vaughan 88
51 Redifer, Zach Columbus 93
WD Lavely, Joshua Kewadin WD
WD Cormiea, Mitchell Concord WD