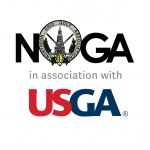 Australian Maddison Hinson-Tolchard of Canning Vale posted a sizzling 5-under par 67 at the challenging Chagrin Valley Country Club today to win the 2019 U.S. Girls Junior Amateur Cleveland Qualifier going away.
Maddison made just a single bogey against six birdies to win the qualifier by a whopping five shots. She advances to the 71st U.S. Girls' Junior Championship at SentryWorld in Stevens Point, WI on July 22–27, 2019.
Finishing second and also advancing to SentryWorld was Solon's Jennifer Wang (above), who made five birdies and five bogeys for an even par round of 72.
Earning the third qualifying spot was Kary Hollenbaugh from New Albany, OH. Kary finished at 1-over par 73.

FINAL RESULTS:
United States Golf Association
2019 U.S. Junior Girls Amateur Cleveland Qualifier
Chagrin Valley Country Club, Moreland Hills, OH
Monday, July 1, 2019
QUALIFIERS:
Maddison Hinson-Tolchard, Canning Vale 67
Jennifer Wang, Solon, OH 72
Kary Hollenbaugh, New Albany, OH 73
ALTERNATES (via playoff):
Jennifer David, Hudson, OH 75 1st Alternate
Cara Heisterkamp, Westlake, OH 75 2nd Alternate
DID NOT QUALIFY:
Pankow, Morgan New Albany, OH 75
Hummer, Emily Upper Arlington, OH 75
Kavanagh, Kelly Arlington Heights, IL 75
Morris, Jami Chagrin Falls, OH 77
Masterson, Paighton Avon Lake, OH 77
Ritter, Anna New Albany, OH 77
Golde, Aleks Atlanta, GA 78
Ports, Hannah Oro Valley, AZ 78
Swan, Lydia North East, PA 80
Ruminski, Amanda Lexington, OH 80
Clemente, Gianna Warren, OH 82
Ports, Raina Oro Valley, AZ 82
Abhang, Ashlesha Dublin, OH 82
Shin, Iris Rocky River, OH 83
Reemsnyder, Madison Canton, OH 83
Lee, Amelia Hilliard, OH 84
McNutt, Ellie Sunbury, OH 85
Coccia, Anna ew Albany, OH 85
Aguirre, Jessica Grapevine, TX 85
Hursh, Laine Chardon, OH 86
Morris, Aaryanna Avondale, AZ 86
Howard, Maria Dublin, OH 86
McRee, Mackenzie Tucson, AZ 87
Powanda, Lindsey Pittsburgh, PA 87
Ovens, Avery Willoughby Hills, OH 87
Chun, Adele Richmond Hill, ON 87
Wright, Avery North Canton, OH 89
Reed, Kristen Carleton, MI 94
De Andrade, Ellie Cohasset, MA 97
Wenzler, Marissa Dayton, OH WD
Barclay, Haley Strathroy, ON WD
Chun, Monet Shin-Hae Richmond Hill, ON WD
Kane, Caroline Pickerington, OH WD