Taking advantage of the perfect spring weather and the surprisingly good early-season golf course conditions, a giant field of 96 players competed in Canton in The Quarry Spring 2-Man Scramble on the first Saturday in April 2019.
The team of Mike Simpson and reinstated amateur Vaughn Snyder posted a sizzling score of 10-under par 62 to take advantage better than the rest.
Their score was good enough to slip past three teams by a single shot.
The Big Skins pot was split in two, and it took a par-5 eagle to get it done. Jeff Stormer and Ray Berry made an eagle putt on the par-5 7th, while a chip-in at the 15th gave Ted Dickerhoof and Scott Gwin their skin.
PHOTO GALLERY: 2019 The Quarry Spring 2-M Scramble >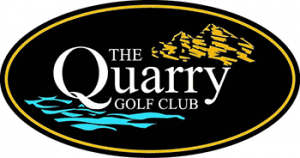 FINAL RESULTS:
2019 The Quarry Spring 2-Man Scramble
The Quarry Golf Club, Canton, Ohio
Saturday, April 7, 2019

1st Mike Simpson & Vaughn Snyder 62 $700
T2 Nick Lambos & Kurt Peterson 63 $480
T2 Zack Drunkenbrud & Kyle Jones 63 $480
T2 Roth & Rutkowski 63 $480
T5 Huntley & Huntley 64 $130
T5 Bishop & Sizler 64 $130
T5 Diebold & Cantor 64 $130
T5 Sotka & Anagnost 64 $130
T5 Cutlip & Marsinek 64 $130
T10 Heavner & Leiser 65 $20
T10 Stefanski & B. Smith 65 $20
T10 Cohen & Goda 65 $20
T10 Zitovic & M. Davis 65 $20
48 Teams Competing
SKINS: $900 ea
Jeff Stormer and Ray Berry Hole #7 Eagle 3
Ted Dickerhoof and Scott Gwin Hole #15 Eagle 3