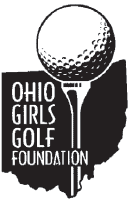 Just days before the 2019 OHSAA season officially kicks off on August 5th, players from high schools across the state brought their pre-season "A" game to the 18th annual Ohio Girls Golf Foundation Showcase on July 29 at Avon Oaks Country Club in Avon, Ohio.
First-time participant Theodore Roosevelt High School in Kent (A-Team pictured above) came away with both first and second place honors, as the A and B teams scored 338 and 361 respectively. They were trailed closely by Hathaway Brown, which scored 367. Other teams competing in the event include Avon Lake, Canfield, Chagrin Falls, Copley, Magnificat and Medina.
First place individual honors went to Alessandra Goyette (pictured with OGGF VP Helene D'Andrea), from Highland High School, who shot a 76; second place was Samantha Webb, from Lutheran West who shot a 79; and in third was Emma Picicco from Kent Roosevelt, who shot an 81. Top-50 results below.
"No matter what your score is, the game of golf is a journey that will take you places and through it, you will make connections that will last a lifetime," said LPGA Professional and headliner Barb Mucha, who is also an inductee of the Cleveland Sports Hall of Fame. During the morning skills sessions, Barb and LPGA player Janice Moodie gave the girls insights into how getting in the right mindset affects the level of play, as well as some fundamental tips.
Also capping off the event was an Awards Dinner, where the OGGF awarded eight college scholarships.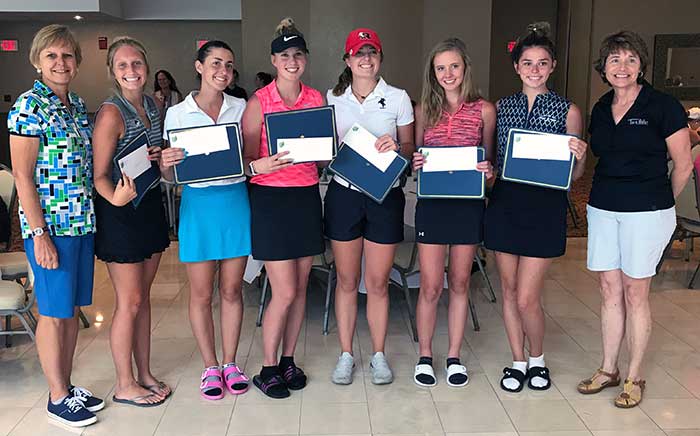 Those scholarships went to:
– Emma Davies of Avon Lake High School;
– Madelyn Brown from Tiffin Calvert High School;
– Jenna Jacobson from Poland Seminary;
– Paighton Masterson from Avon Lake High School;
– Paige Rider from North Royalton High School;
– Grace Thompson from Theodore Roosevelt High School;
– Jenna Timko from Poland Seminary;
– Heather Zaglauer from Fairfield Senior High School.
Applications for the 2020 scholarships, as well as applications for financial aid to attend golf tournaments are available online at OGGF.org.

TOP 50 INDIVIDUAL RESULTS:
2019 Ohio Girls Golf Foundation Showcase
Avon Oaks Country Club, Avon, OH
Monday, July 29, 2019
Alessandra Goyette, Highland High School, 76
Samantha Webb, Lutheran West, 79
Emma Picicco, Kent Roosevelt, 81
Aly Kovach, Magnificat, 82
Jenna Jacobson, Poland, 83
Erin Frey, Medina, 83
Grace Prentiss, Copley, 83
Alyson Veverka, Olmsted Falls, 83
Kate Hickey, Hathaway Brown, 84
Lauren Neher, Norwalk, 84
Grace Thompson, Kent Roosevelt, 84
Madison Murphy, Canfield, 85
Katie Kulis, Kent Roosevelt, 85
Haley Brenner, Kent Roosevelt, 86
Maren Seaholts, Kent Roosevelt, 86
Emma Davies, Avon Lake, 87
Sydnie Leavery, Kent Roosevelt, 87
Simr Deo, Hathaway Brown, 88
Emily Jones, Hathaway Brown, 88
Madelyn Brown, Tiffin, 90
Bradyn Harris, Kent Roosevelt, 90
Kayla Kippes, Olmsted Township, 90
Kayla Scheuman, Westlake, 91
Emma Bartlett, Chagrin Falls, 92
Katelyn Neil, Westerville, 93
Kandace Kellon, Hathaway Brown, 94
Maggie Masterson, Avon Lake, 94
Alaina Borra, Medina, 95
Sei Condo, Copley, 95
Cleo Meldrum, Medina, 95
Olivia Nelson, Parma 95
Aubrey Cavey, Medina, 96
Jackie Kinnick, Canfield, 96
Isabella Mineo, Kent Roosevelt, 96
Paige Rider, North Royalton, 96
Emily Schwenn, Broadview Heights, 96
Hayley Johnson, Medina, 97
Christina Joseph, Chagrin Falls, 97
Abbey Keller, Kent Roosevelt, 97
Nikki Selzer, Lagrange, 97
Jenna Timko, Poland 97
Eileen McHale, Canfield, 98
Ashley Hubert, Avon Lake, 99
Lyndsey Stephens, Twinsburg, 101
Alexa Nielsen, Chagrin Falls, 102
Lauren Hawkinson, Avon Lake, 103
Abby Madden, Avon Lake, 103
Claire Hickey, Hathaway Brown, 104
Haley Tisone, Canfield, 104
Lexy Kovach, Magnificat, 105
Callie Wabeke, Hinckley, 105
Samantha Winterich, Kent Roosevelt, 105
Reagan Elwell, Magnificat, 106
Sasha Haines, Chagrin Falls, 106
Paige Machovina, Avon Lake, 106
Kayla Barylski, Huron, 107
Jackie Binkley, Copley, 107
Ava Grant, Milan, 107
Anna Schramko, Magnificat, 107
Chloe Steger, Chagrin Falls, 107
Claire Schramko, Magnificat, 108
Alexandra Holtz, Chagrin Falls, 108
Claire Harvey, Magnificat, 108
Jocelyn Zhao, Canfield, 111
Taylor Grosenbaugh, Copley, 112
Sarah Oschman, Copley, 113
Elise Hammond, Magnificat, 114
Portia Beck, Medina, 116
Lauren Calvey, Medina, 117
Grace Li, Canfield, 119
Grace Gallagher, Avon Lake, 120
Madeline Williams, Hathaway Brown, 125
Olivia Leskovac, Canfield, 126
Caroline Kennedy, Magnificat, 130
Ella Drury, Magnificat, 132
Julia Colton, Westlake, 137
Anna Geocke, Magnificat, 137
Madi Machado, Chagrin Falls, 137
Megan Miller, Chagrin Falls, 139

– photos and story courtesy of OGGF's Patricia Nugent