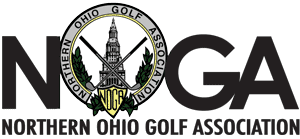 The conditions were sure a whole lot better than the originally scheduled date.
Back on May 6th, Lakewood Country Club was a pond. Standing water everywhere led to a cancellation and reschedule of the NOGA Spring Four-Ball.
July 1st is certainly no longer "Spring", but the decision was a great one as the Monday event saw sunny skies, fast and firm conditions, speedy greens, and not a puddle to be found anywhere.
Three-under par 68 was the best score of the day, as two AA teams finished tied for first place with that total.
Chris Okeson and Steve Putinski matched Griffin Todd and Joshua Zarlenga for event medalist honors, although Todd and Zarlenga "out skinned" their counterparts, 3 vs 2.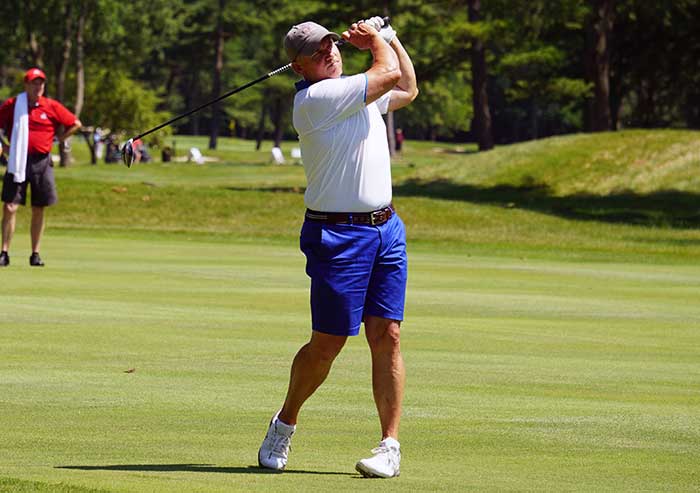 In the AA Senior Flight, the NOGA winning just keeps on coming for Tom Skidmore and Tom Baugh (above). Having already won the NOGA 2-Player Scramble and the NOGA Senior AA Four-Ball at Sand Ridge this year, Skidmore and Baugh earned a third team victory on the season, besting a trio of teams by just one shot.
John Blackburn and Brian Parsons captured the A Flight with a solid score of 1-under par 70, while Bob Lesigonich and Steve Anderson earned top honors in the A Senior Flight with a 72.
In the B Flight, Dan Juris and Bill Harrington shot 74 to win there, while Team Dennis, Dennis Fujka and Dennis Chupa matched that winning score of 74 for the B Senior Flight.
And rounding out the results, Geoff Karcher and Matt Tucker won the C Flight with a 78.
The next event on the 2019 schedule is the NOGA Stroke Play West at Elyria Country Club on Monday July 15th. The next team event is the NOGA 55/25 Four-Ball at Silver Lake Country Club on Monday Aug 19th. Get your entries in here >
The reschedule of the Spring Four-Ball also meant for the first time ever, NOGA was conducting two events simultaneously. The USGA Girls Junior Am qualifier was being held across town at Chagrin Valley Country Club, starting at 8a that morning. Both events came off to perfection, so kudos to the entire NOGA staff…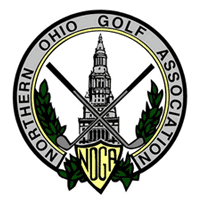 FINAL RESULTS:
Northern Ohio Golf Association
2019 Spring Four-Ball Tournament
Lakewood Country Club, Westlake, Ohio
Monday, July 1, 2019
AA FLIGHT
Chris Okeson / Steve Putinski 68 $85.00
Griffin Todd / Joshua Zarlenga 68 $85.00
Jeff Meagrow / Brian Thompson 69
Joe Arnold / Patrick Metzger 74
Saumil Jhaveri / Kevin Rowe 74
Chris Horne / Dan Rose 76
AA SKINS: $15 ea
Todd, Griffin / Zarlenga, Joshua: Birdie on 6, Birdie on 10, Birdie on 11
Meagrow, Jeff / Thompson, Brian: Birdie on 12, Birdie on 13
Okeson, Chris / Putinski, Steve: Birdie on 2, Birdie on 15
AA SENIOR FLIGHT
Tom Baugh / Tom Skidmore 70 $180.00
Barry Cohn / Marc Fried 71 $40.00
Joe Denk / Mike Cassell 71 $40.00
Rick Merrow / Rick Bryson 71
Scott Heran / Michael Mintz 73
Larry Lahnan / Joseph Roller 73
Tom Begley / David Fries 74
Dan Hopkins / Colin Maclean 77
Jerry Haywood / Tom Herschel 82
AA SENIOR SKINS: $15 ea
Cohn, Barry / Fried, Marc: Birdie on 6, Birdie on 10, Birdie on 15
Heran, Scott / Mintz, Michael: Birdie on 11, Birdie on 16
Cassell, Mike / Denk, Joe: Birdie on 2, Birdie on 13
Baugh, Tom / Skidmore, Tom: Birdie on 9, Birdie on 14
Bryson, Rick / Merrow, Rick: Birdie on 1
Begley, Tom / Fries, David: Birdie on 4
A FLIGHT
John Blackburn / Brian Parsons 70 $180.00
Craig Dunlap / Gabriel Michel 72 $80.00
Brian Burger / Ryan Haley 73
Paul Prince / John Prince 73
Jim Grosso / Joel Recht 74
Bob Weaver / Nick Bukovecky 74
Tye Wreyford / Derrick Tedrow 75
Greg Duncan / Greg Mulach 76
Frank Conti / Eric Mayers 80
A SKINS: $25 ea
Tedrow, Derrick / Wreyford, Tye: Birdie on 12, Birdie on 18
Blackburn, John / Parsons, Brian: Birdie on 1, Birdie on 5
Dunlap, Craig / Michel, Gabriel: Birdie on 14
Bukovecky, Nick / Weaver, Bob: Birdie on 13
Burger, Brian / Haley, Ryan: Birdie on 4
A SENIOR FLIGHT
Bob Lesigonich / Steve Anderson 72 $180.00
Brian Duffin / Chuck Aldrich 74
Britt Lilley / Jeff Miller 75 $40.00
Ed Saylor / Keith Pluto 75 $40.00
Jim Plemen / Art Shibley 77
Mark Delorean / Neil Dreher 77
Rick Bock / Tom Randall 80
Richard Weiss / Hugh Morgan 81
Tom Adams / Bob Emmerich 82
A SENIOR SKINS: $45 ea
Anderson, Steve / Lesigonich, Bob: Birdie on 5, Birdie on 9, Birdie on 17
Pluto, Keith / Saylor, Ed: Birdie on 10
B FLIGHT
Dan Juris / Bill Harrington 74 $170.00
Daniel Sabo / Michael Stuewe 76
Nick Fanous / Josh Swander 76
Michael R Galloway / Robert Deep 76
Brad Yoder / Josh Zeiger 79
Nick Ksenich / David Fazekas 82
Mark Kluck / Curt Lindsay 88
B SKINS: $20 ea
Yoder, Brad / Zeiger, Josh: Birdie on 4, Par on 15
Harrington, Bill / Juris, Dan: Birdie on 14
Deep, Robert / Galloway, Michael R: Birdie on 10
Fanous, Nick / Swander, Josh: Birdie on 9
B SENIOR FLIGHT
Dennis Fujka / Dennis Chupa 74 $180.00
Alan Dimare / Mike Blauman 76 $80.00
Jim Crandall / Chuck Millward 79
Troy Miller / Steve Willett 82
Rich Kirbus / Robert Leach 82
John Pettit / Gary Peters 83
Rupert Beckstett / Robert Niebaum 86
Fred Westbrook / Tony Kazanas 89
Pat Graham / Jim Strunk 94
B SENIOR SKINS: $60 ea
Chupa, Dennis / Fujka, Dennis: Birdie on 4, Birdie on 6
Kirbus, Rich / Leach, Robert: Par on 7
C FLIGHT
Geoff Karcher / Matt Tucker 78 $170.00
Roy Jones / William Smith 81
Paul Quinn / John Caine 81
Dave Pavlick / Bill Boyd 84
C SKINS: $10 ea
Anthony Lorenzo / Michael Nowacki: Birdie on 3, Birdie on 4, Par on 5, Eagle on 6
Geoff Karcher / Matt Tucker: Birdie on 16
Paul Quinn / John Caine: Birdie on 9