Against its challenging layout, the scoring by the field at the Valley of the Eagles bordered on spectacular.
Jimmy Wild and Steve Blackburn Jr. made an eagle and four birdies for a back-nine 29 to earn a one shot victory in the 2019 NEOHgolf.com Valley of the Eagles 2-M Scramble on Saturday in Elyria against 24 teams.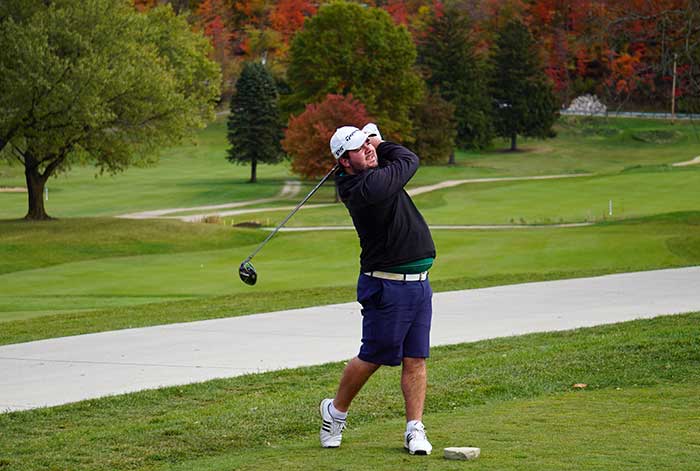 Playing in the second-to-last group of the day in a round that stretched well past dusk, Blackburn made a clutch six foot putt for birdie at the par-5 18th in near dark conditions to finish at 12-under par 60.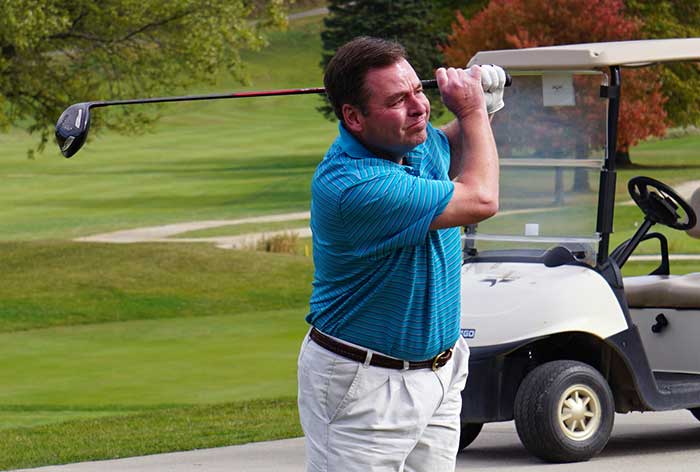 The red-hot putting team of Dave Trier and Mike Armour finished in second place at 61. Trier and Armour managed but a par on the 'gettable' finishing hole, when a birdie would have matched the winner's back nine and overall score.
The veteran team of Larry Lahnan and Fred Miller finished third at 10-under par 62.
Fourth place finishers Brian Smith and Ryan Stefanski earned one of two skins won on the day with an eagle-3 on the par-5 second hole. The T5 team of Allen Freeman and Shaun Kloetzer nabbed the round's other skin with an eagle-3 on the par-5 fourth.
The Nicklaus-designed course has made great strides in conditioning for just its second full year in existence. Based on the comments received, players certainly look forward to returning…
FINAL RESULTS:
Northeast Ohio Golf Tournament Series
2019 Valley of the Eagles 2-Man Scramble
Valley of the Eagles, Elyria, Ohio
Saturday, October 19, 2019

1. Steve Blackburn Jr / Jimmy Wild 31 – 29 = 60 $720.00
2. Dave Trier / Mike Armour 31 – 30 = 61 $500.00
3. Fred Miller / Larry Lahnan 29 – 33 = 62 $300.00
4. Ryan Stefanski / Brian Smith 32 – 31 = 63 $190.00
T5. Paul LaGrotteria / Scott Saari 33 – 31 = 64 $70.00
T5. John Zitkovic / Mike Davis 31 – 33 = 64 $70.00
T5. Allen Freeman / Shaun Kloetzer 33 – 31 = 64 $70.00
T8. Bobby Spino / Ty Kovach 33 – 32 = 65
T8. Rod Bordman / Jim Mongiardo 34 – 31 = 65
T8. Raymond Miller / Jack Wentzel 33 – 32 = 65
T11. Mark Schneider / Mark Thomas 34 – 32 = 66
T11. Josh Prok / Zach Drunkenbrod 33 – 33 = 66
T13. Danny Terry / Zoran Karic 33 – 34 = 67
T13. Roger Tolley / John Ray 33 – 34 = 67
15. John Toth / Tyler Watkis 32 – 36 = 68
16. Ron Skirpstas / John Svadba 35 – 34 = 69
T17. Mike Crawford / Bob Finch 34 – 36 = 70
T17. Danny Madden / Tyler Madden 33 – 37 = 70
19. Ross Nicol / Chris Jankowski 39 – 32 = 71
T20. Jeffrey Camp / James Kroupa 38 – 34 = 72
T20. Jeff Yannarell / Justin Roppel 34 – 38 = 72
22. Doug Phillips / Mark Wasil 34 – 40 = 74
23. Thomas DeCaro / Ryan Kaufmann 36 – 39 = 75
24. Kevin McAfee / Aaron Kazan 40 – 36 = 76
SKINS: $480 ea
Brian Smith / Ryan Stefanski – eagle-3 Hole #2
Allen Freeman / Shaun Kloetzer – eagle-3 Hole #4