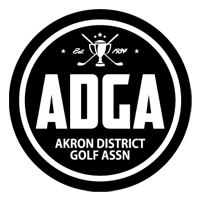 Eagle. Birdie. Eagle. Birdie. Birdie.
That's how the team of Mike Heim, Ford, Ford and Baccutti finished their day at Seven Hills Golf Course in Hartville while competing in the 2019 Akron District Golf Association 4-Man Scramble presented by Crest Roofing and Van Nostran Young and Associates.
That's 7-under par in the last five holes — a great way to turn an average scramble score into a fantastic one.
Even better: the two eagles made in that finishing span were good for the only two skins won on the day, sweeping the entire skins pot for the team, too!
The big finish pushed Team Heim's total to 16-under par 56 and into a first place tie. The team of Brian Smith, Ryan Stefanski, Ben Hogan and Connor Mead (pictured below) shot 8-under par on each side to post 56 as well, a score that would usually earn a solo victory.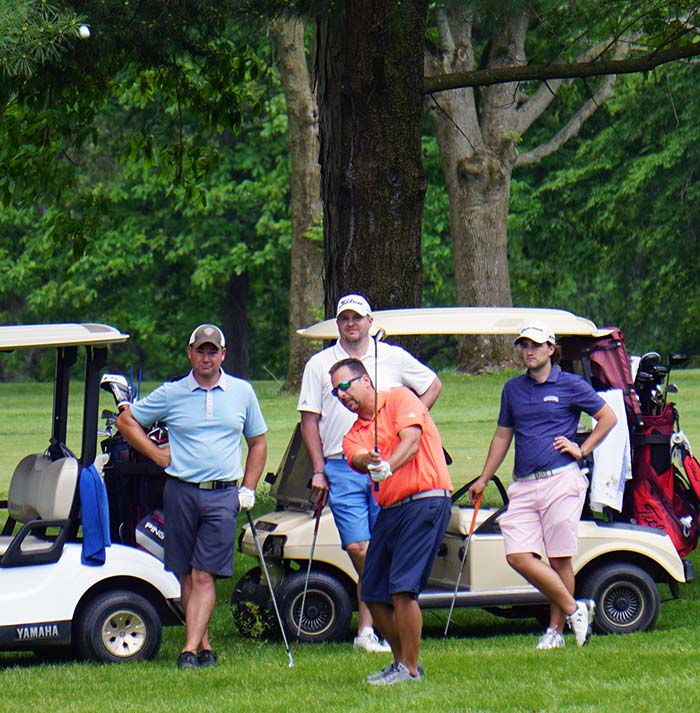 The team of Jeff Dean, Bruce Dean, Doug Rockich and Jim Hockwalt had a great chance at the last hole to tie for first place, but couldn't coax in their 15-foot birdie putt.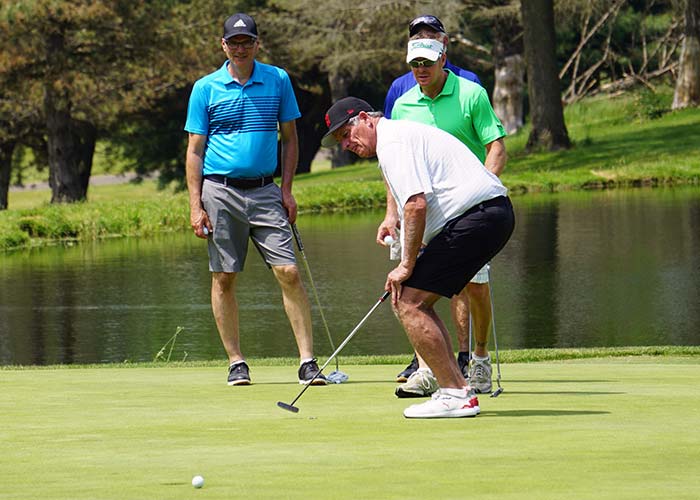 (Check out each player's "miss twist" in the Photo Gallery.)

The next event on the 2019 schedule is the ADGA 2-M Jumble at Shady Hollow Country Club in Massillon on Saturday, June 22nd.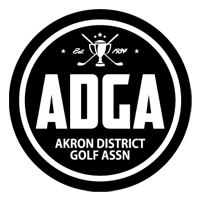 FINAL RESULTS:
Akron District Golf Association
2019 ADGA 4-Player Scramble
presented by Crest Roofing and
Van Nostran Young & Associates
Seven Hills Golf Club, Hartville, Ohio
Saturday, May 25, 2019
T-1 Heim / Ford / Ford / Baccutti 30 – 26 = 56 $1,250.00
T-1 B. Smith / Stefanski / Hogan / Mead 28 – 28 = 56 $1,250.00
T-3 Simpson / Krivanek / Snyder / Culbertson 29 – 28 = 57 $700.00
T-3 Dean / Dean / Rockich / Hockwalt 27 – 30 = 57 $700.00
T-5 Cutlip / Stormer / Marsinek / Trier 27 – 31 = 58 $225.00
T-5 Clendenin / Blackburn / Wild / Anagnost 27 – 31 = 58 $225.00
T-5 Cea / Cea / Bell / Beebe 30 – 28 = 58 $225.00
T-5 Bryson / Merrow / Herchek / Horner 29 – 29 = 58 $225.00
T9 Maple / Wagner / Skeen / Lawerance 28 – 31 = 59
T9 Miano / Giamo / McGuire / McCaulley 30 – 29 = 59
T9 Lieser / McVey / Groves / Wade 30 – 29 = 59
12 Freeman / Kovach / Kloetzer / Armour 30 – 30 = 60
T13 Marr / Toth / McBride / Peterson 32 – 29 = 61
T13 Fricker / Lowry / Fleming / Wilson Sr. 28 – 33 = 61
T13 Reuscher / Brouse / Paterakis / Swiatkowski 31 – 30 = 61
T13 Skidmore / Downing / Seever / Davis 30 – 31 = 61
T17 Hull / Shisler / Sutter / Roberts 33 – 29 = 62
T17 Wade / Oberhauser / Vellios / Vanryzan 31 – 31 = 62
T19 Malkus / Malkus / Malkus / Wadsworth 31 – 32 = 63
T19 Jones / Frey / Bartruff / Davidson 32 – 31 = 63
T21 Foss / Angie / Strok / Fillipi 32 – 32 = 64
T21 Lahnan / Miller / Laubacher / Campitelli 32 – 32 = 64
23 Stack / Martin / Hedrick / Tarter 32 – 33 = 65

SKINS: $460 ea
Team Mike Heim – Eagle 3 Hole #14
Team Mike Heim – Eagle 2 Hole #16