Zoar Golf Club hosted its 2018 tournament season opener, the annual 3-Man Stepback Scramble on a brisk, windy last Saturday of March. The format of this event is unique: the player whose shot is chosen "steps back" for the next shot and lets his partners handle it.
The Stark County team of Mark Schneider, Kent Monas and Josh Prok emerged as winners by a single shot with a score of 9-under par 63, which was fantastic for the conditions.
Schneider and Prok were co-defending champions of the 2017 Stepback event, having then partnered with Mark Thomas who is currently recovering from shoulder surgery.
Alone in second place at 64, the St. Clairsville team of Jade Waligura, Dave Frey and Chuck Snodgrass finished two shots clear of third place.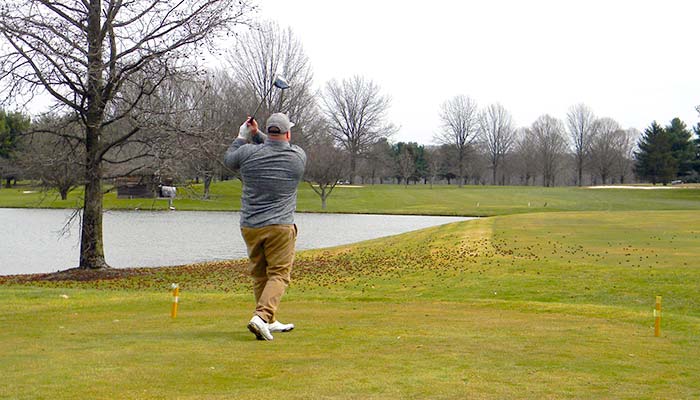 Five teams tied for third at 66 strokes, 6-under par:
Raymond Miller, Lonnie Wengerd and Aaron Miller;
John Bender, Miles Demusy and Brandon Obermiller;
Tim Hepner, Matt Gasser and Brian Gasser;
Scottie Jones, John Perkowski and Matt Miller;
and Tyler Watkins (above), Matt Warren and Alex Loftin.
There were two skins won on the day, good for $465 each: the Brandon Shannon Team made an eagle on the par-5 7th hole; and the Hepner/Gasser Team earned a skin with a birdie 2 on the 165 yard par-3 15th.
A full field of 31 teams (less one no-show) competed on Saturday at Zoar.
The next event on the Zoar Golf Club schedule is the Zoar Spring 2-Man Scramble on Saturday, April 28th. Get your entry in soon, as this event will likely sell out too…
FINAL RESULTS:
2018 Zoar 3-Man Stepback Scramble
Zoar Golf Club, Zoar, OH
Saturday, March 31,2018
63 Schneider Prok Monas $720
64 Waligura Frey Snodgrass $460
66 Miller Wengerd Miller $130
66 Bender Demusy Obermiller $130
66 Hepner Gasser Gasser $130
66 Jones Perkowski Miller $130
66 Watkins Warren Loftin $130
68 Greff Zimmer Ruffing
68 Schonover McVey Grosenbacher
68 Fleming Seever Mendoza
68 Trent Serber Price
69 Freeman Kovach Koprivec
69 Bishop Spino Simpson
69 Cutlip Trier Stormer
70 Garwood Walker Phipps
70 Slayman Renner Sessor
71 Stack Martin Hedrick
71 Bogus Stanton Spencer
71 Shannon Bowman Miller
71 Hull Hull Hull
71 Terry Karic Ramaglia
72 Roth Ramus Bauer
73 Oberhauser Vellios Wade
74 Briggs Padro Gray
74 Vucelich Jeffries Straughn
75 Collins Mattingly Lally
75 Baksa Brecht Salter
76 Cox Crider Jurcevic
79 Tarter Tarter Tarter
82 Smith Cooper Wike
86 Goodnight Hoffman Uminski