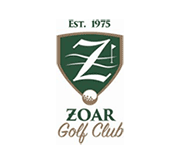 The annual Zoar 2 x 4 Scramble was held at Zoar Golf Club on Sunday afternoon, July 1st. Sixteen 4-man teams were greeted by very warm temperatures, but the scores were a testament to the talent that entered.
The format features foursomes that play as two 2-man teams, counting the better scramble score on each hole, but all scores under par count toward the total.
The team of Tim Hepner and Mitch Levengood were the day's low twosome at 12-under par in a round that featured 3 eagles ($50ea). Their teammates of Matt Gasser and Brian Gasser helped enough to get them to 22-under par for first place ($900)
Twenty-under par finished in second place ($600). Ryan Stefanski and Brian Smith paired with Jimmy Wild and AJ Borisa, and both teams shot 62.
Two teams tied for third place at 18-under par ($220 ea): Dan Metheney-Dan Quillia and Matt Reed-Tyler Baughman made the trip from Zanesville to tie Caine Bricker-Tom Waycaster and Dave Ogle-Michael Ogle.
Three teams tied for 5th at minus 17 ($100): Simpson-Crewse, Jones-Clark; Jones-Dunn,Crone-Phipps; and Mills-Mazzan, Mills-Mizer.
There were no outright skins won.