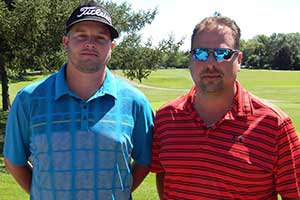 Ryan Stefanksi and Brian Smith routed the field on Saturday at Barberton Brookside Golf Club, shooting a 10-under par 62 in the 2018 Akron District Golf Association's Nick Lazor 2-Man Better Ball.
Even though they started the day with a bogey on the par-5 first hole, Smith and Stefanski ripped off birdie after birdie after that and won by a whopping four shots over Steve Blackburn Jr. and Howard Clendenin at 66.
In the Senior Division, a pair of teams tied for first place. David Trier and Dean Cutlip posted an early-in-the-day round of 67. Then in the last group of the day, Rick Bryson and Rick Merrow matched that 5-under par score to tie for the top spot.
The next event on the 2018 calendar is the ADGA Bud Light 3-M Shamble at Seven Hills Golf Course on Saturday, July 21st.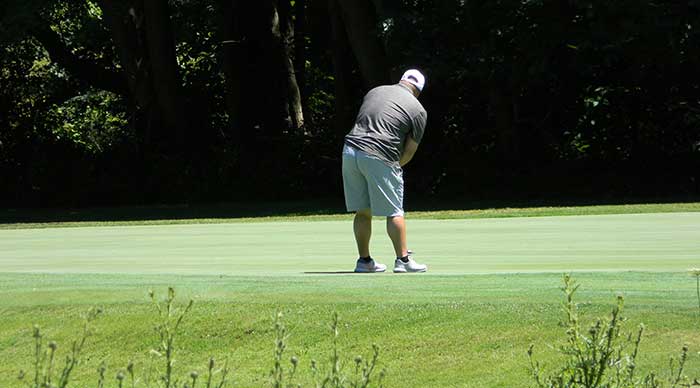 FINAL RESULTS:
Akron District Golf Association
2018 Nick Lazor 2-Man Better Ball
presented by Windmill Golf Center
Barberton Brookside Golf Club
Saturday, July 7, 2018
CHAMPIONSHIP DIVISION
1st Ryan Stefanski / Brian Smith 62 $700.00
2nd Howard Clendenin / Steve Blackburn 66 $500.00
3rd Shaun Kloetzer / John Karamas 67 $300.00
3rd Kenny Koprevic / John Kabasky 67 $300.00
5th Brandon Shannon / Eric Bowman 68 $150.00
Out of the Money:
Simpson / Krivanek 69
Loftin / Watkins 70
Lowry / Fricker 70
Berkheimer / Berkheimer 71
Freeman / Kovach 72
Lambos / Peterson 72
Mozingo / McClowry 72
Prok / Schneider 72
Armour / Beebe 73
Marr / Crewse 73
Frey / Wild 73
Wenger / Miller 75
Lieser / Hannon 75
SKINS: $120 ea
Shaun Kloetzer / John Karamas Birdie 4 Hole #1
Bob Berkheimer / Dennis Berkheimer Eagle 3 Hole #10
Tyler Watkins / Alex Loftin Birdie 3 Hole #15

SENIOR DIVISION
1st Rick Merrow / Rick Bryson 67 $480.00
1st Dean Cutlip / Dave Trier 67 $480.00
3rd Tom Skidmore / Bill Downing 69 $190.00
3rd Tom Seever / Raul Mendoza 69 $190.00
3rd Fred Miller / Larry Lahnan 69 $190.00
Out of the Money:
Livak / Bedell 70
Fleming / Thomas 70
Stack / Rockich 70
Dean / Dean 71
Cea / Huntley 71
Foss / Borlin 72
Cutlip / Marsinek 74
Davis / Hull 75
Luckenbaugh / Roth 76
SENIOR SKINS: $93.33 ea
Tom Skidmore / Bill Downing Birdie 4 Hole #1
Doug Fleming / Mark Thomas Birdie 3 Hole #3
Jim Cea / Brian Huntley Birdie 2 Hole #13