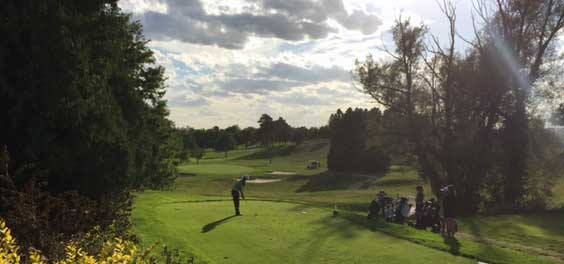 Jessica Hahn fired an even par 35 as the Canton Glen Oak Eagles flexed their muscles with a 163-177 win in the regular season finale at Medina Country Club.
Medina's ace Alyssa Drehs was close behind with a 37 and is peaking as the Bees prepare for sectional action next week at Sweetbriar Golf Course.
Senior Abbie Kaskey, in her final home match fired a 45. Danielle Roshong added a 41 and Brianna Adcock carded a 43 for Glen Oak, who will head to The Elms Country Club for sectional play.

FINAL RESULTS: Girls High School Golf
2016 Medina v. Canton Glen Oak
Medina Country Club | Par 35
Tuesday, September 27, 2016
Canton Glen Oak 163
Jessica Hahn 35
Danielle Roshong 41
Brianna Adcock 43
Lexus Roshong 44
Shelby Mercer 47
Medina 177
Alyssa Drehs 37
Abbie Kaskey 45
Meleana Santivasci 46
Alex Wiedemann 49
Maddie Debnar 52
Rebecca Kaskie 53