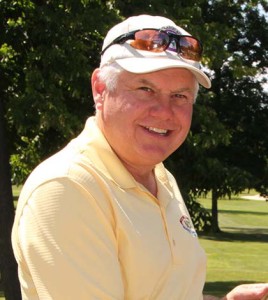 Thursday's final round of the 29th Michelob Ultra/Minute Men Staffing Ohio Senior Open was a washout.
When continuing rain made the course unplayable, it was decided to cut the event to 18 holes, leaving Tony Milam, PGA and director of the North Coast Junior Tour, as the 2014 Ohio Senior Open Champion based on Round 1 scores.
Milam played a bogey free round of 65 on Wednesday which gave him a three shot leading going into the finale, but Thursday play was impossible.
Chris Sabo of Cincinnati was Low Amateur with a score of 69.
The Super Senior Division was won by two amateurs: Frank Guise of Westlake and Philip Russo of Cincinnati tied with a score of 70.
Low Super Senior Professional was a tie between two Northern Ohio PGA Members Kim Boehlke, PGA and Gary Wilkins, PGA, who both shot a 71.
The Firestone Country Club West Course deemed unplayable by the Ohio Senior Open Rules Committee. "We would like to thank Firestone Country West Course Superintendent Brian Rafferty and his staff for their hard work preparing the course after extreme amounts of rain," Tournament Director David Griffith said.
The Northern Ohio PGA is looking forward to dryer weather and everyone coming back to participate next year.
Final Results: Northern Ohio PGA
2014 Ohio Senior Open Championship
Michelob Ultra/Minute Men Staffing
Firestone Country Club West Course, Akron
May 14 – 15, 2014

1 Tony Milam Concord, OH 32-33–65 -5
2 John McMahon Aurora, OH 34-34–68 -2
T3 Chris Sabo (a) Cincinnati, OH 36-33–69 -1
T3 Tom Herzan Scottsdale, AZ 35-34–69 -1
T3 Scott Spence Galena, OH 36-33–69 -1
T6 Gary Robison Canton, OH 36-34–70 E
T6 Dean Prowse Cleves, OH 34-36–70 E
T6 Gary Trivisonno Aurora, OH 36-34–70 E
T6 Mitchell Camp Aurora, OH 35-35–70 E
T6 Tim Sorrows (a) Liberty Twp, OH 36-34–70 E
T11 Mike Kaido Zanesville, OH 37-34–71 +1
T11 Alan Fadel (a) Toledo, OH 37-34–71 +1
T13 Edward Steiber (a) Cincinnati, OH 34-38–72 +2
T13 Olle Karlstrom Concord Twp, OH 36-36–72 +2
T13 Bill Stines Columbus, OH 36-36–72 +2
T13 Tom Atchison Silver Lake, OH 37-35–72 +2
T13 Pat Delaney Springfield, OH 36-36–72 +2
T13 Jim Karr Lakewood, OH 37-35–72 +2
T19 Paul Rooney Kings Mills, OH 37-36–73 +3
T19 Chris Black Lancaster, OH 37-36–73 +3
T19 Daniel Terry Wadsworth, OH 38-35–73 +3
T19 Cory George Lancaster, OH 37-36–73 +3
T19 Mark Weitendorf Hudson, OH 38-35–73 +3
T19 John Goodson Hudson, OH 35-38–73 +3
T25 Russ Papa Solon, OH 38-36–74 +4
T25 Tom Waitrovich Westlake, Ohio 34-40–74 +4
T25 Brad Zeitner Columbus, OH 37-37–74 +4
T25 Nick Lambos (a) Canton, OH 37-37–74 +4
T25 Mark Wise (a) Westlake, OH 35-39–74 +4
T30 Tony Cardinali Powell, OH 37-38–75 +5
T30 David Clarke (a) St. Clairsville, OH 38-37–75 +5
T30 Larry King Trenton, OH 36-39–75 +5
T30 Jeff Gress Coshocton, OH 36-39–75 +5
T30 Dan Malloy (a) Westlake, OH 37-38–75 +5
T35 Doug Ison (a) Jackson, OH 37-39–76 +6
T35 George Papas (a) Hinckley, OH 39-37–76 +6
T35 Greg Myers (a) Twinsburg, OH 39-37–76 +6
T35 Tom Baugh (a) Akron, OH 38-38–76 +6
T35 Bob Hauer Cincinnati, OH 36-40–76 +6
T35 Ken Kinkopf (a) Dublin, OH 38-38–76 +6
T35 Roger Tolley (a) Willard, OH 38-38–76 +6
T42 Mark Thomas (a) Jackson Twp, OH 39-38–77 +7
T42 Craig Goldsberry Lewis Center, OH 38-39–77 +7
T42 Bradley Hotchkiss Medina, OH 38-39–77 +7
T45 Roy Carmichael Dayton, OH 40-38–78 +8
T45 Mark Borlin (a) Solon, OH 39-39–78 +8
T45 John Gagai (a) Ironton, OH 39-39–78 +8
T45 Dan DeVore (a) Cincinnati, OH 42-36–78 +8
49 Mark Boothby (a) Cincinnati, OH 39-40–79 +9
T50 Mark Ciccarello (a) South Euclid, OH 40-40–80 +10
T50 Don Pollard Portsmouth, OH 40-40–80 +10
T50 David DeVault (a) Kirtland, OH 38-42–80 +10
T53 Michael Ross (a) Hinckley, OH 39-42–81 +11
T53 Leo Szczepanski (a) Seven Hills, OH 44-37–81 +11
T53 Paul Kish (a) Painesville, OH 41-40–81 +11
T53 Ted Williams (a) Jackson, OH 43-38–81 +11
T57 Ron Rositani (a) Willowick, OH 41-41–82 +12
T57 Bill Green III Delaware, OH 42-40–82 +12
T59 Robert Utter, Jr. (a) Northwood, OH 43-40–83 +13
T59 William Germana Auburn Twp. Ohio 44-39–83 +13
61 Jeff Pectol (a) Batavia, OH 40-44–84 +14
62 David Holcomb Lucasville, OH 45-40–85 +15
63 Raymond Najda (a) Olmsted Township, OH 42-44–86 +16
64 Jeff Steinberg Kettering, OH 42-45–87 +17
65 George Long Cincinnati, OH 41-47–88 +18
66 Rob Highley (a) Cincinnati, OH 49-44–93 +23
67 Michael Zwick Akron, OH 56-54–110 +40

Super Senior Division
T1 Frank Guise (a) Westlake, OH 36-34–70 E
T1 Philip Russo (a) Cincinnati, OH 35-35–70 E
T3 Kim Boehlke Youngstown, OH 36-35–71 +1
T3 Gary Wilkins Norwalk, OH 36-35–71 +1
T5 Jerry Miller Beachwood, OH 35-37–72 +2
T5 Walt Robertson Cleveland, OH 36-36–72 +2
T5 Steven Shaw Brecksville, OH 35-37–72 +2
8 James Peters Cincinnati, OH 36-37–73 +3
T9 Jack Wentzel (a) North Lawrence, OH 34-40–74 +4
T9 Steve Groves Columbus, OH 36-38–74 +4
T9 Jim Logue Canton, OH 38-36–74 +4
T9 Charlie Wood South Euclid, OH 35-39–74 +4
13 James Niskanen (a) Norton, OH 36-39–75 +5
T14 Warne Palmer Warren, OH 39-37–76 +6
T14 Randy Steele (a) Hudson, OH 36-40–76 +6
T14 Steve Bedell (a) Brecksville, OH 38-38–76 +6
T14 Gary Murray (a) Jackson, OH 37-39–76 +6
T14 Warren Cohen (a) Shaker Heights, OH 39-37–76 +6
T19 Terry Shell Wintersville, OH 36-41–77 +7
T19 Gene Bingman (a) Wadsworth, OH 39-38–77 +7
T21 David Royer (a) Dublin, OH 35-43–78 +8
T21 Raymond Bush Masssillon, OH 38-40–78 +8
T23 Jim Corcoran (a) Medina, OH 37-42–79 +9
T23 Paul Slack (a) Wooster, OH 38-41–79 +9
25 Bill Downing (a) Akron, OH 41-39–80 +10
T26 Nelson Shively (a) Chagrin Falls, OH 42-40–82 +12
T26 James Wise Ravenna, OH 41-41–82 +12
28 Bill Ludwig Massillon, OH 42-41–83 +13