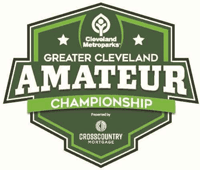 Round 2 of the 2023 Greater Cleveland Amateur Championship finished just in time on Saturday before the next batch of heavy rains hit Manakiki Golf Course in Willoughby Hills.
Defending Champion Antonio Bodziony shot a second round 71 to go with his first day 70 for a three under par total of 141, and leads by two shots heading into Sunday's finale.
Jack Garswood tied for the low round of the day with a 67 to go with his first day 76 for a 143 second place total.
The foursome of Mark Belasic, Bryan Yeo, Steve Blackburn and Brett Kaufman are three shots back at even par 144.
Round 3 tees of Sunday morning, with times starting at 8:00 a.m.

ROUND 2 RESULTS: Cleveland Metroparks Golf
2023 Greater Cleveland Amateur Championship
Manakiki Golf Course, Willoughby Hills, Ohio
Saturday, August 12, 2023
Antonio Bodziony 70 – 71 = 141
Jack Garswood 76 – 67 = 143
Mark Belasic 77 – 67 = 144
Bryan Yeo 72 – 72 = 144
Steve Blackburn 70 – 74 = 144
Brett Kaufman 73 – 71 = 144
Anthony Briggs 75 – 70 = 145
Dan Metzendorf 72 – 73 = 145
David Sotka 75 – 72 = 147
Brian Smith 71 – 76 = 147
Jeff Sawitke 75 – 72 = 147
John Fryman 77 – 71 = 148
Evan Ferrara 75 – 74 = 149
Andrew Malkus 78 – 71 = 149
Luke Liberatore 79 – 71 = 150
Scott Tarcy 72 – 78 = 150
Ryan Stefanski 77 – 74 = 151
Phil Bojc 76 – 75 = 151
Mike Witmer 75 – 76 = 151
Ryan Chipps 75 – 76 = 151
Ben Foltz 78 – 73 = 151
Devon Goldberg 71 – 80 = 151
Ben Farina 73 – 78 = 151
Mathew Mullen 73 – 79 = 152
Colin Burns 71 – 81 = 152
Andy Grayson 73 – 79 = 152
Nick Anagnost 72 – 80 = 152
Doug Barber 77 – 75 = 152
Justin Trzebuckowski 76 – 76 = 152
Al Freeman 74 – 79 = 153
Mark Sowers 74 – 79 = 153
Shaun Kloetzer 78 – 75 = 153
Ryan Wirtz 78 – 75 = 153
Matt Marino 74 – 80 = 154
Jake Morgan 76 – 78 = 154
Tim Moore 74 – 81 = 155
Chris Okeson 78 – 77 = 155
— CUT LINE —
Charles Milo 75 – 81 = 156
Paul Kasper 79 – 78 = 157
Eric Wonkovich 77 – 80 = 157
Tyler Ankrom 76 – 82 = 158
John Dermenof 80 – 78 = 158
David Swab 78 – 80 = 158
Braden Nunez 80 – 78 = 158
Martin Mangan 75 – 84 = 159
Brian Juguilon 77 – 82 = 159
Travis Pollari 82 – 78 = 160
Nicholas Adams 79 – 81 = 160
Ian Morgan 84 – 77 = 161
Zach Drukenbrod 79 – 83 = 162
Scott Saari 82 – 80 = 162
Scott Abercrombie 80 – 83 = 163
Ryan Polk 83 – 80 = 163
Aryan Ahlawat 84 – 79 = 163
Dave Winpinsinger 81 – 83 = 164
Jimmy Wild 81 – 83 = 164
Paul Dilyard 76 – 89 = 165
Ryan Burrows 80 – 86 = 166
Tim Cebula 83 – 84 = 167
Tom DeCaro 81 – 87 = 168
Nathan Kreutzer 87 – 83 = 170
Jarrod Teeter 89 – 84 = 173
Ryan Augustitus 86 – 87 = 173
A J Borisa W/D
Jeff Deal W/D
Garrett Bontempo W/D
Bobby Wadsworth 86 – W/D
Andrew Teribery 89 – W/D
Patrick Butterfield 79 – W/D
Geoffrey Burge 81 – W/D
Howaard Clendenin 79 – W/D
Tommie Miano 84 – W/D

SATURDAY SKINS: $195 ea
Ryan Stefanski Eagle 3 on #3
Mark Belasic Birdie 2 on #11
Paul Casper Eagle 2 on #16
Mark Belasic Birdie 3 on #17