BARBERTON'S CHASE JOHNSON TAKES A 4-SHOT LEAD INTO FINAL ROUND OF THE 98TH OHIO OPEN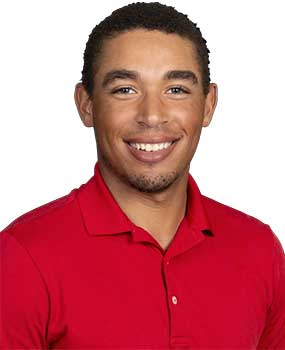 Chase Johnson beat the rain and continued his stellar play on Tuesday, and will take a four-shot lead into Wednesday's final round of the 98th Davey Tree/Minute Men Ohio Open presented by Pyramid Testing & Meritech at the Weymouth Club.
The former Walsh Jesuit and Kent State standout wasn't as deadly as he was during Monday's opening-round 62 at Fox Meadow, but he was accurate enough to shot a second-round 5-under 67 at Weymouth for a 36-hole total of 15-under 139.
Former Gilmour and Wittenberg standout Alex Andrews and reigning champion Stephen Gangluff were tied for second place at 11-under 133.
Andrews, who most recently competed on the PGA's Latino-American Tour, shot a second-round 68 and Gangluff, a former Korn Ferry Tour player and Ohio State grad, shot himself into contention with an 8-under 64, the day's lowest round at either course.
The second round was halted at both sites by dangerous weather. Play was called at 4:45 at Fox Meadow and 4:59 at Weymouth. Play resumed at Weymouth at 6:20 and 6:30 at Fox.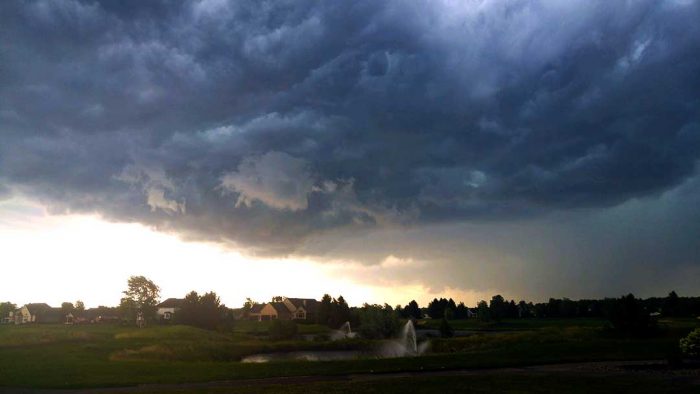 Tournament director David Griffith said the final round will begin at 8 a.m. with play going off both tees in anticipation of another weather scare.

The cut came at 1-under 143 with 51 players making it to the final round.
Delaware amateur Jeg Coughlin and Strasburg native and former Malone University All-American and Mackenzie Tour player Tyler Light were tied for third at 10-under 134.
By the time the bad weather swept over Weymouth, Johnson had shaken off a slow first nine and dialed it in on his final nine.
Playing the nines in reverse order and starting the day after a tournament-best 10-under, the Barberton native made his first bogey of the tournament on the 442-yard 17th hole with a poor chip from 35 yards that sailed well over the green.
That came after he saved par with a testy 3-footer on the previous.
"That save was huge, a big momentum changer right there," he said. "I knew the putt was fast and when I hit it I said it had better hit the hole or I was going to have some more work to do."
He recovered almost immediately, making the third of his six birdies on the 372-yard first by making a 6-foot putt. Three straight pars followed before the 23-year-old birdied three of his final five holes.
He came close to making eagle on both of his concluding par-fives, missing from 5-feet on the 515-yard fifth and from 10 feet on the 514-yard eighth after his approach from 154 yards struck high on the pin and caromed away.
"Maybe it's a good thing it hit the pin," he said. "If it hadn't it might have gone far over (the green). I was between a hard wedge or an easy nine so I choked up on a nine and hit kind of a slinger-draw."
Columbus amateur Jack Kozlowski, a sophomore at UNLV, began the day two shots behind Johnson but faltered with a second-round 77.
– story by Tim Rogers courtesy of the Northern Ohio PGA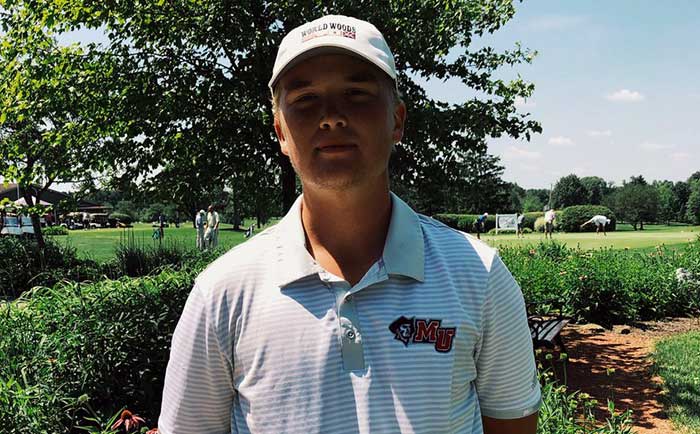 STARTING TIMES ALERT: Due to possible inclement weather, Wednesday's final round will begin at 8:00 AM with the 51 player field going off #1 & #10. Times below.


ROUND 2 RESULTS:
98th Davey Tree / Minute Men Ohio Open Championship
presented by Pyramid Treating / Meritech
Fox Meadow Country Club & Weymouth Country Club, Medina, Ohio
Tuesday, July 2, 2019
1. Chase Johnson, Barberton, OH, 62-67-129 -15
2. Alex Andrews, Kirtland, OH, 65-68-133 -11
2. Stephen Gangluff, Delaware, OH, 69-64-133 -11
4. Jeg Coughlin III (a), Delaware, OH, 70-64-134 -10
4. Tyler Light, Strasburg, OH, 66-68-134 -10
6. Kevin Hall, Cincinnati, OH, 71-66-137 -7
6. Jake Scott, Strongsville, OH, 68-69-137 -7
6. Jim Troy, Mount Vernon, OH, 68-69-137 -7
9. Jake Appleby, Canton, OH, 70-68-138 -6
9. Michael Balcar, Sylvania, OH, 69-69-138 -6
11. Jaysen Hansen, Solon, OH, 67-72-139 -5
11. Tyler McHugh, Aurora, OH, 69-70-139 -5
11. Austin Sipe (a), Dayton, OH, 68-71-139 -5
11. Alex Weiss, Pickerington, OH, 70-69-139 -5
11. Chase Wilson, Zanesville, OH, 70-69-139 -5
16. Benjamin Jones (a), Strongsville, OH, 69-71-140 -4
16. Patrick Luth, Medina, OH, 67-73-140 -4
16. David Lutterus, Nashport, OH, 68-72-140 -4
16. Austin Schoonmaker (a), Maineville, OH, 67-73-140 -4
16. Ben Smith, Westfield Center, OH, 70-70-140 -4
16. Bob Sowards, Dublin, OH, 71-69-140 -4
16. Rodrigue Vie (a), Bowling Green, OH, 71-69-140 -4
16. Matthew Wetherill, LovelandLoveland, OH, 73-67-140 -4
24. Aaron Apticar (a), Akron, OH, 70-71-141 -3
24. Brayden Baldridge (a), Howard, OH, 68-73-141 -3
24. Beau Bayerl (a), Ashland, OH, 71-70-141 -3
24. TT Crouch, Mount Vernon, OH, 71-70-141 -3
24. Connor Curry (a), Mount Vernon, OH, 72-69-141 -3
24. Grant Engle (a), Springfield, OH, 68-73-141 -3
24. Jack Kozlowski (a), Columbus, OH, 64-77-141 -3
24. Jacob McBride, Hartville, OH, 70-71-141 -3
24. Sean McGuire (a), Twinsburg, OH, 70-71-141 -3
24. Taylor Suggs, Cincinnati, OH, 71-70-141 -3
24. Troy Taylor II (a), Westerville, OH, 72-69-141 -3
24. David Tepe, Lewis Center, OH, 70-71-141 -3
24. Ryan Troyer, Dover, OH, 71-70-141 -3
37. Derrick DeHart, Dayton, OH, 68-74-142 -2
37. Jared Howard, Dublin, OH, 68-74-142 -2
37. Ken Kinkopf (a), Dublin, OH, 72-70-142 -2
37. Logan Lagodich, Canton, OH, 72-70-142 -2
37. Christopher McKay, Columbus, OH, 71-71-142 -2
37. Andy Montgomery, Plain City, OH, 70-72-142 -2
37. Brian Ohr, Oxford, OH, 68-74-142 -2
37. Dylan Van Fossen (a), Norwich, OH, 69-73-142 -2
45. Mike Auterson, Milford, OH, 70-73-143 -1
45. Cameron Frazier (a), Cincinnati, OH, 72-71-143 -1
45. Grant Godfrey (a), Delaware, OH, 69-74-143 -1
45. Joe Meglen, Lakewood, OH, 69-74-143 -1
45. John Powers, Bowling Green, OH, 70-73-143 -1
45. Avery Schneider, New Albany, OH, 70-73-143 -1
45. Connor Stykemain (a), Defiance, OH, 67-76-143 -1
MISSED CUT
MC. Gunnar McCollins (a), Massillon, OH, 68-76-144 E
MC. Tony Adcock, Canton, OH, 73-71-144 E
MC. Josh Gilkison (a), Springboro, OH, 68-76-144 E
MC. Kyle Kellogg, Upper Arlington, 72-72-144 E
MC. Kurt Fortman (a), Cincinnati, OH, 73-72-145 +1
MC. Jonathan Riemer (a), Cleveland, OH, 70-75-145 +1
MC. Ben Hogan (a), Elyria, OH, 73-72-145 +1
MC. Randy Dietz, Tallmadge, OH, 73-72-145 +1
MC. Jay Schiffbauer, Fairport Harbor, OH, 73-72-145 +1
MC. Mitchell McFarland (a), Wheelersburg, OH, 72-73-145 +1
MC. Joshua Prok (a), Coventry Township, OH, 72-73-145 +1
MC. Nick Contini, Granville, OH, 71-74-145 +1
MC. Dhaivat Pandya (a), Dayton, OH, 71-74-145 +1
MC. Chris Williard (a), Blacklick, OH, 73-72-145 +1
MC. Trevor Bowman (a), Upper Sandusky, OH, 70-76-146 +2
MC. Trevor Bright, Newark, OH, 71-75-146 +2
MC. Joseph Moore, Englewood, OH, 76-70-146 +2
MC. Ross Beal, Uniontown, OH, 72-74-146 +2
MC. Caleb Wittig, Reynoldsburg, OH, 75-71-146 +2
MC. Dustin Lieber, Norwalk, OH, 72-74-146 +2
MC. Dennis Holub, Twinsburg, OH, 74-72-146 +2
MC. Cory Kumpf, Massillon, OH, 74-72-146 +2
MC. Patrick Milkovich, Chagrin Falls, OH, 71-75-146 +2
MC. David Morgan, Wellington, OH, 73-74-147 +3
MC. Paul Macke, Cincinnati, OH, 75-72-147 +3
MC. Nathan Tarter, Akron, OH, 75-72-147 +3
MC. Jules Blakely (a), Westlake, OH, 69-78-147 +3
MC. Mitchell Camp, Aurora, OH, 72-75-147 +3
MC. Camden Solomon (a), Dublin, OH, 75-72-147 +3
MC. Jake Daly, Cincinnati, OH, 75-72-147 +3
MC. Caleb Westfall (a), Mechanicsburg, OH, 78-69-147 +3
MC. Zachary Supelak (a), Copley, OH, 77-71-148 +4
MC. Mason Eckley, Maineville, OH, 76-72-148 +4
MC. Alexander Velasco (a), Dayton, OH, 75-73-148 +4
MC. Jack Kunkel (a), Sylvania, OH, 72-76-148 +4
MC. Rob Smyser, Broadview Heights, OH, 75-73-148 +4
MC. Zack Wax, Sardis, OH, 77-71-148 +4
MC. Craig Goldsberry, Lewis Center, OH, 71-77-148 +4
MC. Michael Lee (a), Strongsville, OH, 71-77-148 +4
MC. Chris Capriolo, Westlake, OH, 73-75-148 +4
MC. Tommy Sullinger (a), Sylvania, OH, 76-72-148 +4
MC. John Chaney, North ridgeville, OH, 74-74-148 +4
MC. Nick Montes (a), Pickerington, OH, 72-77-149 +5
MC. Daniel Mosher (a), North Canton, OH, 75-74-149 +5
MC. Matthew Wetterich (a), Cincinnati, OH, 75-74-149 +5
MC. Brian Bir, Cleveland, OH, 74-75-149 +5
MC. Dylan Erks (a), Clinton, OH, 76-73-149 +5
MC. Jake Kehoe (a), Powell, OH, 77-72-149 +5
MC. Dylan Kaufman (a), Benton, OH, 73-76-149 +5
MC. Garrett Brickley, Pickerington, OH, 73-76-149 +5
MC. Mike Stone, Perrysburg, OH, 75-75-150 +6
MC. Nick Gustin, Perry, OH, 76-74-150 +6
MC. Tyler Overberg (a), West Chester, OH, 73-77-150 +6
MC. Harrison Vonderau (a), Columbia Station, OH, 76-74-150 +6
MC. Addison Cortez, Alexandria, OH, 73-77-150 +6
MC. Steve Parker, Akron, OH, 79-72-151 +7
MC. Alan Fadel (a), Perrysburg, OH, 77-74-151 +7
MC. Gary Robison, North Canton, OH, 76-75-151 +7
MC. Dylan Fitchet (a), Conneaut, OH, 75-76-151 +7
MC. David Wetterich, Cincinnati, OH, 73-78-151 +7
MC. Kyle Buzaki (a), Stow, OH, 77-74-151 +7
MC. Richard Denny, Germantown, OH, 75-76-151 +7
MC. Joey Krecic, Columbia Station, OH, 77-74-151 +7
MC. Conor Mead (a), Amherst, OH, 76-75-151 +7
MC. Jarrod Kasunick (a), Massillon, OH, 74-77-151 +7
MC. Cooper Hrabak (a), Medina, OH, 74-77-151 +7
MC. Chris Black, Lancaster, OH, 73-78-151 +7
MC. Jonathan Barber (a), Medina, OH, 70-81-151 +7
MC. DJ Smith (a), Parma, OH, 72-80-152 +8
MC. Jacob English (a), Westerville, OH, 81-71-152 +8
MC. Tom Atchison, Silver Lake, OH, 76-76-152 +8
MC. Roni Shin (a), Rocky River, OH, 76-76-152 +8
MC. Tyler Maranville, Uniontown, OH, 77-75-152 +8
MC. Dan Belden (a), Massillon, OH, 78-74-152 +8
MC. David Laib (a), Wadsworth, OH, 73-79-152 +8
MC. Alec Adcock (a), Canton, OH, 76-76-152 +8
MC. Carl Rolla, Aurora, OH, 75-77-152 +8
MC. Jordan Paolini, Akron, OH, 79-74-153 +9
MC. Josh Widner, NW Massillon, OH, 74-79-153 +9
MC. Asaeli Batibasaga, Mount Vernon, OH, 74-79-153 +9
MC. Jonathon Knapp (a), Uniontown, OH, 80-73-153 +9
MC. Matthew McAdoo (a), Twinsburg, OH, 74-79-153 +9
MC. Cole Christman (a), Youngstown, OH, 73-80-153 +9
MC. Christopher Muse, Hilliard, OH, 76-77-153 +9
MC. Ross Williamson (a), Medina, OH, 75-78-153 +9
MC. Dave Goda (a), Eucli, OH, 76-77-153 +9
MC. Mike Kaido, Zanesville, OH, 75-79-154 +10
MC. Will Kurtz (a), Hudson, OH, 75-79-154 +10
MC. Ted Mandes, Gates Mills, OH, 74-80-154 +10
MC. Bob Koch, Medina, OH, 75-79-154 +10
MC. Kyle Sanders, Maineville, OH, 72-82-154 +10
MC. Brandon Obermiller, North Canton, OH, 77-78-155 +11
MC. Derek Hamm (a), Heath, OH, 75-80-155 +11
MC. John Peck (a), Ashland, OH, 74-81-155 +11
MC. Walt Robertson, Cleveland, OH, 78-77-155 +11
MC. Fred Huston, Loveland, OH, 79-76-155 +11
MC. Tony Mollica, Dublin, OH, 76-79-155 +11
MC. Jake Moraca (a), Strongsville, OH, 79-77-156 +12
MC. Trent Tipton (a), Orient, OH, 80-77-157 +13
MC. Brennan Komos (a), Richfield, OH, 75-82-157 +13
MC. Nick Mollica (a), Dublin, OH, 76-81-157 +13
MC. Mark Scott Jr., Medina, OH, 79-78-157 +13
MC. Jack McKelvey, Chagrin Falls, OH, 72-85-157 +13
MC. Ryan Sikora (a), Avon, OH, 75-83-158 +14
MC. Coury Rogers (a), Granville, OH, 76-82-158 +14
MC. Kaleb Smith (a), Mansfield, OH, 78-80-158 +14
MC. Colton Vincelette (a), Wadsworth, OH, 80-78-158 +14
MC. Alex Vegh (a), Columbus, OH, 82-76-158 +14
MC. Miles Demuesy (a), Clinton, OH, 81-77-158 +14
MC. Melissa Yeazell, West Chester, OH, 82-77-159 +15
MC. Hunter Lowder (a), Brewster, OH, 78-81-159 +15
MC. Emmett Caskey (a), Uniontown, OH, 80-79-159 +15
MC. Cade Kreps (a), Youngstown, OH, 75-84-159 +15
MC. John Connelly, Perrysburg, OH, 83-77-160 +16
MC. Austin Rohrer (a), Canton, OH, 75-85-160 +16
MC. Thomas Lydic, Solon, OH, 82-79-161 +17
MC. Corbin Stykemain (a), Defiance, OH, 82-79-161 +17
MC. Jared Wilson (a), Columbiana, OH, 79-82-161 +17
MC. Trent Maxwell, Akron, OH, 84-78-162 +18
MC. Daniel Terry, Wadsworth, OH, 87-76-163 +19
MC. Jake Nolan (a), Upper Arlington, OH, 78-85-163 +19
MC. Nathan Strack (a), Avon, OH, 80-83-163 +19
MC. Tyler Ankrom (a), Akron, OH, 77-87-164 +20
MC. Matt Donahoe (a), North Olmsted, OH, 77-87-164 +20
MC. Larry King, Cincinnati, OH, 87-79-166 +22
MC. David Reiter Jr, Brunswick, OH, 85-81-166 +22
MC. Bruce Yoder (a), Millersburg, OH, 80-87-167 +23
MC. Adam Filo (a), Norton, OH, 79-88-167 +23
MC. Todd Ekstrand, Broadview Hts, 85-82-167 +23
MC. Alex Tambellini (a), East Liverpool, OH, 84-83-167 +23
MC. Collin McEndree, Akron, OH, 79-89-168 +24
MC. Adam Stinogle, Stow, OH, 91-79-170 +26
MC. Scott Siler, Brunswick, OH, 79-95-174 +30
MC. Drake Van Nostran (a), North Canton, OH, 88-86-174 +30
MC. Nathan Fousek (a), Medina, OH, 94-91-185 +41
WD. Peter Betzold (a), West Chester, OH
WD. Brian Smith (a), Amherst, OH
WD. Luke Schlicher, Springfield, OH
WD. Justin Miller, Barberton, OH
WD. Jesse Terbrueggen, Cincinnati, OH
DQ. Scott Pollack, Chagrin Falls, OH
DQ. Aaron Crewse (a), Akron, OH
NC. Andrew Malkus (a), Maple Heights, OH
Round 3 Starting Times: Weymouth Club July 3
# Time Name
1 8:00 Beau Bayerl (a), Ashland, OH
Jack Kozlowski (a), Columbus, OH
Sean McGuire (a), Twinsburg, OH
10 8:00 Troy Taylor II (a), Westerville, OH
Brayden Baldridge (a), Howard, OH
David Tepe, Lewis Center, OH
1 8:11 Matthew Wetherill, LovelandLoveland, OH
David Lutterus, Nashport, OH
Connor Curry (a), Mount Vernon, OH
10 8:11 TT Crouch, Mount Vernon, OH
Aaron Apticar (a), Akron, OH
Jacob McBride, Hartville, OH
1 8:22 Austin Schoonmaker (a), Maineville, OH
Ben Smith, Westfield Center, OH
Benjamin Jones (a), Strongsville, OH
10 8:22 Grant Engle (a), Springfield, OH
Ryan Troyer, Dover, OH
Taylor Suggs, Cincinnati, OH
1 8:33 Rodrigue Vie (a), Bowling Green, OH
Bob Sowards, Dublin, OH
Patrick Luth, Medina, OH
10 8:33 Christopher McKay, Columbus, OH
Derrick DeHart, Dayton, OH
Brian Ohr, Oxford, OH
1 8:44 Austin Sipe (a), Dayton, OH
Alex Weiss, Pickerington, OH
Jaysen Hansen, Solon, OH
10 8:44 Andy Montgomery, Plain City, OH
Ken Kinkopf (a), Dublin, OH
Logan Lagodich, Canton, OH
1 8:55 Jake Appleby, Canton, OH
Tyler McHugh, Aurora, OH
Chase Wilson, Zanesville, OH
10 8:55 Dylan Van Fossen (a), Norwich, OH
Jared Howard, Dublin, OH
Joe Meglen, Lakewood, OH
1 9:06 Kevin Hall, Cincinnati, OH
Jim Troy, Mount Vernon, OH
Michael Balcar, Sylvania, OH
10 9:06 Avery Schneider, New Albany, OH
Grant Godfrey (a), Delaware, OH
Connor Stykemain (a), Defiance, OH
1 9:17 Tyler Light, Strasburg, OH
Jeg Coughlin III (a), Delaware, OH
Jake Scott, Strongsville, OH
10 9:17 John Powers, Bowling Green, OH
Mike Auterson, Milford, OH
Cameron Frazier (a), Cincinnati, OH
1 9:28 Chase Johnson, Barberton, OH
Alex Andrews, Kirtland, OH
Stephen Gangluff, Delaware, OH