The only player who really beat down Skyland Pines Golf Course in Round One of the 2020 Stark County Amateur Championship was a 66 year old.
Playing in the 60-69 Age Division from the white tees, Barry Riggs posted a 5-under par 67 to shoot the low score of the 106 player field after 18 holes at Skyland Pines. He leads Ron Bell and Fred Miller by an eye-popping seven shots in that division heading into the final round at Ohio Prestwick Country Club on Sunday.
As a day of competitive golf, it was nearly perfect: the fairways were firm and fast, the weather was gorgeous, and the greens were smooth and running at 12.5 at Skyland Pines.
In the Open Division from the back tees, defending champion Maxwell Moldovan shot a 1-under par 71 to lead the championship field. Moldovan is in front of Kyle Jones by one shot, and four players by two: Dan Belden, Matt Frey, Gunnar McCollins and Jimmy Wild.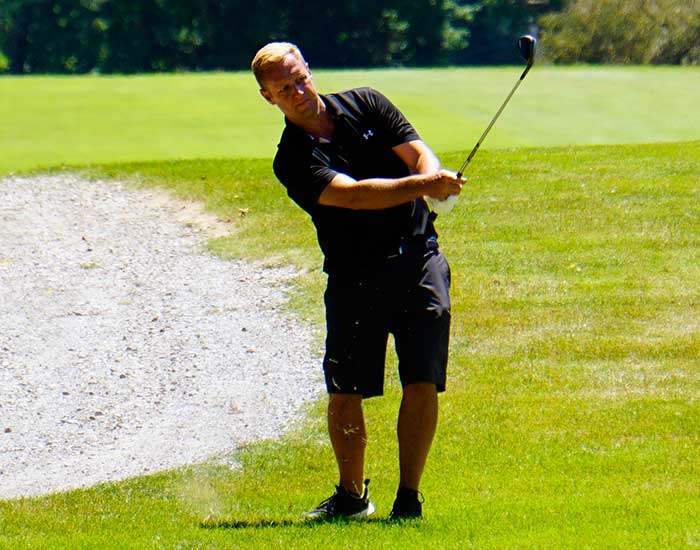 In the 50-59 Age Division, Bobby Spino, Tom McBride and Scott McVey all shot 1-over par 73 to sit in a tie for first place, with three other players two shots behind.
And in the 70+ Age Division, Dave Goff leads by two shots after an 81.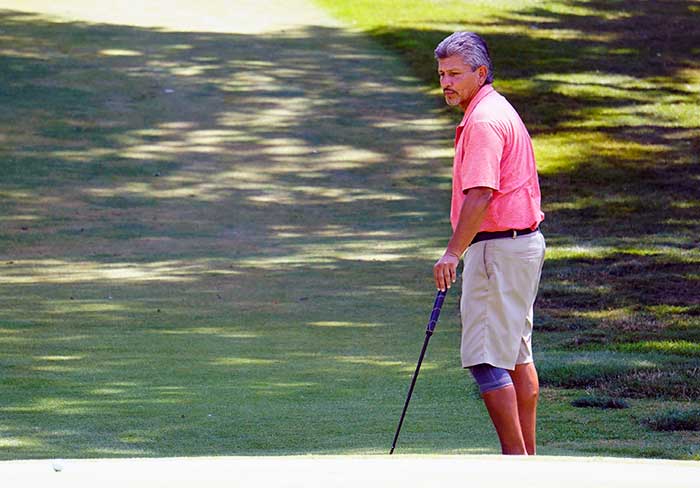 Sunday at Ohio Prestwick should be a barn burner in all four divisions. Note that due to a limited number of carts at Prestwick, no more than two carts per group will be available.
Round 1 scores and Round 2 starting times are listed below, with optional pots and skins results below that…
ROUND 1 RESULTS & ROUND 2 STARTING TIMES:
2020 Stark County Amateur Championship
RD1: Skyland Pines Golf Course, North Canton
Saturday, July 25, 2020
RD2: Ohio Prestwick Country Club, Uniontown
Sunday, July 26, 2020
9:00 a.m.
Steinhilber 40-43-83
Stack 41-44-85
Candusso 50-51-101
9:08
Goff 42-39-81
Young 41-42-83
Dottavio 40-43-83
9:16
Allton 47-47-94
Lane 45-47-92
Tentler 49-47-96
9:24
Sovak 43-48-91
Mirelli 40-46-86
Barbas 46-39-85
9:32
Thomas 40-45-85
Grimsley 42-42-84
Barr 43-40-83
9:40
Toth 41-40-81
DeMuesy 44-37-81
Pizzino 42-39-81
9:48
Burge 43-37-80
Stearn 42-38-80
Troutman 39-41-80
9:56
Lambos 43-37-80
Heavner 41-38-79
Schustrich 40-39-79
10:04
Trier 37-41-78
Hawkins 38-40-78
Fleming 37-40-77
10:12
Huntley 38-39-77
Rockish 40-37-77
Criswell 38-39-77
10:20
Semple 37-38-75
Laubacher 38-37-75
Freeman 38-37-75
10:28
B. Spino 37-36-73
McBride 37-36-73
McVey 39-34-73
10:36
Wilson 46-45-91
Metzger 44-47-91
Loudon 51-44-95
10:44
Hanzel 43-47-90
D. Freudeman 42-45-87
R. Miller 39-46-85
10:52
Rosen 43-42-85
D. VanNostran 41-43-84
Chirumbolo 42-42-84
11:00
Haidet 41-42-83
Hart 40-43-83
Lahnan 38-43-81
11:08
Borman 37-42-79
Livak 42-37-79
Herchek 38-41-79
11:16
Cea 39-39-78
Bryson 39-38-77
Mendoza 36-39-75
11:24
F. Miller 41-33-74
Bell 38-36-74
Riggs 34-33-67
11:32
Troyer 46-47-93
Vallos 45-46-91
Hoover 43-47-90
11:40
Ochs 47-42-89
Morgan 46-41-87
Barbato 41-45-86
11:48
Goldsmith 43-42-85
Beebe 41-42-83
Mastcko 41-41-82
11:56
Dr. VanNostran 40-42-82
Erks 41-41-82
Mills 41-40-81
12:04
Kusanick 41-40-81
Wenger 40-41-81
C. Belden 42-39-81
12:12
Buzaki 37-43-80
Lowder 42-39-81
Drukenbrod 39-41-80
12:20
Hepner-40-40-80
Isla 40-39-79
Tomak 41-38-79
12:28
Clay 42-37-79
DeCheco 41-38-79
R. Belden 442-37-79
12:36
Anderson 39-39-78
Knapp 39-39-78
Prok 39-39-78
12:44
Loomis 37-41-78
Adcock 38-40-78
Crone 36-41-77
12:52
Ramold 37-40-77
Ellis 38-39-77
Monas 40-37-77
1:00
Mosher 39-37-76
Schneider 37-39-76
Keller 39-37-76
1:08
Jacobs 38-38-76
Scarbrough 37-39-76
Jatich 39-36-75
1:16
Strang 38-37-75
Crewse 37-38-75
Kloetcer 39-35-74
1:24
Austalosh 35-39-74
K. Freudeman 37-37-74
Oates 39-35-74
1:32
D. Belden 35-38-73
Frey 39-34-73
McCollins 37-36-73
1:40
Wild 38-35-73
Jones 35-37-72
Moldovan 34-37-71
SKINS + POT BY DIVISIONS:
Open Pot:
1 K. Jones: $100
T2 Wild: $40
T2 Frey: $40
T2 D. Belden: $40
Open Skins:
Wild: $220 (2 skins)
D. Belden: $110
50-59 Pot:
T1 B. Spino: $75
T1 McUey: $75
T1 McBride: $75
50-59 Skins:
McVey: $150 (2 skins)
B. Spino: $75
Criswell: $75
Semple: $75
60-69 Pot:
1 Riggs: $100
T2 Bell: $50
T2 F. Miller: $50
60+ Skins:
Mendosa: $30
Liuak: $30
Bell: $30
F. Miller: $30
Riggs: $30
Chirumbolo: $30
Rosen: $30
Young: $30