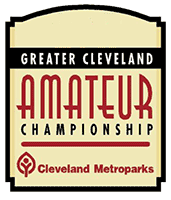 Youngstown State's Dean Austalosh birdied the 16th and 17th holes to shoot 72 and take a one shot lead after the first round of the Greater Cleveland Amateur Championship.
2020 Summit County Am champ Chris Okeson birdied the 18th and trails by one shot after shooting 73.
The course played difficult, but 33 players found a way to break 80 and make the cut for playing tomorrow.
Phil Bojc may have recorded the longest putt in GCAC history as he birded #2 from the front edge of the green making a putt of at least 110 feet!

ROUND 1 RESULTS, RD2 STARTING TIMES:
2020 Greater Cleveland Amateur Championship
Sleepy Hollow Golf Course, Brecksville Ohio
Saturday, August 8, 2020
Dean Austalosh 72 9:40
Chris Okeson 73 9:40
Michael Klaric 74 9:40
Steve Blackburn Jr. 74 9:30
David Sotka 75 9:30
Vaughn Snyder 75 9:30
Brett Kaufman 75 9:20
Bryan Yeo 75 9:20
Matthew Kreider 75 9:20
Matthew Mullen 75 9:10
Adam Frey 76 9:10
Howard Clendenin 76 9:10
Jonathan Riemer 76 9:00
Joe Puch 76 9:00
Phil Bojc 76 9:00
Ryan Burrows 76 8:50
Bryan Kordupel 76 8:50
Kent Monas 77 8:50
Robert Schustrich 77 8:40
Ron Ritner, Jr. 77 8:40
Rick Deichert 77 8:40
Jeffrey Blechschmidt 78 8:30
Brian Smith 78 8:30
Alex Kocin 78 8:30
Eric Wonkovich 78 8:20
Ryan Stefanski 78 8:20
David Snacki 79 8:20
Colin Burns 79 8:10
Jamison Wood 79 8:10
AJ Borisa 79 8:10
Max Watson 79 8:00
Michael Witmer 79 8:00
Scott Saari 79 8:00
Missed the Cut:
Dave Stover 80
Collin Ridley 80
Brian Kukoleck 80
Monty Guest 81
Anthony Briggs 81
Allen Freeman 81
Roni Shin 81
Doug Barber 81
Brian Miller 81
William Schaefer 82
Jared Wilson 83
Kyle Jacob 83
Austin Jenkins 83
Dan Sederholm 83
Shorne Mitchell 83
Niko Anagnost 84
Cade Kreps 84
Mike Richey 84
Xander Moran 84
Nate Matthews 84
Drew LaVecchia 85
Evan Ferrara 85
Ryan Wirtz 85
Andrew Zgrabik 86
Joe Blackburn 89
David Young 89
Matt Cuba 99
John Schnur WD
Jack Elber NC