NOPGA HAS COMMANDING FIRST-ROUND LEAD OVER SOPGA IN THE INAUGURAL JUNIOR OHIO CUP
The Northern Ohio PGA won six of eight matches to build a 6.5 to 1.5 lead over the Southern Ohio PGA in the first Junior Ohio Cup golf tournament at Westfield Country Club on Saturday.
The event pits junior boys and girls between the ages of 14 and 19 from the two Ohio sections of the Professional Golfers Association of America in a Ryder Cup-like event that continues on Sunday with 16 singles matches.
The NOPGA girls paved the way to the lead by sweeping all four of the Four-Ball, also known as best ball matches.
The boys won two matches, lost one, and one ended in a tie.
The girls took early control in three of their four matches, holding leads of 3-up or 2-up after just seven holes, and went on to lopsided victories.
The teams of Gracyn Vidovic (Aurora) and Kristina Chill (Columbia Station), Brooklyn Millard (Aurora) and Julia Van Bokkelen (Hudson) and Serena Wu (Solon) and Annelise Stencel (Akron) all posted easy wins, while Emily Burling and Alex Vardon won 2-and-1.
The SOPGA claimed the historic first win of the event as the team of Cameron Phillips (McDermott) and Lucas Massa (Howard) defeated Sion Park (Westlake) and Ryan Czenszak (Twinsburg), 3-and-2, as the second match out on the day.
A short time later, the NOPGA evened things when Ryan Dinan (Akron) and Aryan Ahlawat (Broadview Heights) edged Andy Steed (Wilmington) and Griff Turner (Enon), 1-up. Dinan and Ahlawat had a 1-up lead on the 18th hole but Dinan chipped in for birdie to cancel a birdie by the SOPGA.
The NOPGA never trailed from that point on.
The SOPGA team of Zach Hartley (Dayton) and Owen White (Tipp City) rallied from a 2-down deficit after 11 holes to halve their match with Daniel Gambone (North Canton) and Nathan Menapace (New Philadelphia) by winning two of the final four holes with birdies and halving the other two with pars.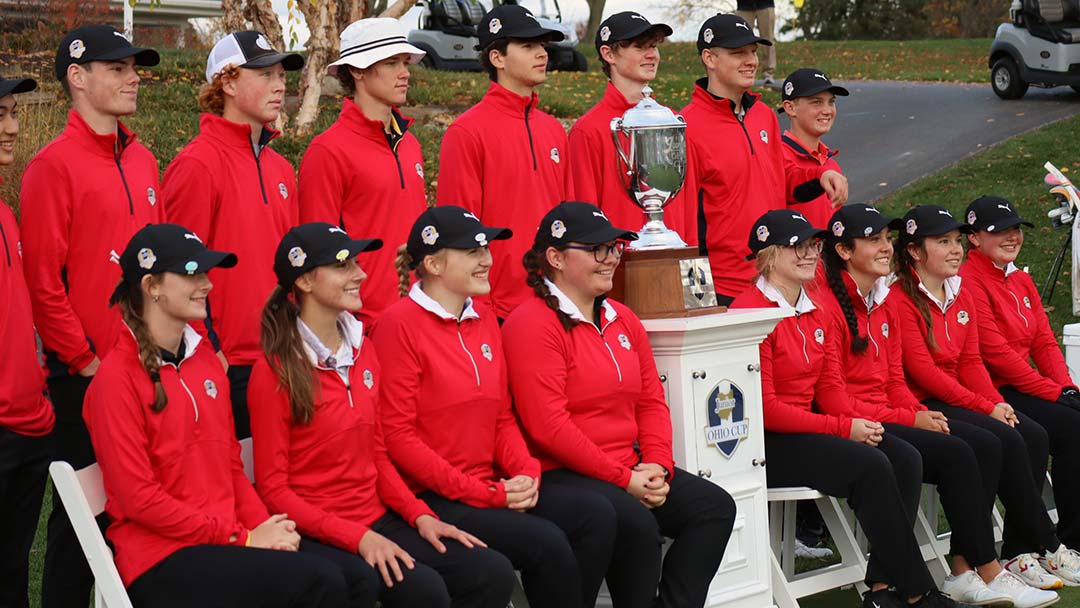 The tournament was played in temperatures in the mid-50s and under damp conditions, calling for preferred lies rules, commonly known as lift clean & place. However, the golf course was in excellent shape despite overnight and early morning drizzles.
The tournament resumes Sunday at 10 a.m. with 16 singles matches.
RD1 PHOTO GALLERY: 2023 Junior Ohio Cup >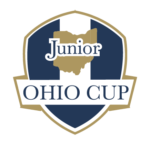 ROUND 1 RESULTS: Northern Ohio PGA
2023 Junior Ohio Cup
Westfield Country Club, Westfield OH
Saturday, October 28, 2023
BlueGolf Leaderboard >
FOURBALL RESULTS:
Gracyn Vidovic-Kristina Chill (NOPGA) def. Paige Weiss-Katelyn Miley, 6-and-4;
Brooklyn Millard-Julia Van Bokkelen (NOPGA) def. Addie Yarbrough-Rebekah Hartley, 5-and-4;
Serena Wu-Annelise Stencel (NOPGA) def. Grace Boone-Abby Haywood, 6-and-5;
Emily Burling-Alex Vardon (NOPGA) def. Cadence Monroe-McCoy, 2-and-1.
Ryan Dinan-Aryan Ahlawat (NOPGA) def. Andy Steed-Griff Turner, 1-up;
Cameron Phillips-Lucas Massa (SOPGA) def. Sion Park-Ryan Czenszak, 3-and-2;
Zach Hartley-Owen White (SOPGA) halved Daniel Gambone-Nathan Menapace;
Trey Lautenschleger-Dexter James (NOPGA) def. Colin Cleary-James Wei, 3-and-2.