Saturday was Day One of the PGA Junior League Section Championship at Eagle Creek Golf Course in Norwalk. 20 teams competed for four spots in Sunday's finals. The top two teams from each nine were selected to compete in the final round.
The top teams from the front nine that were Fox Den & JB Golf and Cleveland Southeast.
On the back nine, Medina Deegan and Medina Union earned a spot the final round.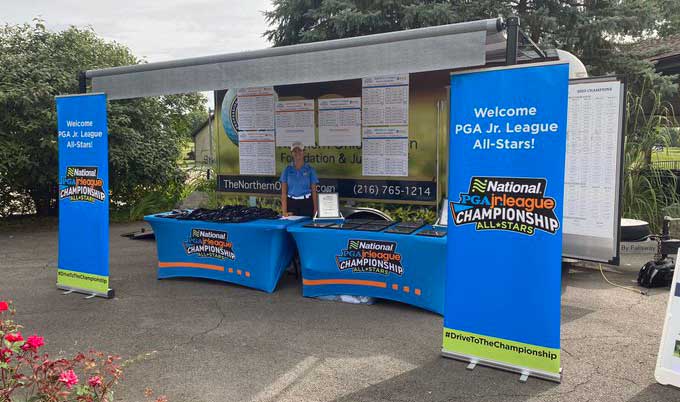 ROUND 1 RESULTS: Northern Ohio PGA
2022 PGA Junior League Section Championship
Eagle Creek Golf Club, Norwalk, Ohio
Saturday, August 13, 2022
Front Nine Results:
Fox Den & JB Golf
S. Morgan/L. Cutlip 35
El. Gonzalez-Ribble/F. Hutzler 32
E. Hutzler/Em. Gonzalez-Ribble 34
N. Pollak/S. Vojkto 32
Total Score: 98
North Star GC – Team 2
R. Reznor/J. Moellman 55
A. Gilliand/C. Bergsten 49
E. Yetzer/T. Praetzel 56
Total Score: 160
Youngstown 1
B. Sallee/C. Sallee 35
B. Wilson/A. Berena 42
S. Marcello/R. Crish 45
B. Snelson/A. Robinette 41
Total Score: 118
Akron 2
J. Helter/M. Yoder 40
L. Costanzo/J. Petit 46
M. Czenszak/L. Kolencik 36
A. Gruber/M. Papania 48
Total Score: 122
Cleveland East-DeSanto
C. Purdef/S. Barker 40
B. Purdef/C. Vondriska 41
B. Haas/C. Ehlers 44
E. Marous/S. Jawa 35
Total Score: 116
Westbrook CC
A. Monica/J. Monica 45
L. McDowell/O. Heuss 55
C. Sellers/C. Walter 49
B. Berry/J. Durchik 35
Total Score: 129
Westfield/Medina
R. Maloney/C. Long 52
L. Huth/J. Brantley 44
V. Vande Velde/V.Tutukuri 47
A. Mullen/J. Knudsen 50
Total Score: 141
Cleveland Southeast
A. Gambone/I. Bowland 36
E. Varga/B. Atchison 35
J. Hayward/G. Owcarz 44
T. Piroli/S. Will 47
Total Score: 115
Medina Lilac
S. Clarico/L. Hlavaty 41
A. Ragone/M. Mousourakis 41
K. Maryo/I. Morgan 39
A. Veverka/I. Collins 46
Total Score: 121
Toledo 2 Team 1
W. Gutman/O. Vick 41
A. Resendez/S. Korcyski 40
P. Baranske/L. Knestrick 41
C. Kazmierczak/D. Pierce 41
Total Score: 122
Back Nine Results:
Akron 1 – Team 2
Am. Deo/S. Riley 45
Aj. Deo/M. Stangel 40
J. Griggy/P. McClary 39
C. Filomeno/C. Collins 49
Total Score: 124
North Star GC – Team 1
Pr. Baker/L. Novosel 54
Pe. Baker/L. Miller 45
D. Day/J. Foster 45
J. Hamilton/T. Stroud 48
Total Score: 138
Cleveland West
A. Champagne/C. Lawrence 32
B. Netschke/C. Torok 37
D. Deferia/K. Malicki 34
C. Veverka/D. Castelluccio 31
Total Score: 97
Toledo 1
W. Kielezewski/C. Swigart 31
S. Sranton/F. Mortemore 36
O. Hippert/M. Dempsey 42
E. Thomas/J. Tuori 39
Total Score: 106
Cleveland East Pickett
G. Pickett/C. Briskey 35
S. Heiser/L. Siko 39
A. Curtis/J. Printz 42
A. Tong/B. Baranowski 38
Total Score: 112
Youngstown 2
C. Sammartino/C. Ensley 37
C. Altobelli/L. Poultney 46
M. Haggerty/L. Carchedi 38
M. Marrone/N. DiPasqua 32
Total Score: 107
Medina Deegan
N. Ward/E. Stewart 29
C. Lewis/P. Myers 32
D. Phillips/C. Reed 31
E. White/L. Masa 29
Total Score: 89
North Olmstead GC
O. Pachla/T. Mercurio 44
T. Peck/M. Cannon 49
T. Lockyer/D. Morgan 55
C. Boros/G. Carbaugh 44
Total Score: 137
Toledo – Team 2
J. Combest/N. McCrory 41
J. Davis/A. Fort 36
H. Aller/K. Nicholson 45
G. Malanga/B. Greeno 49
Total Score: 122
Medina Union
F. Farina/N. Chege 30
L. Miller/H. Miller 35
N. Risman/ J. Kaezka 32
N. Hazard/T. Reidel 32
Total Score: 94