Akron's Aaron Crewse jumped out to the lead in the Championship and Mid-Amateur Divisions after posting a 3-under par 67 on Saturday at Windmill Lakes in Round 1 of the Northeast Ohio Amateur Championship.
"Putting. Everything was about putting, said Crewse after his round. "Same putter head, but I changed the length, changed the grip and changed the weight. That's all I can tell you."
Crewse made a 40-footer for birdie on 18 to take a two shot lead over Blake Solomon of Dublin in the Championship Division. In the Mid-Am Division, he leads by three shots over past NEOA Mid-Am champion Chris Okeson of Lyndhurst.
"I hit it good, I've been hitting it good," Crewse added. "I made five birdies and two bogeys, nothing crazy."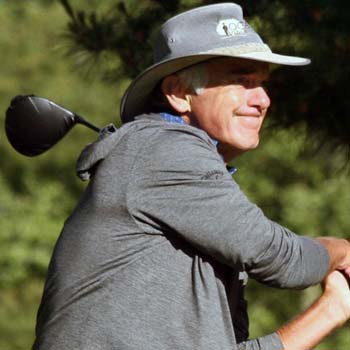 In the Senior Division, Stow's Mark Borlin is tied for the lead with Solon's Marc Fried after both players posted rounds of 1-over par 71.
"I started off hitting greens for the first seven holes, just missed some birdie putts," said Borlin. "Then I started hitting the driver a little wild and was lucky enough to make some pars out of that. Hope to finish up better tomorrow."
Fried shared a similar story. "I struck my driver pretty well all day," he said. "I made a couple birdie putts, 15-20 footers. I missed some shorter 5-6 foot putts, too. But I'm not complaining. I played pretty well over all."
Second round play at Windmill Lakes begins tomorrow morning at 7:30 a.m., after which the field will be cut for Monday's finale.
See additional player interviews and Round 1 photos on NOGA's Facebook page.
ROUND 1 RESULTS: Northern Ohio Golf Association
2022 Northeast Ohio Amateur Championship
presented by Great Lakes Auto Group
Windmill Lake Golf Club, Ravenna – Par 70
Saturday, June 4, 2022
Championship Division
1 Aaron Crewse, Akron, OH 67
2 Blake Solomon, Dublin, Ohio 69
3 Chris Okeson, Lyndhurst, OH 70
T4 Michael Klaric III, Peninsula, OH 71
T4 Tyler Andersen, Columbiana, OH 71
T4 Jeff Mallette, North Canton, OHIO 71
T4 Roni Shin, Rocky River, oh 71
T8 Thomas Miano, Stow, Ohio 72
T8 Joshua Clay, North Canton, Ohio 72
T8 Brandon Jatich, North Canton, Ohio 72
T8 Justin Atkinson, Brookfield, Ohio 72
T8 Doug Barber, Willoughby, Ohio 72
T8 Bryan Kordupel, Youngstown, OH 72
T14 Kyle Smith, Akron, OH 73
T14 Jay Prospal, Twinsburg, OH 73
T14 Aaron Belcher, Bluffton, Ohio 73
T14 Camden Solomon, Dublin, OH 73
T14 Tyler Ankrom, Akron, OH 73
T14 Cade Kreps, Boardman, OH 73
T14 Zander Gibson, Concord, OH 73
T21 Brandon Bodis, Avon Lake, Ohio 74
T21 Gunnar McCollins, Massillon, OH 74
T21 Luke Gazarek, Delaware, Ohio 74
T21 Rob Loomis, Akron, Ohio 74
T25 Andrew Grayson, Medina, OH 75
T25 Jeff Blechschmidt, Cleveland, OH 75
T25 Andrew Kaye, Avon Lake, Ohio 75
T25 Ayden Richmond, Geneva, Ohio 75
T25 Jack Herceg, Dublin, Ohio 75
30 Ian Hardesty, Kent, OH 76
T31 Logan Hooper, Toledo, OH 77
T31 Ben Hogan, Elyria, Ohio 77
T31 Eric Wonkovich, Lakewood, OH 77
T31 Vaughn Snyder, Canton, OH 77
T31 Jacob Sylak, Mineral Ridge, Ohio 77
T31 Kyle Buzaki, Stow, Ohio 77
T31 Brian Smith, Amherst, OH 77
T31 Zach Glassman, Painesville, OH 77
T31 Nicholas Longano, Concord, OH 77
T40 Luke Johnson, Westerville, OH 78
T40 Andrew Malkus, Maple Heights, OH 78
T40 Max Crookston, Stow, OH 78
T40 Blake Hood, Alliance, OH 78
T40 Nick Reardon, Galloway, OH 78
T45 Miles Miller, Dublin, OH 79
T45 Ryan Chipps, Painesville, Ohio 79
T45 Robert McMahon, Cleveland Heights, OH 79
T45 Mason Frazier, Wooster, OH 79
T45 Colton Vincelette, Wadsworth, Ohio 79
T45 Brian Terlesky, Youngstown, ohio 79
T51 Brian Beebe, Uniontown, OH 80
T51 Matthew Roth, North Royalton, OH 80
T51 Charles Belden, Canton, Ohio 80
T54 Adam Wickham, Uniontown, Ohio 81
T54 Jacob Lowis, Westerville, Ohio 81
T54 Alec Adcock, Canton, Ohio 81
T57 Jonathan Riemer, Lakewood, Oh 82
T57 Xander Moran, Kent, Ohio 82
T57 PJ Malik, Pepper Pike, Ohio 82
T60 Paul Mastros, Wintersville, OH 83
T60 Cole Christman, Canfield, OH 83
T60 Jack Hanus, Bowling Green, OH 83
T60 Kota Ando, Ashland, Ohio 83
64 Emilio Noguez, University Heights, OH 84
T65 Colin Frimel, Medina, OH 85
T65 Conner Stevens, Brookfield, Oh 85
67 Zach Panek, Bay Village, Ohio 86
68 Brian Tischler, Cleveland, OH 87
WD Brett Kaufman, Westlake, Oh WD
Mid-Amateur Division
1 Aaron Crewse, Akron, OH 67
2 Chris Okeson, Lyndhurst, OH 70
T3 Michael Klaric III, Peninsula, OH 71
T3 Jeff Mallette, North Canton, OHIO 71
T5 Thomas Miano, Stow, Ohio 72
T5 Joshua Clay, North Canton, Ohio 72
T5 Doug Barber, Willoughby, Ohio 72
8 Jay Prospal, Twinsburg, OH 73
T9 Andrew Grayson, Medina, OH 75
T9 Jeff Blechschmidt, Cleveland, OH 75
11 Ian Hardesty, Kent, OH 76
T12 Ben Hogan, Elyria, Ohio 77
T12 Eric Wonkovich, Lakewood, OH 77
T12 Vaughn Snyder, Canton, Oh 77
T12 Brian Smith, Amherst, OH 77
T12 Zach Glassman, Painesville, OH 77
T17 Andrew Malkus, Maple Heights, OH 78
T17 Nick Reardon, Galloway, OH 78
T19 Brian Beebe, Uniontown, OH 80
T19 Matthew Roth, North Royalton, OH 80
T21 Luke Stretar, Richfield, Oh 82
T21 Jonathan Riemer, Lakewood, Oh 82
T21 Pj Malik, Pepper Pike, Ohio 82
24 Emilio Noguez, University Heights, OH 84
T25 Josh Dankovich, Boardman, Ohio 85
T25 Scott Loudon, N. Canton, Ohio 85
27 Zach Panek, Bay Village, Ohio 86
T28 Rob Venrose, Poland, Ohio 87
T28 Brian Tischler, Cleveland, OH 87
30 Matt Malone, Ashland, OH 92
WD Brett Kaufman, Westlake, Oh WD
Senior Division
T1 Marc Fried, Solon, OH 71
T1 Mark Borlin, Stow, OH 71
T3 Mark Guadagni, Hudson, Ohio 73
T3 Nick Lambo, sCanton, OH 73
T3 Kurt Peterson, Bolivar, OH 73
T6 Lou Boarman, Mogadore, OH 74
T6 David Trier, Stow, Oh 74
T6 Mike Cassell, Hudson, OH 74
T9 Paul Lagrotteria, Elyria, Ohio 75
T9 Brad Steven, Concord, OH 75
T9 Rick Bryson, Akron, OH 75
T12 Jeffrey Knox, Brecksville, OH 77
T12 Robert Schustrich, Windham, Ohio 77
T12 Brian Sparrow, Chagrin Falls, Ohio 77
T15 Mike Crawford, Sheffield Lake, ohio 78
T15 David Stover, Pepper Pike, OH 78
T15 Tom Baugh, Akron, OH 78
T18 Roger Tolley, Willard, United States 79
T18 Tim Heavner, Alliance, ohio 79
T18 John Toth, Akron, OH 79
T18 Randy Crider, Brunswick, ohio 79
T18 Chris Sabo, Akron, Ohio 79
23 Jim Durr, Silver Lake, Ohio 80
24 Tim Baker, Chagrin Falls, OH 82
25 Marc Blaushild, Moreland Hills, OH 83
T26 Joe Denk, Fairview Park, OH 86
T26 Ed Marsinek, Ravenna, Ohio 86
28 Matt Timmons, Shaker Heights, Ohio 90
WD Scott Saari, Avon Lake, OH WD
WD Monty Guest, Solon, OH WD