Ladies and Gentleman, the Kenny Novak Junior Tour Championship is here. We invited the top junior tour players in points from their respective age divisions to play here at Club Walden. This event is well loved year after year by our players as well as spectators.
Today is Day One of the event, as players will be repaired based on score for tomorrow's final round. Today was a wonderful day at Walden paired with great weather for the juniors. Many of the players were able to capitalize today and put themselves in good positions for tomorrow's Final Round.
In the Boys 16-19 Division, Chris Pollack came in with 67 today to take a six stroke lead going into tomorrow's final round. Pollack's 67 today was a bogey free round that consisted of five birdies and thirteen pars. Sion Park sits in second place with an one over par, 73.
In the Girls 16-19 Division, Alexandra Petrochko came in with a two over par, 74 to take the lead in her division. Petrochko leads her division going into tomorrow's final round by two shots. Emily Liptak and Siena Maschke followed close behind Petrochko with a pair of four over par, 76's.
In the Boys 11-15 Division, Ajay Morris came in with a two under par, 70 to take the lead in his division. This was an impressive round by Morris here today at Walden. Coming in close behind sitting in second place, was Daniel Gambone and Charlie Pollock with an even par, 72.
In the Girls 11-15 Division, Dixon Hill came in with an impressive one under par, 71. Hill had three birdies today in her round. Hill is leading her division going into the final round by five shots. In second place, Alyssa Zhang came in with a four over par, 76.
We would like to thank Mitch Camp, PGA and the members of Club Walden for the endless amount of support for our Tour Championship here at Walden for the 39th year! We are incredibly grateful for the ability to host at Club Walden, as the facilities are beautiful and our tour players always seem to enjoy their time spent here.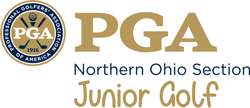 ROUND 1 RESULTS: Northern Ohio PGA
Kenny Novak Junior Tour Championship
Club Walden, Aurora, OH – Par 72
Tuesday, July 26, 2022
BOYS 16-19
1. Chris Pollak, Aurora, OH, 2025, *33-34-67 -5
2. Sion Park, Westlake, OH, 2024, *36-37-73 +1
3. Dylan Dunn, Stow, OH, 2022, *37-37-74 +2
3. Michael Lee, Strongsville, OH, 2021, *35-39-74 +2
5. David Swab, North Royalton, OH, 2023, *37-39-76 +4
5. Mitchell Tyger, Kent, OH, 2023, *38-38-76 +4
7. Aiden Cannone, Copley, OH, 2023, *37-40-77 +5
7. Luke Dietrich, Rocky River, OH, 2024, *39-38-77 +5
7. Brock Jenkins, Massillon, OH, 2024, *39-38-77 +5
7. John A Thompson, Avon, OH, 2023, *38-39-77 +5
11. Evan Dennison, Ashland, OH, 2022, *39-39-78 +6
11. Ben Scheeff, Olmsted Township, OH, 2023, *41-37-78 +6
13. Ray Dress, Medina, OH, 2025, *37-42-79 +7
13. Braden Herstich, Akron, OH, 2025, *42-37-79 +7
13. Zachary Huscusson, Canal Fulton, OH, 2023, *40-39-79 +7
13. Matt Mullen, Sidney, OH, 2022, *40-39-79 +7
13. Sven Nielsen, Chagrin Falls, OH, 2024, *38-41-79 +7
13. Aidan Terek, Hilliard, OH, 2024, *40-39-79 +7
19. Carter Begue, Dover, OH, 2022, *42-38-80 +8
19. Maxwell Devins, Aurora, OH, 2024, *41-39-80 +8
19. Sam Fauver, Hudson, OH, 2025, *38-42-80 +8
22. Thomas Kadair, Akron, OH, 2023, *39-42-81 +9
22. Ben Lampe, North Ridgeville, OH, 2022, *43-38-81 +9
22. Peyton Vacca, Parma, OH, 2025, *41-40-81 +9
22. Bryce Van Horn, Cortland, OH, 2024, *42-39-81 +9
26. Kyle Salamon, Medina, OH, 2022, *38-44-82 +10
26. Adam Sands, Chagrin Falls, OH, 2025, *41-41-82 +10
26. Mario Tortorella, North Canton, OH, 2023, *41-41-82 +10
29. Parker Barrett, Aurora, OH, 2024, *42-41-83 +11
30. Aryan Ahlawat, Broadview Heights, OH, 2023, *41-43-84 +12
30. Anthony Gore, Copley, OH, 2023, *42-42-84 +12
30. Dominic Kapics, Youngstown, OH, 2022, *44-40-84 +12
30. Trey Lautenschleger, Dover, OH, 2024, *40-44-84 +12
30. Dylan Sowers, Olmsted Falls, OH, 2024, *45-39-84 +12
35. Timothy Caspio, Medina, OH, 2022, *39-46-85 +13
35. Ryan Dinan, Akron, OH, 2024, *42-43-85 +13
35. Charles Hite, Akron, OH, 2024, *44-41-85 +13
35. Jacob Ryan, Akron, OH, 2023, *43-42-85 +13
39. Frankie Adamo, Avon, OH, 2024, *39-47-86 +14
39. Jack Myslenski, Richfield, OH, 2024, *46-40-86 +14
41. Thomas Patton, Cleveland, OH, 2023, *43-44-87 +15
41. Jaden Schlabach, Dalton, OH, 2023, *44-43-87 +15
43. Daniel Lee, Strongsville, OH, 2023, *40-48-88 +16
43. Lucas Yoder, Millersburg, OH, 2023, *47-41-88 +16
45. Matthew DiMare, Cuyahoga Falls, OH, 2024, *47-42-89 +17
45. Hunter McCourt, Avon, OH, 2024, *42-47-89 +17
45. Gavin Stutz, Wooster, OH, 2022, *44-45-89 +17
45. Nick Tianello, Rocky River, OH, 2024, *45-44-89 +17
49. Adrian Puz, Canfield, OH, 2023, *43-49-92 +20
50. Ethan Huly, Warren, OH, 2022, *47-46-93 +21
51. Mason Reville, Northfield, OH, 2023, *45-51-96 +24
BOYS 11-15
1. Ajay Morris, Cortland, OH, 2025, *36-34-70 -2
2. Daniel Gambone, North Canton, OH, 2025, *37-35-72 E
2. Charlie Pollock, Moreland Hills, OH, 2025, *35-37-72 E
4. Ethan Roberts, Shaker Heights, OH, 2025, *36-37-73 +1
5. Paul Witschey, Wadsworth, OH, 2025, *39-37-76 +4
6. Zachary Butcher, Medina, OH, 2025, *38-39-77 +5
7. Gavin Owens, Aurora, OH, 2026, *38-40-78 +6
7. Alexander Stiegele, Westlake, OH, 2026, *38-40-78 +6
7. Max Weber, Massillon, OH, 2025, *40-38-78 +6
10. Fitch Farina, North Ridgeville, OH, 2027, *40-39-79 +7
11. Jackson Pinney, Hunting Valley, OH, 2025, *39-41-80 +8
11. Dante Turner, Canfield, OH, 2026, *39-41-80 +8
13. Ben Fauver, Hudson, OH, 2027, *41-40-81 +9
13. Dylan Phillips, Chesterland, OH, 2028, *40-41-81 +9
15. Tommy Urbancic, Avon, OH, 2025, *40-43-83 +11
16. Brett Bagatti, Medina, OH, 2025, *41-43-84 +12
17. Leo Carey, Brecksville, OH, 2026, *42-43-85 +13
18. Vinh Lai, Lakewood, OH, 2025, *42-44-86 +14
18. Michael Tyler Polca, Rocky River, OH, 2025, *41-45-86 +14
20. Luke Butcher, Medina, OH, 2025, *41-46-87 +15
21. Preston Kieschnik, Broadview Heights, OH, 2026, *42-46-88 +16
21. Harrison LaBahn, Strongsville, OH, 2025, *46-42-88 +16
21. Rob Prevette, Twinsburg, OH, 2025, *46-42-88 +16
21. Adam Ruffer, Hudson, OH, 2025, *44-44-88 +16
21. Charlie Wilson, Broadview Heights, OH, 2025, *44-44-88 +16
26. Mica Thirion, Twinsburg, OH, 2026, *45-44-89 +17
27. Ryan Czenszak, Twinsburg, OH, 2026, *47-43-90 +18
28. Will Cody, Shaker Heights, OH, 2027, *46-46-92 +20
29. Jack Plesec, Cleveland Heights, OH, 2026, *45-48-93 +21
GIRLS 11-15
1. Dixon Hill, Waite Hill, OH, 2025, *36-35-71 -1
2. Alyssa Zhang, Allison Park, PA, 2028, *39-37-76 +4
3. Serena Wu, Solon, OH, 2026, *40-39-79 +7
4. Gracyn Vidovic, Aurora, OH, 2025, *40-40-80 +8
5. Avery Paez, Rocky River, OH, 2025, *40-42-82 +10
6. Hannah Lee, Strongsville, 2025, *39-45-84 +12
7. Julia Gulla, Sagamore Hills, OH, 2025, *43-42-85 +13
8. Kayla Knaze, Fairview Park, OH, 2027, *47-42-89 +17
8. Gianna Reginelli, Broadview Hts, OH, 2025, *42-47-89 +17
8. Julia Van Bokkelen, Hudson, OH, 2025, *43-46-89 +17
11. Manisha Girn, Aurora, OH, 2025, *43-47-90 +18
11. Cara Murphy, Massillon, OH, 2025, *43-47-90 +18
13. Olivia Berlingieri, Stow, OH, 2026, *47-44-91 +19
14. Korrine Knaze, Fairview Park, OH, 2029, *47-47-94 +22
15. Sophia Thompson, Cuyahoga Falls, OH, 2025, *49-53-102 +30
GIRLS 16-19
1. Alexandra Petrochko, Hermitage, PA, 2024, *38-36-74 +2
2. Emily Liptak, Akron, OH, 2022, *37-39-76 +4
2. Siena Maschke, Cleveland, OH, 2024, *37-39-76 +4
4. Kaitlin Kormuth, Solon, OH, 2023, *40-38-78 +6
4. Ava Pulley, Uniontown, OH, 2023, *40-38-78 +6
4. Alyson Veverka, Olmsted Twp, OH, 2021, *38-40-78 +6
7. Madolyn Kost, Kent, OH, 2024, *39-40-79 +7
7. Klaira Paramore, Ashland, OH, 2022, *41-38-79 +7
7. Annelise Stencel, Akron, OH, 2024, *38-41-79 +7
10. Madison Gruber, Louisville, OH, 2021, *43-38-81 +9
11. Abigail Blackburn, North Canton, OH, 2022, *42-40-82 +10
11. Kylee Purdy, West Salem, OH, 2023, *38-44-82 +10
11. Erin Strouse, Louisville, OH, 2022, *39-43-82 +10
11. Ella Wong, Pepper Pike, OH, 2023, *40-42-82 +10
15. Kristen Belden, Canton, OH, 2023, *41-42-83 +11
16. Aubrie Rush, Avon, OH, 2023, *42-42-84 +12
17. Jayden Mitchell, Louisville, OH, 2022, *41-45-86 +14
18. Emily Burling, Hudson, OH, 2025, *43-44-87 +15
18. Abbigail Jones, Wooster, OH, 2023, *43-44-87 +15
18. Christina Nagy, Macedonia, OH, 2023, *42-45-87 +15
21. Gabriella Berlingieri, Stow, OH, 2024, *43-45-88 +16
21. Caroline Harold, Canton, OH, 2023, *44-44-88 +16
21. Kamil Stephens, Port Clinton,Oh, 2023, *44-44-88 +16
24. Allyson Siewert, Sagamore Hills, OH, 2021, *43-47-90 +18
25. Isabella Paez, Rocky River, OH, 2023, *46-45-91 +19
26. Alexandria Vardon, Akron, OH, 2024, *46-47-93 +21
27. Larisa Golembiewski, Northfield, OH, 2023, *48-46-94 +22
28. Molly McGreal, Independence, OH, 2024, *47-48-95 +23
29. Angela Dodson, Shaker Heights, OH, 2022, *51-52-103 +31