The 92nd Habitec Toledo Open began today at Stone Oak Country Club in Holland, OH.
In the Championship Division, Peter Bradbeer from Philadelphia, PA finished with a five-under par score of 66, finishing with a two-stroke lead over three players going into tomorrow's final round: Blake Sattler of Dover, Nathan Tarter of Mogadore and Sam Weatherhead of Grand Rapids, MI.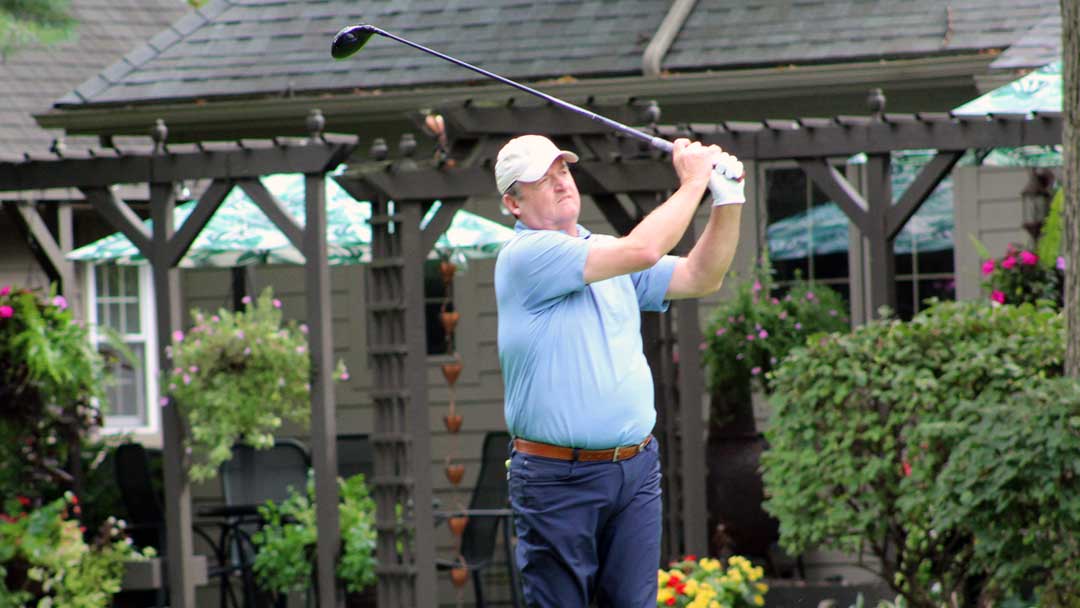 In the Senior Division, Steve Parker, PGA finished with a two-under par score of 69 to lead Perrysburg amateur Terry Tyson by one shot.

ROUND 1 RESULTS: Northern Ohio PGA
2022 Habitec Toledo Open
Stone Oak Country Club, Holland
Monday, September 12, 2022
Championship Division Results:
1. Peter Bradbeer, Rosemont, PA, *32-34-66 -5
2. Blake Sattler, Dover, OH, *33-35-68 -3
2. Nathan Tarter, Mogadore, OH, *35-33-68 -3
2. Sam Weatherhead, Grand Rapids, MI, *35-33-68 -3
5. Beau Breault, Howell, MI, *33-36-69 -2
5. Connor Gdovin (a), Highland Heights, OH, *36-33-69 -2
5. Brent Ito, New Rochelle, NY, *36-33-69 -2
5. Logan Lagodich, Canton, OH, *35-34-69 -2
5. Jake Scott, Strongsville, Ohio, *35-34-69 -2
5. Patrick Sullivan, Grosse Pointe, MI, *33-36-69 -2
5. Matthew Wininger, Westerville, OH, *35-34-69 -2
12. Randy Dietz, Tallmadge, OH, *36-34-70 -1
12. Collin Hoops (a), Bowling Green, OH, *35-35-70 -1
12. Ian Martin, Saline, MI, *34-36-70 -1
15. Nick Paez, Rocky River, OH, *38-33-71 E
15. Cameron Willis, Eaton, OH, *38-33-71 E
15. Dan Yustin, East Amherst, NY, *36-35-71 E
18. Timothy Ailes, Delaware, OH, *35-37-72 +1
18. Michael Balcar, Toledo, OH, *34-38-72 +1
18. Brian Bullington, Frankfort, IL, *39-33-72 +1
18. Caleb Davern, Grove City, OH, *36-36-72 +1
18. Grant Engle, Springfield, OH, *37-35-72 +1
18. Matt Gurska, Hermitage, PA, *38-34-72 +1
18. DJ Holub, Twinsburg, OH, *38-34-72 +1
18. Kyle Kochevar, Glen Ellyn, IL, *35-37-72 +1
18. Cory Kumpf, Massillon, OH, *37-35-72 +1
18. Domenic Mancinelli, Northville, MI, *40-32-72 +1
18. Cole Moore, Spencer, WV, *35-37-72 +1
18. Nick Myers, Sylvania, OH, *37-35-72 +1
18. Philip Ritchie, Aventura, FL, *38-34-72 +1
18. Zach Sudinsky, Boynton Beach, FL, *36-36-72 +1
18. Alex Weiss, Pickerington, OH, *37-35-72 +1
33. Tom Bell (a), Waterloo, IA, *37-36-73 +2
33. Kenneth Hess, Parkersburg, WV, *38-35-73 +2
33. Logan Holt, Phoenix, AZ, *38-35-73 +2
33. Joseph Juszczyk, Dearborn Heights, MI, *38-35-73 +2
33. Bryce Messner, Howell, MI, *38-35-73 +2
33. Michael Nagy, Clio, MI, *37-36-73 +2
33. Kosta Ramirez, Dearborn, MI, *39-34-73 +2
40. Milton Carswell, Toledo, OH, *39-35-74 +3
40. Brett Coluccio, Sylvania, OH, *36-38-74 +3
40. Richard Denny, Germantown, OH, *37-37-74 +3
40. David Erdy, Chandler, IN, *36-38-74 +3
40. Jaysen Hansen, Twinsburg, OH, *38-36-74 +3
40. Darin Hudak (a), Tallmadge, OH, *36-38-74 +3
40. Ryan Norkin (a), Dublin, OH, *37-37-74 +3
40. Andrew Ruthkoski, Muskegon, MI, *39-35-74 +3
40. Roni Shin (a), Rocky River, OH, *36-38-74 +3
40. Justin Sui (a), Lake Orion, MI, *39-35-74 +3
40. David Tepe, Delaware, OH, *38-36-74 +3
51. Jordan Eck, Williamsport, PA, *40-35-75 +4
51. Nick Gustin, Perry, OH, *40-35-75 +4
51. Jordan Less, Elmhurst, IL, *38-37-75 +4
51. Mat Little, Warren, MI, *38-37-75 +4
51. Adam M White, Ann Arbor, MI, *38-37-75 +4
51. Jordan Paolini, Tallmadge, OH, *41-34-75 +4
51. Brandon Rattray (a), St-Bruno, QC, *40-35-75 +4
51. Nick Sanscrainte, Allen Park, MI, *35-40-75 +4
51. Avery Schneider, New Albany, OH, *40-35-75 +4
60. Jacob English, Columbus, OH, *37-39-76 +5
60. Dylan Fitchet (a), Conneaut, OH, *39-37-76 +5
60. James Holley, Howell, MI, *39-37-76 +5
60. Adam Lescalleet, Nashport, OH, *41-35-76 +5
60. Baker Stevenson, Hartland, MI, *38-38-76 +5
65. Bennett Berger (a), Lake Mills, IA, *40-37-77 +6
65. Ethan Irvine (a), Ancaster, ON, *41-36-77 +6
65. Adam Lewicki, Macedonia, OH, *40-37-77 +6
65. Brett Seward, Valparaiso, IN, *40-37-77 +6
65. Scott Shapin, Royal Oak, MI, *36-41-77 +6
65. Matt Winkelmann, Edelstein, IL, *38-39-77 +6
65. Cal Wollack, Saline, MI, *41-36-77 +6
72. Connor Jones, Shelby Twp., MI, *41-37-78 +7
72. Douglas Piesko, Davison, MI, *40-38-78 +7
74. Ken Keller, Youngstown, OH, *38-41-79 +8
74. Patrick Milkovich, Beachwood OH, *38-41-79 +8
74. Winton Munch, Traverse City, MI, *38-41-79 +8
74. Kyle Rybicki, White Lake, MI, *40-39-79 +8
74. Jonathon Widmer, Toledo, OH, *40-39-79 +8
79. John Karcher, Novi, MI, *41-39-80 +9
79. Flynn Makas (a), Chicago, IL, *40-40-80 +9
79. Sean McGuire, Twinsburg, OH, *41-39-80 +9
79. Drew Pierson, Cleveland, OH, *39-41-80 +9
83. Eddie Charlton (a), Perrysburg, OH, *42-39-81 +10
83. Tim Heffelfinger, Livonia, MI, *41-40-81 +10
83. Jason Moscone, Marine City, MI, *42-39-81 +10
83. Brady Pevarnik (a), Bowling green, PA, *41-40-81 +10
83. John Popeck, Washington, PA, *43-38-81 +10
83. David Reiter Jr, Brunswick, OH, *41-40-81 +10
83. Kegan Riley, Toledo, OH, *45-36-81 +10
83. Jim Troy, Strongsville, OH, *35-46-81 +10
91. Anthony Conaway, Fremont, OH, *43-39-82 +11
91. Joel Cutlip, Myrtle Beach, SC, *46-36-82 +11
91. Michael Earls, Westerville, OH, *44-38-82 +11
91. Joey Kurtz, Toledo, OH, *41-41-82 +11
91. Daniel Terry, Wadsworth, OH, *43-39-82 +11
91. Matt Urban, Maumee, OH, *37-45-82 +11
97. Brian Hurst, Cranberry Township, PA, *42-41-83 +12
97. Eric Luebke (a), Bloomfield Hills, MI, *40-43-83 +12
97. Trent Maxwell, Akron, OH, *42-41-83 +12
100. Wyatt Wilson, Tipp City, OH, *43-41-84 +13
101. Ross Pilliod, Reading, PA, *43-42-85 +14
101. Josh Widner, NW Massillon, OH, *44-41-85 +14
103. Addison Cortez, Alexandria, OH, *46-42-88 +17
104. John Sparagowski (a), Toledo, OH, *49-40-89 +18
105. Drake Koegel, Oregon, OH, *45-46-91 +20
106. Brent Kraft, Cincinnati, OH, *46-49-95 +24
Senior Division Results:
1. Steve Parker, Akron, OH, *34-35-69 -2
2. Terry Tyson (a), Perrysburg, OH, *34-36-70 -1
3. Thomas Harding, Beverly Hills, MI, *37-36-73 +2
3. Gary Rusnak, Painesville, OH, *36-37-73 +2
5. Scott Pollack, Chagrin Falls, OH, *37-37-74 +3
5. Mike Stone, Perrysburg, OH, *36-38-74 +3
5. Nick Szymanski, Toledo, OH, *37-37-74 +3
8. Ryan Baker, Chesterfield, MO, *39-36-75 +4
8. Gary Trivisonno, Aurora, OH, *38-37-75 +4
10. Tony Adcock, Canton, OH, *38-38-76 +5
10. Ian Harris (a), Bloomfield Hills, MI, *38-38-76 +5
10. Russell Papa, Aurora, OH, *41-35-76 +5
10. Kevin Sullivan, Painesville, OH, *39-37-76 +5
14. Jon Jones, Warren, OH, *37-40-77 +6
14. Dan Sutton, Toledo, OH, *40-37-77 +6
14. Darrin Vaughan, Bolivar, OH, *40-37-77 +6
14. Michael Wilson (a), Perrysburg, OH, *41-36-77 +6
18. Larry Lahnan (a), Aurora, OH, *39-39-78 +7
18. Michael McCarthy (a), Toledo, OH, *39-39-78 +7
18. Tony Milam, Concord Township, OH, *39-39-78 +7
21. E.A. Tischler, Munster, IN, *41-39-80 +9
22. John Bascuk, Waterville, OH, *39-42-81 +10
22. Craig Goldsberry, Lewis Center, OH, *39-42-81 +10
22. Steve Stone, Maumee, OH, *41-40-81 +10
25. Mark Riddle (a), Seven Hills, OH, *42-43-85 +14
25. Leo Szczepanski (a), Seven Hills, OH, *41-44-85 +14
27. Roy Hobson, Plain City, OH, *40-46-86 +15
ROUND 2 STARTING TIMES:
1 8:00 Mark Riddle (a), Seven Hills, OH
Leo Szczepanski (a), Seven Hills, OH
Roy Hobson, Plain City, OH
10 8:00 Drake Koegel, Oregon, OH
Brent Kraft, Cincinnati, OH
1 8:10 Steve Stone, Maumee, OH
Craig Goldsberry, Lewis Center, OH
John Bascuk, Waterville, OH
10 8:10 Addison Cortez, Alexandria, OH
John Sparagowski (a), Toledo, OH
1 8:20 Tony Milam, Concord Township, OH
Larry Lahnan (a), Aurora, OH
E.A. Tischler, Munster, IN
10 8:20 Wyatt Wilson, Tipp City, OH
Josh Widner, NW Massillon, OH
Ross Pilliod, Reading, PA
1 8:30 Michael Wilson (a), Perrysburg, OH
Darrin Vaughan, Bolivar, OH
Michael McCarthy (a), Toledo, OH
10 8:30 Eric Luebke (a), Bloomfield Hills, MI
Brian Hurst, Cranberry Township, PA
Trent Maxwell, Akron, OH
1 8:40 Russell Papa, Aurora, OH
Dan Sutton, Toledo, OH
Jon Jones, Warren, OH
10 8:40 Matt Urban, Maumee, OH
Joey Kurtz, Toledo, OH
Daniel Terry, Wadsworth, OH
1 8:50 Tony Adcock, Canton, OH
Kevin Sullivan, Painesville, OH
Ian Harris (a), Bloomfield Hills, MI
10 8:50 Joel Cutlip, Myrtle Beach, SC
Anthony Conaway, Fremont, OH
Michael Earls, Westerville, OH
1 9:00 Scott Pollack, Chagrin Falls, OH
Ryan Baker, Chesterfield, MO
Gary Trivisonno, Aurora, OH
10 9:00 Jim Troy, Strongsville, OH
Eddie Charlton (a), Perrysburg, OH
Brady Pevarnik (a), Bowling green, PA
1 9:10 Gary Rusnak, Painesville, OH
Nick Szymanski, Toledo, OH
Mike Stone, Perrysburg, OH
10 9:10 Tim Heffelfinger, Livonia, MI
Kegan Riley, Toledo, OH
Jason Moscone, Marine City, MI
1 9:20 Steve Parker, Akron, OH
Terry Tyson (a), Perrysburg, OH
Thomas Harding, Beverly Hills, MI
10 9:20 Sean McGuire, Twinsburg, OH
David Reiter Jr, Brunswick, OH
John Popeck, Washington, PA
1 9:30 Matt Winkelmann, Edelstein, IL
Ethan Irvine (a), Ancaster, ON
Connor Jones, Shelby Twp., MI
10 9:30 John Karcher, Novi, MI
Flynn Makas (a), Chicago, IL
Drew Pierson, Cleveland, OH
1 9:40 Brett Seward, Valparaiso, IN
Bennett Berger (a), Lake Mills, IA
Adam Lewicki, Macedonia, OH
10 9:40 Ken Keller, Youngstown, OH
Jonathon Widmer, Toledo, OH
Patrick Milkovich, Beachwood OH
1 9:50 Adam Lescalleet, Nashport, OH
Scott Shapin, Royal Oak, MI
Cal Wollack, Saline, MI
10 9:50 Douglas Piesko, Davison, MI
Kyle Rybicki, White Lake, MI
Winton Munch, Traverse City, MI
1 12:30 Timothy Ailes, Delaware, OH
DJ Holub, Twinsburg, OH
Joseph Juszczyk, Dearborn Heights, MI
10 12:30 Jacob English, Columbus, OH
Baker Stevenson, Hartland, MI
Dylan Fitchet (a), Conneaut, OH
1 12:40 Nick Myers, Sylvania, OH
Cory Kumpf, Massillon, OH
Alex Weiss, Pickerington, OH
10 12:40 Nick Gustin, Perry, OH
Brandon Rattray (a), St-Bruno, QC
James Holley, Howell, MI
1 12:50 Matt Gurska, Hermitage, PA
Michael Balcar, Toledo, OH
Grant Engle, Springfield, OH
10 12:50 Nick Sanscrainte, Allen Park, MI
Adam M White, Ann Arbor, MI
Jordan Paolini, Tallmadge, OH
1 1:00 Zach Sudinsky, Boynton Beach, FL
Kyle Kochevar, Glen Ellyn, IL
Brian Bullington, Frankfort, IL
10 1:00 Jordan Eck, Williamsport, PA
Mat Little, Warren, MI
Avery Schneider, New Albany, OH
1 1:10 Cole Moore, Spencer, WV
Caleb Davern, Grove City, OH
Domenic Mancinelli, Northville, MI
10 1:10 Roni Shin (a), Rocky River, OH
Richard Denny, Germantown, OH
Jordan Less, Elmhurst, IL
1 1:20 Dan Yustin, East Amherst, NY
Nick Paez, Rocky River, OH
Philip Ritchie, Aventura, FL
10 1:20 Andrew Ruthkoski, Muskegon, MI
Ryan Norkin (a), Dublin, OH
Darin Hudak (a), Tallmadge, OH
1 1:30 Randy Dietz, Tallmadge, OH
Ian Martin, Saline, MI
Cameron Willis, Eaton, OH
10 1:30 Jaysen Hansen, Twinsburg, OH
Milton Carswell, Toledo, OH
David Erdy, Chandler, IN
1 1:40 Logan Lagodich, Canton, OH
Jake Scott, Strongsville, Ohio
Collin Hoops (a), Bowling Green, OH
10 1:40 David Tepe, Delaware, OH
Justin Sui (a), Lake Orion, MI
Brett Coluccio, Sylvania, OH
1 1:50 Brent Ito, New Rochelle, NY
Connor Gdovin (a), Highland Heights, OH
Patrick Sullivan, Grosse Pointe, MI
10 1:50 Kenneth Hess, Parkersburg, WV
Logan Holt, Phoenix, AZ
Tom Bell (a), Waterloo, IA
1 2:00 Sam Weatherhead, Grand Rapids, MI
Beau Breault, Howell, MI
Matthew Wininger, Westerville, OH
10 2:00 Kosta Ramirez, Dearborn, MI
Michael Nagy, Clio, MI
Bryce Messner, Howell, MI
1 2:10 Peter Bradbeer, Rosemont, PA
Blake Sattler, Dover, OH
Nathan Tarter, Mogadore, OH