Kyle Buzaki of Stow, a rising junior at Walsh University, finished the first round of the 2021 Northeast Ohio Amateur Championship with a 3-under par 67 to lead at Windmill Lakes Golf Club in Ravenna.
Buzaki holed-out for eagle on the ninth hole from 162 yards — through the trees! — to cap off a front-nine 31.
"I was hitting my irons really good, on the front nine especially, and then I had the eagle on nine, which was pretty lucky," Buzaki said with a smile. "The back nine, the wind was swirling so it was kind of a struggle but I kept it going. I still shot 1-over on the back," he said.
Cole Corder of Beavercreek sits in second position after a 2-under par 68.
In the Mid-Amateur Division for players age 25+, Michael Klaric III of Peninsula leads after a 1-under par 69, the only mid-am to shoot under par. "I just tried to keep it in the middle which is key here and then put it in the middle of the greens," Klaric said. "If you do that enough you are going to roll in a good number."
Klaric leads defending NEO Am Mid-Am champ Michael Kelly of Westerville and current NOGA POY points leader Aaron Crewse of Akron, both at 71.
On the Senior side for players age 55+, Allen Freeman of Brecksville shot 2-under par 68 and leads defending Senior NEO Am champ Monty Guest by one. Freeman also holed out for eagle-2 on the par-4 ninth, from 106 yards.
The second round of the 2021 Northeast Ohio Am resumes at 9 a.m. on Sunday at Windmill Lakes. For photos and videos from today's round and leader interviews, see the NOGA feeds on Twitter or Instagram…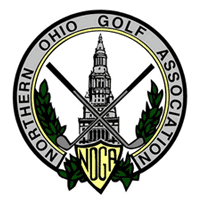 ROUND 1 RESULTS:
Northern Ohio Golf Association
2021 Northeast Ohio Amateur Championship
Windmill Lakes Golf Club, Ravenna | Par 70
Saturday, June 5, 2021
CHAMPIONSHIP DIVISION
1 Kyle Buzaki, Stow 67
2 Cole Corder, Beavercreek 68
T3 Michael Klaric III, Peninsula 69
T3 Tyler Goecke, Xenia 69
T3 Miles Miller, Dublin 69
6 Justin Atkinson, Brookfield 70
T7 Michael Kelley, Westerville 71
T7 Jack Crawshaw, Winnetka, IL 71
T7 Aaron Crewse, Akron 71
T7 Jack Hanus, Bowling Green 71
T7 Cole Christman, Canfield 71
T12 Anthony Briggs, Lakewood 72
T12 Tim Skufca, Westlake 72
T12 Blake Solomon, Dublin 72
T12 Andrew Wyss, Canton 72
T16 Brett Kaufman, Westlake 73
T16 Andrew Grayson, Medina 73
T16 Jonathan Filler, Fort Wayne, IN 73
T16 Daniel Berlin, Chagrin Falls 73
T16 Ethan Snyder, Dublin 73
T16 Conor Mead, Amherst 73
T16 Ken Keller, Youngstown 73
T16 Jack Doody, Columbus 73
T24 Jay Prospal, Twinsburg 74
T24 Kurt Peterson, Bolivar 74
T24 Thomas Priore, Wickliffe 74
T24 Zach Mandry, Solon 74
T24 Brandon Bodis, Avon Lake 74
T24 Max Watson, Ashland 74
T24 Paul Mastros, Wintersville 74
T31 Michael Richey, Cleveland 75
T31 Scotty Bitar, Pittsburgh, PA 75
T31 PJ Malik, Pepper Pike 75
T31 Jules Blakely, Westlake 75
T35 Zach Glassman, Gates Mills 76
T35 Ben Hogan, Elyria 76
T35 Bryan Kordupel, Youngstown 76
T35 Dylan Fitchet, Conneaut 76
T35 Evan Disanto, Cincinnati 76
T35 Andrew Kaye, Avon Lake 76
T35 Colin Frimel, Medina 76
T35 Jack Herceg, Dublin 76
T43 Chris Okeson, Lyndhurst 77
T43 Jack Coyne, University Heights 77
T43 Jeff Blechschmidt, Cleveland 77
T43 Robert Schustrich, Windham 77
T43 Gunnar McCollins, Massillon 77
T43 Cade Kreps, Boardman 77
T43 Dean Austalosh, Campbell 77
T50 Brian Beebe, Uniontown 78
T50 Jason Stiwald, North Ridgeville 78
T50 David Rinderle, Cleveland Heights 78
T50 Brian Smith, Amherst 78
T50 Don Padgett, Akron 78
T50 Brandon Jatich, North Canton 78
T50 John Catanzarite, Columbus 78
T50 Brian Terlesky, Youngstown 78
T50 Tyler Ankrom, Akron 78
T50 Alec Adcock, Canton 78
T60 Andrew Zgrabik, Brecksville 79
T60 Anthony Marozzi, Ravenna 79
T60 Mason Frazier, Wooster 79
63 Colton Vincelette, Wadsworth 80
T64 Luke Gazarek, Delaware 82
T64 Xander Moran, Kent 82
T66 Kevin Rowe, Westlake 83
T66 Andrew Malkus, Maple Heights 83
T66 Nathan Strack, Avon 83
T69 Eric Wonkovich, Lakewood 84
T69 Rob Loomis, Akron 84
71 Conner Stevens, Brookfield 85
72 Alex Pond, Uniontown 90
NS Doug Barber, Willoughby NS
MID-AMATEUR DIVISION (Age 25+)
1 Michael Klaric III, Peninsula 69
T2 Michael Kelley, Westerville 71
T2 Aaron Crewse, Akron 71
4 Tim Skufca, Westlake 72
5 Brett Kaufman, Westlake 73
6 Jay Prospal, Twinsburg 74
7 Michael Richey, cleveland 75
T8 Zach Glassman, Gates Mills 76
T8 Ben Hogan, Elyria 76
T10 Chris Okeson, Lyndhurst 77
T10 Jack Coyne, University Heights 77
T10 Jeff Blechschmidt, Cleveland 77
T10 Robert Schustrich, Windham 77
T14 Brian Beebe, Uniontown 78
T14 Jason Stiwald, North Ridgeville 78
T14 David Rinderle, Cleveland Heights 78
T14 Brian Smith, Amherst 78
T14 Don Padgett, Akron 78
T19 Ryan Cseplo, Painesville 79
T19 Andrew Zgrabik, Brecksville 79
T19 Anthony Marozzi, Ravenna 79
22 Scott Loudon, N. Canton 82
T23 Kevin Rowe, Westlake 83
T23 Andrew Malkus, Maple Heights 83
25 Eric Wonkovich, Lakewood 84
26 Steven Petite, Mentor 85
NS Doug Barber, Willoughby NS
SENIOR DIVISION (Age 55+)
1 Allen Freeman, Brecksville 68
2 Monty Guest, Solon 69
T3 Brian Sparrow, Chagrin Falls 70
T3 Nick Lambos, Canton 70
5 Ed Marsinek, Ravenna 74
T6 Mark Guadagni, Hudson 75
T6 Jim Durr, Silver Lake 75
T6 Tom Baugh, Akron 75
T9 Marc Fried, Solon 76
T9 Jeffrey Knox, Brecksville 76
T9 Mark Borlin, Stow 76
T12 David Stover, Pepper Pike 77
T12 Mike Cassell, Hudson 77
T12 Lou Boarman, Mogadore 77
T15 Randy Crider, Brunswick 78
T15 Marc Blaushild, Moreland Hills 78
17 Chris Sabo, Akron 79
18 Mark Ciccarello, South euclid 81
T19 Jack Pico, Niles 82
T19 Tim Heavner, Alliance 82
T19 Tom Sluiter, Lyndhurst 82
T19 John Toth, Akron 82
23 Joe Denk, Fairview Park 84
24 Paul Ferguson, Lakewood 89