Michael Lee of Strongsville (Boys 16-19), Siena Maschke of Cleveland (Girls 11-15), and Mary Kelly Mulcahy of Lima (Girls 16-19) all hold slim leads after the first round. Ray Dress of Medina and Chris Pollak of Aurora are both tied for the lead (Boys 11-15) after the first round of the 38th NOPGA Junior Tour Championship at Club Walden.
Michael Lee (Strongsville) holds the lead after turning in a one-over, 73, on Tuesday in the first of two rounds for all age divisions.
Lee holds a one-shot lead over Dylan Dunn (Stow), a 2-shot lead over Zachary Huscusson (Canal Fulton) and a four-shot lead over five players Tied for Fourth Place heading into Wednesday's final 18 holes.
In the Girls 11-15 Division, Siena Maschke (Cleveland), opened with a 10-over, 82, to hold a one-shot lead over Kent's Madolyn Kost and a three-shot margin over Stow's Gabriella Berlingieri.
As for the Boys 11-15 Division, the lead is shared with two players shooting a four-over, 76, which belong to Ray Dress (Medina) and Chris Pollak (Aurora). They hold a two-shot lead over five other players who are tied for third place.
And last but not least, the Girls 16-19 division has Mary Kelly Mulcahy (Lima) sitting on top of the leaderboard after turning in a one-over, 73, to hold a one-shot lead over Helena's Sydney Leyerle and a four-shot difference over Aurora's Brooklyn Millard.
All 132 players will return Wednesday for the final round with all players being paired by score with the leaders teeing off last in their respective age divisions. All players will report 9-hole scores Tomorrow, which you can view on the leaderboard through the "Northern Ohio PGA Junior Golf" App available for free in all app stores.
This event has been held at Club Walden every year since its inception. The event is conducted by the Northern Ohio PGA Section Junior Tour.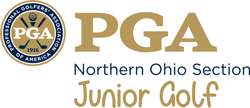 ROUND 1 RESULTS: NOPGA Junior Tour
2021 Northern Ohio PGA Junior Tour Championship
Club Walden, Aurora, Ohio
Tuesday, July 27, 2021
BOYS 16-19
Par: 72 Distance: 6900 Rating: 75.0 Slope: 138
1 Michael Lee Strongsville, OH 35-38–73 +1
2 Dylan Dunn Stow, OH 35-39–74 +2
3 Zachary Huscusson Canal Fulton, OH 37-38–75 +3
T4 Josh Pethel Hudson, OH 37-39–76 +4
T4 Michael O'Leary Rocky River, OH 40-36–76 +4
T4 Zach Miller Harrod, OH 38-38–76 +4
T4 Michael Porter McDonald, OH 38-38–76 +4
T4 Jordan Kish Massillon, OH 38-38–76 +4
T9 Matthew Stephan Green, OH 38-39–77 +5
T9 Kyle Salamon Medina, OH 38-39–77 +5
T9 Ben Ellis Doylestown, OH 39-38–77 +5
T9 Michael Van Etten Avon Lake, OH 40-37–77 +5
T9 Joshua Weiner Macedonia, OH 39-38–77 +5
T14 Clark Nemer Hudson, OH 37-41–78 +6
T14 Jake Sylak Mineral Ridge, OH 39-39–78 +6
T14 John A Thompson Avon, OH 37-41–78 +6
T14 Kamden Mowry Ashland, OH 40-38–78 +6
T14 Tyler Andersen Columbiana, OH 39-39–78 +6
T14 Andrew Yard Hudson, OH 38-40–78 +6
T14 Connor Malicki Avon, OH 38-40–78 +6
T21 Connor Daggett Canfield 41-38–79 +7
T21 Ryan Sam Canfield, OH 42-37–79 +7
23 Joseph DeSimone Munroe Falls, OH 40-40–80 +8
T24 Ben Scheeff Olmsted Township, OH 39-42–81 +9
T24 Sachin Singh Shaker Heights, OH 40-41–81 +9
T26 Gavin Stutz Wooster, OH 44-38–82 +10
T26 Griffin Braun Wooster, OH 37-45–82 +10
T26 Derek McCrum Avon Lake, OH 40-42–82 +10
29 Casey Crooks Sandusky, OH 42-41–83 +11
T30 Anthony Gore Copley, OH 38-46–84 +12
T30 Dominic Kapics Youngstown, OH 43-41–84 +12
T30 Devon Starcher Wooster, OH 41-43–84 +12
T30 Mario Tortorella North Canton, OH 43-41–84 +12
T30 David Swab North Royalton, OH 42-42–84 +12
T35 Jack Armstrong Uniontown, OH 41-44–85 +13
T35 Connor Keefe Highland Heights, OH 40-45–85 +13
T35 Luke Schreck Seville, OH 41-44–85 +13
T35 Jack Gerborg Avon, OH 46-39–85 +13
39 Rocco Turner Canfield, OH 43-43–86 +14
40 Ayden Richmond geneva, Ohio 40-47–87 +15
T41 Timothy Caspio Medina, OH 40-48–88 +16
T41 Daniel Lee Strongsville, OH 42-46–88 +16
T43 Nicolas Fartelly Medina, OH 50-41–91 +19
T43 Sion Park Westlake, OH 43-48–91 +19
45 Nate Albrecht Massillon, OH 45-47–92 +20
T46 Grayson Clark Port Clinton, OH 47-46–93 +21
T46 Aryan Ahlawat Broadview Heights, OH 46-47–93 +21
48 John Hammond Cleveland, OH 49-45–94 +22
49 Gabriel Emery Akron, OH 40-55–95 +23
50 Matthew Goldsberry Spencer, OH 52-44–96 +24
GIRLS 16-19
Par: 72 Distance: 6070 Rating: 75.6 Slope: 134
1 Mary Kelly Mulcahy Lima, OH 40-33–73 +1
2 Sydney Leyerle Helena, Ohio 36-38–74 +2
3 Brooklyn Millard Aurora 38-39–77 +5
T4 Erin Mulcahy Lima, OH 40-39–79 +7
T4 Emily Liptak Akron, OH 40-39–79 +7
T6 Amanda Ruminski Mansfield, OH 44-38–82 +10
T6 Kenzie Gustas Hermitage, PA 39-43–82 +10
T8 Abigail Retherford Ravenna, OH 43-40–83 +11
T8 Ava Pulley Uniontown, OH 45-38–83 +11
10 Abigail Blackburn North Canton, OH 41-43–84 +12
11 Lauren Bangasser Concord Twp, OH 44-41–85 +13
T12 Rachel DiDonato Akron, OH 43-43–86 +14
T12 Erin Strouse Louisville, OH 42-44–86 +14
14 Samantha Torres Olmsted Township, OH 46-41–87 +15
T15 Maren Seaholts Kent, OH 46-42–88 +16
T15 Olivia Swain Uniontown, OH 39-49–88 +16
17 Devon Carpenter Mogadore, OH 47-42–89 +17
T18 Halle Ellis Uniontown, OH 45-45–90 +18
T18 Kaitlin Kormuth Solon, OH 49-41–90 +18
20 Sydnie Leavery Kent, OH 44-47–91 +19
T21 Allyson Siewert Sagamore Hills, OH 45-47–92 +20
T21 Grace May North Canton, OH 49-43–92 +20
T23 Jayden Mitchell Louisville, OH 45-48–93 +21
T23 Madison Gruber Louisville, OH 45-48–93 +21
T25 Hannah Higgins North Canton, OH 45-51–96 +24
T25 Aubrie Rush Avon, OH 49-47–96 +24
27 Kate Potashnik Hartville, OH 49-50–99 +27
28 Kandace Kellon Shaker Heights, OH 50-51–101 +29
29 Lauren Petro Canton, OH 54-50–104 +32
30 Larisa Golembiewski Northfield, OH 51-57–108 +36
BOYS 11-15
Par: 72 Distance: 6244 Rating: 72.5 Slope: 133
T1 Chris Pollak Aurora, OH 37-39–76 +4
T1 Ray Dress Medina, OH 40-36–76 +4
T3 Charles Hite Akron, OH 41-37–78 +6
T3 Hunter McCourt Avon, OH 39-39–78 +6
T3 Parker Barrett Aurora, OH 38-40–78 +6
T3 Braden Herstich Akron, OH 42-36–78 +6
T3 Dean Upholzer Strongsville, OH 40-38–78 +6
8 Daniel Gambone North Canton, OH 39-40–79 +7
9 Max Weber Massillon, OH 37-43–80 +8
T10 Maxwell Devins Aurora, OH 41-40–81 +9
T10 Kyle Smith Green, OH 39-42–81 +9
T12 Luke Dietrich Rocky River, OH 41-41–82 +10
T12 Sam Fauver Hudson, OH 42-40–82 +10
T14 Marco Silva Barberton, OH 41-42–83 +11
T14 Kevin Dang Twinsburg, OH 41-42–83 +11
T14 Deegan Bee Fredericksburg, OH 37-46–83 +11
T14 Ryan Przybysz Wadsworth, OH 39-44–83 +11
T18 Callahan Lawler Hudson, OH 37-47–84 +12
T18 Ethan Roberts Shaker Heights, OH 41-43–84 +12
T18 Ryan Dinan Akron, OH 38-46–84 +12
T21 William Bopp North Canton, OH 40-45–85 +13
T21 Rocco Crawford Columbiana, OH 43-42–85 +13
T21 Bryce Daggett Canfield 43-42–85 +13
T21 Dante Turner Canfield, OH 44-41–85 +13
T21 Liam Curtis Stow, OH 43-42–85 +13
T26 Alexander Stiegele Westlake, OH 44-43–87 +15
T26 Frankie Adamo Avon, OH 40-47–87 +15
T26 Matthew DiMare Cuyahoga Falls, OH 40-47–87 +15
29 Drew Kitzmiller Macedonia, OH 42-48–90 +18
T30 MichaelTyler Polca Rocky River, OH 44-47–91 +19
T30 Ashton Hoffbauer Shelby, OH 43-48–91 +19
T30 Sachin Nallapaneni Canfield, OH 45-46–91 +19
33 Bryce Van Horn Cortland, OH 50-43–93 +21
34 Brock Jenkins Massillon, OH 44-50–94 +22
35 Nicholas Beistel Canfield, OH 46-49–95 +23
GIRLS 11-15
Par: 72 Distance: 5426 Rating: 72.0 Slope: 126
1 Siena Maschke Cleveland, OH 42-40–82 +10
2 Madolyn Kost Kent, OH 41-42–83 +11
3 Gabriella Berlingieri Stow, OH 41-43–84 +12
4 Natalie Kostalnick Strongsville, OH 42-43–85 +13
5 Kayla Knaze Fairview Park, OH 44-43–87 +15
6 Hannah Lee Strongsville, OH 42-46–88 +16
T7 Emily Burling Hudson, OH 43-46–89 +17
T7 Paige McKendry Hinckley, OH 40-49–89 +17
T7 Annelise Stencel Akron, OH 42-47–89 +17
10 Sherry Du Hudson, OH 44-47–91 +19
T11 Serena Wu Solon, OH 44-48–92 +20
T11 Gracyn Vidovic Aurora, OH 46-46–92 +20
13 Sophia Thompson Cuyahoga Falls, OH 48-45–93 +21
14 Julia Van Bokkelen Hudson, OH 47-48–95 +23
15 Gianna Reginelli Broadview Hts, OH 47-52–99 +27