The first round of the Greater Cleveland Amateur Championship is in the books, and there is a three way tie for the lead at Manakiki.
Sagamore Hills' Jimmy Wild, Green's Mike Simpson and Strongsville's Anthony Briggs each shot 2-under par 70 to share the Saturday lead.
Another shot back is Chris Okeson of Lyndhurst with a 71.
Defending Champion Vaughn Snyder of Massillon is at even par 72.
The top 35 players and ties made the cut; all players shooting 78 or better will play on Sunday morning in Round 2 beginning at 8:00am.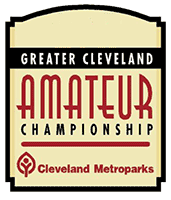 ROUND 1 RESULTS: Cleveland Metroparks Golf
2021 Greater Cleveland Amateur Championship
Manakiki Golf Course, Willoughby Hills, Ohio
Saturday, August 14, 2021
Anthony Briggs 70
Mike Simpson 70
Jimmy Wild 70
Chris Okeson 71
Vaughn Snyder 72
Steve Blackburn Jr. 73
Brett Kaufman 73
Daniel Metzendorf 73
David Sotka 73
Nick Anagnost 74
Mike Witmer 74
Jonathan Riemer 74
Doug Barber 75
Antonio Bodziony 75
Colin Burns 75
Howard Clendenin 75
Max Decheco 75
Matt Paterini 75
Brian Polick 75
Dave Rinderle 75
David Snacki 75
Justin Trzebuckowski 75
Phil Bojc 75
Daniel Milo 75
AJ Borisa 76
Michael Doherty 76
Matthew Mullen 76
Brian Smith 76
Rick Deichert 76
Brian Juguilon 76
C.J. Milo 77
Tim Moore 77
Tim Cebula 77
Lou Durban 78
Zach Glassman 78
Matthew Marino 78
Mike Richey 78
DID NOT MAKE THE 18 HOLE CUT:
Jack Garswood 79
Alex Kocin 79
Daniel Sederholm 79
Joe Tasca 79
Larry Lahnan 79
Chris Eggleton 80
Andrew Malkus 80
Ron Ritner 80
Matt Roth 80
Jeff Sawitke 80
Wyatt Suntala 80
Tyler Ankrom 80
Allen Freeman 81
Thomas Priore 81
Ben Robison 81
Scott Tarcy 81
Brett Simkovich 81
Jake Wetzel 81
Adam Frey 81
Ben Begley 82
Justin Krotine 82
Steve Petite 82
Ryan Stefanski 82
Mark Ciccarello 83
Matthew Gregory 83
Mike Crawford 84
Brian Kukoleck 84
Bob Wadsworth 84
Eric Wonkovich 84
Chris Carlson 86
Matt Kang NC
Rob Schustrich WD
SATURDAY SKINS: $273.33 ea
AJ Borisa – Birdie 3, Hole #2
Brett Kaufman – Birdie 3, Hole #8
Howard Clendenin – Birdie 2, Hole #11
SUNDAY'S ROUND 2 STARTING TIMES
8:00am Lou Durban
8:00am Zach Glassman
8:10am Matthew Marino
8:10am Mike Richey
8:20am C.J. Milo
8:20am Tim Moore
8:20am Tim Cebula
8:30am AJ Borisa
8:30am Michael Doherty
8:30am Matthew Mullen
8:40am Brian Smith
8:40am Rick Deichert
8:40am Brian Juguilon
8:50am Doug Barber
8:50am Antonio Bodziony
8:50am Colin Burns
9:00am Howard Clendenin
9:00am Max Decheco
9:00am Matt Paterini
9:10am Brian Polick
9:10am Dave Rinderle
9:10am David Snacki
9:20am Justin Trzebuckowski
9:20am Phil Bojc
9:20am Daniel Milo
9:30am Nick Anagnost
9:30am Mike Witmer
9:30am Jonathan Riemer
9:40am Steve Blackburn Jr.
9:40am Brett Kaufman
9:40am Daniel Metzendorf
9:50am David Sotka
9:50am Vaughn Snyder
9:50am Chris Okeson
10:00am Anthony Briggs
10:00am Mike Simpson
10:00am Jimmy Wild