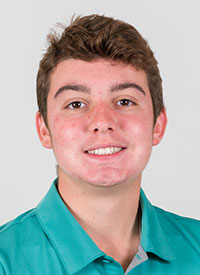 Eastern Michigan player Max Watson of Ashland, Ohio grabbed the first round lead of the 2020 Northeast Ohio Amateur Championship at Windmill Lakes Golf Club in Ravenna on Saturday, making birdie at the last to post a 1-under par 69.
He leads five players by a single shot, including defending champion Jack Herceg of Dublin and locals Jules Blakely of Westlake and Cade Breitenstine of Akron.
In the Mid-Am Division for players ages 25-54, Jack Garswood of Fairview Park, Brad Steven of Concord and defending Mid-Am champ Chris Okeson of Lyndhurst each posted 2-over par 72 to share the top spot after Saturday's round.
And in the Senior Division, Chagrin Falls' Brian Sparrow jumped out to the first round lead at even par 70, bettering Solon seniors Monty Guest by one and Mark Fried by two.
In its 90th playing this year, the NEO Am as it is commonly called is the region's most prestigious amateur title, with its who's-who of local and nationally-recognized past winners including Arnold Palmer. This year's field is the biggest ever for the event, and arguably the most talented.
Pairings and starting times remain the same as Saturday for Sunday's second round, after which a cut will be made in advance of Monday's final 18 holes at Windmill Lakes.
ROUND 1 RESULTS:
Northern Ohio Golf Association
2020 Northeast Ohio Amateur Championship
Windmill Lakes Golf Club, Ravenna, Ohio
Saturday, June 6, 2020
CHAMPIONSHIP DIVISION
1 Max Watson, Ashland, OH 69
T2 Jules Blakely, Westlake, OH 70
T2 Jack Crawshaw, Winnetka, IL 70
T2 Camden Solomon, Dublin, OH 70
T2 Jack Herceg, Dublin, Ohio 70
T2 Cade Breitenstine, Akron, Ohio 70
7 Tyler Goecke, Xenia, OH 71
T8 Jack Garswood, Fairview Park, OH 72
T8 Brad Steven, Concord, OH 72
T8 Matthew McAdoo, Twinsburg, Ohio 72
T8 Cade Kreps, Boardman, OH 72
T8 Jake Caldwell, Solon, OHIO 72
T8 Chris Okeson, Lyndhurst, OH 72
T14 Brett Kaufman, Westlake, Oh 73
T14 Cole Corder, Beavercreek, Ohio 73
T14 Ken Keller, Youngstown, Ohio 73
T14 Nate Arnold, Milford, Ohio 73
T14 Mikkel Mathiesen, Beavercreek, Ohio 73
T14 Beau Bayerl, Ashland, Ohio 73
T20 Tim Skufca, Westlake, OH 74
T20 Austin Schoonmaker, Maineville, OH 74
T20 Zach Mandry, Solon, OH 74
T20 Jack Kozlowski, Columbus, Ohio 74
T20 Tanner Grzegorczyk, Glenshaw, PA 74
T20 Bud Radis, Aurora, OH 74
T20 Blake Solomon, Dublin, Ohio 74
T20 Dean Austalosh, Campbell, Ohio 74
T28 Conor Mead, Amherst, OH 75
T28 Cole Christman, Canfield, OH 75
T28 Josh Gilkison, Springboro, Ohio 75
T28 Bryan Kordupel, Youngstown, OH 75
T28 Jake Fox, Cincinnati, Ohio 75
T33 Cameron Willis, Eaton, OH 76
T33 Evan Yakubov, Columbus, OH 76
T33 Brian Terlesky, Youngstown, Ohio 76
T33 Dylan Fitchet, Conneaut, Ohio 76
T33 Brian Smith, Amherst, OH 76
T38 Jonathan Filler, Fort Wayne, Indiana 77
T38 Brian Polick, Wadsworth, Ohio 77
T38 Grant EngleS, pringfield, Ohio 77
T38 Matt Donahoe, North Olmsted, OH 77
T38 Brandon BodisAvon Lake, Ohio 77
T38 Michael KelleyWesterville, Ohio 77
T44 Charles Winkler, Oxford, Ohio 78
T44 Eric Wonkovich, Lakewood, OH 78
T44 Pj Malik, South Russell, Ohio 78
T44 Tyler Ankrom, Akron, OH 78
T48 Kyle Buzaki, Stow, Ohio 79
T48 Doug Barber, Willoughby, Ohio 79
T48 Miles Miller, Dublin, OH 79
T51 Caleb Westfall, Mechanicsburg, OH 80
T51 Jeff Blechschmidt, Cleveland, OH 80
T53 Anthony Briggs, Lakewood, OH 81
T53 Kevin Rowe, Westlake, OH 81
T53 Ethan Snyder, Dublin, OH 81
T53 Evan Ferrara, Kent, OH 81
T53 Robert Schustrich, Windham, Ohio 81
T53 Bryn Irvine, Bay Village, OH 81
T53 Jack Wertz, Cincinnati, OH 81
T60 Brandon Netzel, North Ridgeville, OH 82
T60 Hunter Brown, Chillicothe, Ohio 82
T60 Jared Wilson, Columbiana, Ohio 82
T60 Travis Eick, Medina, OH 82
T64 Bradley Wise, Hudson, Ohio 84
T64 Bobby Jonda, Boardman, Ohio 84
66 Ryan Cseplo, Painesville, Ohio 85
67 Ross Nicol, Lakewood, Ohio 86
68 Andrew Zgrabik, Brecksville, OH 88
WD Don Padgett, Akron, OH WD
MID-AM DIVISION
T1 Jack Garswood, Fairview Park, OH 72
T1 Brad Steven, Concord, OH 72
T1 Chris Okeson, Lyndhurst, OH 72
4 Brett Kaufman, Westlake, Oh 73
T5 Tim Skufca, Westlake, OH 74
T5 Bud Radis, Aurora, OH 74
7 Brian Smith, Amherst, OH 76
T8 Brian Polick, Wadsworth, Ohio 77
T8 Matt Donahoe, North Olmsted, OH 77
T8 Michael Kelley, Westerville, Ohio 77
11 Doug Barber, Willoughby, Ohio 79
12 Jeff Blechschmidt, Cleveland, OH 80
T13 Anthony Briggs, Lakewood, OH 81
T13 Kevin Rowe, Westlake, OH 81
T13 Bryn Irvine, Bay Village, OH 81
T13 Robert Schustrich, Windham, Ohio 81
17 Travis Eick, Medina, OH 82
18 Bradley Wise, Hudson, Ohio 84
19 Ryan Cseplo, Painesville, Ohio 85
20 Ross Nicol, Lakewood, Ohio 86
21 Andrew Zgrabik, Brecksville, OH 88
WD Don Padgett, Akron, OH WD
SENIOR DIVISION
1 Brian Sparrow, Chagrin Falls, Ohio 70
2 Monty Guest, Solon, OH 71
3 Marc Fried, Solon, OH 72
T4 Mark Guadagni, Hudson, Ohio 75
T4 Tom Jereb, Concord Township, Ohio 75
T6 Tom Laubacher, Aurora, OH 76
T6 Lou Boarman, Mogadore, OH 76
T6 Jeffrey Knox, Brecksville, OH 76
T9 David Stover, Pepper Pike, OH 77
T9 Mark Borlin, Stow, OH 77
11 Tom Baugh, Akron, OH 78
12 John Toth, Akron, OH 79
T13 Bernie Beaudoin, Highland Heights, OH 80
T13 Marc Blaushild, Moreland Hills, OH 80
15 Jim Durr, Silver Lake, Ohio 81
16 Jerry Haywood, Hudson, OH 82
T17 Matt Timmons, Shaker Heights, Ohio 83
T17 Jack Pico, Niles, OH 83
T19 Joe Denk, Fairview Park, OH 87
T19 Ron Hulett, Brecksville, OH 87