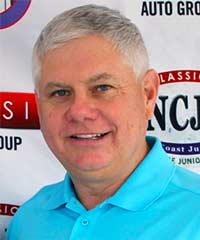 Last out, first in. So it went for Concord professional Tony Milam during Wednesday's opening round of the 34th Senior Ohio Open on the West Course at Firestone Country Club.
Playing in the final group of the day, Milam grabbed the first round lead with a 2-under 70 heading into Thursday's final 18 holes.

Milam, the 2014 champion and the director of the North Coast Junior Tour, had four birdies and two bogeys for a one-shot lead over Westerville amateur Michael Kelley, Bellwood Country Club pro Tim Krapfel and three-time Ohio Open champion Bob Sowards of Dublin and Kinsale Golf and Fitness Club, near Columbus.
Youngstown Country Club pro Jon Jones stood alone in fifth place at even-70 with up-and-down nines of 38-32 that included one eagle, four birdies, three bogeys and one triple-bogey.
Kelley, 54, used a hole-in-one on the 166-yard seventh hole to earn his share of second place in what turned out to be a crowded leaderboard in both divisions.
11 players are within four shots of the lead. That group includes four-time champion and Canton Brookside director of golf Gary Robison and Brookside member Dr. Jeff Mallette, both in at 71.
In the Super Senior Division for players age 60-and-above, four players shared the lead with four others just one shot back.
Amateurs Tom Baugh and Larry Lahnan were part of the four-player tie at the top of the Super Seniors. Baugh, from Akron and Portage Country Club, and Lahnan, of Aurora and Walden, shot four-over 74 to share the lead with 2013 champion Walt Robertson of Cleveland, and Bob Hauer of Cincinnati.
ROUND 1 RESULTS: Northern Ohio PGA
2019 Senior Ohio Open
Firestone Country Club West Course, Akron, OH | Par 70
Wednesday, May 29, 2019
1 Tony Milam Concord Twp, OH 32-36–68 -2
T2 Michael Kelley (a) Westerville, OH 36-33–69 -1
T2 Tim Krapfel Dayton, OH 33-36–69 -1
T2 Bob Sowards Dublin, OH 35-34–69 -1
5 Jon Jones Warren, OH 38-32–70 E
T6 Jeff Mallette (a) North Canton, OH 35-36–71 +1
T6 Gary Robison North Canton, OH 34-37–71 +1
T8 Tom Atchison Silver Lake, OH 35-37–72 +2
T8 Kurt Peterson (a) Bolivar, OH 38-34–72 +2
T8 Gary Rusnak Painesville, OH 35-37–72 +2
T8 Scott Spence Sunbury, OH 35-37–72 +2
T8 Steve Stone Perrysburg, OH 37-35–72 +2
T13 Tony Adcock Canton, OH 36-37–73 +3
T13 Dan Belden (a) Massillon, OH 37-36–73 +3
T13 Chris Black Lancaster, OH 37-36–73 +3
T16 Rob Moss Broadview Heights, OH 36-38–74 +4
T16 Scott Pollack Chagrin Falls, OH 36-38–74 +4
T16 Andy Santor Youngstown, Ohio 38-36–74 +4
T16 Edward Steiber (a) Cincinnati, OH 35-39–74 +4
T16 Rick Towle Columbus, OH 36-38–74 +4
T16 Tom Waitrovich Westlake, Ohio 40-34–74 +4
T22 Paul Hollenbaugh New Albany, OH 39-36–75 +5
T22 Joe Regner Gahanna, OH 35-40–75 +5
T22 Dan Sutton Toledo, OH 38-37–75 +5
T22 Dennis Wells Loveland, OH 34-41–75 +5
T26 Ray Finnearty Delaware, OH 38-38–76 +6
T26 Larry King Cincinnati, OH 41-35–76 +6
T26 Ken Kinkopf (a) Dublin, OH 39-37–76 +6
T26 Nick Lambos (a) Canton, OH 37-39–76 +6
T26 Mike Rankin Marion, OH 40-36–76 +6
T26 Robert Schustrich (a) Windham, OH 35-41–76 +6
T26 Jeff Thrams (a) North Canton, OH 41-35–76 +6
T26 Gary Trivisonno Aurora, OH 38-38–76 +6
T34 Peter Betzold (a) West Chester, OH 38-39–77 +7
T34 Mitchell Camp Aurora, OH 41-36–77 +7
T34 Alan Fadel (a) Perrysburg, OH 38-39–77 +7
T34 Lloyd Faulkner Cincinnati, OH 38-39–77 +7
T34 Craig Goldsberry Lewis Center, OH 41-36–77 +7
T34 Mark Thomas (a) Jackson Twp, OH 40-37–77 +7
T34 Mark Wise (a) Westlake, OH 39-38–77 +7
T34 Brad Zeitner Lewis Center, OH 36-41–77 +7
T42 Pat Delaney Springfield, OH 36-42–78 +8
T42 Steve Groves Columbus, OH 39-39–78 +8
T42 Mike Kaido Zanesville, OH 38-40–78 +8
T42 Dan Malloy (a) Westlake, OH 36-42–78 +8
T46 Dan DeVore (a) Cincinnati, OH 38-41–79 +9
T46 Mike McGuire (a) Powell, OH 42-37–79 +9
T46 Russell Papa Solon, OH 43-36–79 +9
T49 Rodney Bordman (a) Norwalk, OH 43-37–80 +10
T49 Cory George Lancaster, OH 39-41–80 +10
T49 Mark Guadagni (a) Hudson, OH 41-39–80 +10
T49 Monty Guest (a) Solon, OH 39-41–80 +10
T53 Joseph Borawski Massillon, OH 41-40–81 +11
T53 Mitch Greenwald (a) Lewis Center, OH 40-41–81 +11
T53 Ted Mandes Gates Mills, OH 42-39–81 +11
T53 Eric Morgan Sandusky, OH 42-39–81 +11
T53 Leo Szczepanski (a) Seven Hills, OH 42-39–81 +11
T58 Dave Antill (a) Dublin, OH 40-42–82 +12
T58 Jack McKelvey Chagrin Falls, OH 38-44–82 +12
T58 Jack Pawelkoski Dayton, OH 42-40–82 +12
T58 Bob Stephens Springboro, OH 38-44–82 +12
T58 Roger Tolley (a) Willard, OH 42-40–82 +12
T58 Mark Weitendorf Hudson, OH 42-40–82 +12
T64 Dan Goodnow (a) University Heights, OH 41-42–83 +13
T64 Fred Huston Loveland, OH 44-39–83 +13
T64 Scott Saari (a) Avon Lake, OH 44-39–83 +13
T64 Daniel Vosel (a) Cincinnati, OH 40-43–83 +13
68 Mark Ciccarello (a) South euclid, OH 43-41–84 +14
69 Gordon Meek Sylvania, OH 42-44–86 +16
70 George Papas (a) Hinckley, OH 46-41–87 +17
71 Dennis Berkheimer (a) Brunswick, OH 45-43–88 +18
72 Tim Heavner (a) Alliance, OH 45-44–89 +19
T73 Chris Helaney (a) Lakewood, OH 46-46–92 +22
T73 John Knock (a) Liberty Township, OH 46-46–92 +22
Super Senior Division
T1 Tom Baugh (a) Akron, OH 35-39–74 +4
T1 Bob Hauer Cincinnati, OH 38-36–74 +4
T1 Larry Lahnan (a) Aurora, OH 35-39–74 +4
T1 Walt Robertson Cleveland, OH 34-40–74 +4
T5 Jim Durr (a) Silver Lake, OH 38-37–75 +5
T5 Jim Logue Canton, OH 38-37–75 +5
T5 Don Padgett II Pinehurst, NC 37-38–75 +5
T5 Steven Shaw Brecksville, OH 38-37–75 +5
T9 Kim Boehlke Youngstown, OH 36-40–76 +6
T9 Philip Russo (a) Cincinnati, OH 39-37–76 +6
T9 Terry Shell Wintersville, OH 39-37–76 +6
12 Randy Steele (a) Hudson, OH 40-37–77 +7
T13 G.M. Bingman (a) Medina, OH 41-37–78 +8
T13 Mark Boothby (a) Cincinnati, OH 40-38–78 +8
T13 Mike Cassell (a) Hudson, OH 40-38–78 +8
T13 Roy Hobson Plain City, OH 38-40–78 +8
17 Gordon Willins (a) West Chester, OH 37-42–79 +9
18 Jeff Luken (a) Middleburg Hts, OH 38-42–80 +10
T19 Steve Bedell (a) Brecksville, OH 40-41–81 +11
T19 Charlie Wood Mayfield Hts, OH 41-40–81 +11
21 Steve Griffith (a) Hamilton, OH 46-37–83 +13
22 Frank Guise (a) Westlake, OH 39-45–84 +14
23 Bill Martinko (a) Brunswick, OH 43-42–85 +15
24 Ron Rositani (a) Willowick, OH 44-43–87 +17
T25 Mike Meiner Hamilton, OH 50-44–94 +24
T25 Raymond Najda (a) Olmsted Township, OH 45-49–94 +24