Northern Ohio Golf both "promotes" and "runs" golf tournaments.
So what is the difference? A number of critical operational requirements.
northernohio.golf "promotes" tournaments under our Course Member and Tournament Promotion packages. These promotional services include listing the event on our Tournament Calendar, writing Call-for-Entries stories on the website, making mentions of the event within the weekly Email Newsletter, and posting Starting Times. Then after the event, we post scores, photos and any notes/game story that you send to us by email.
But "running" a golf tournament requires a significant amount of operational work in addition to these event promotions: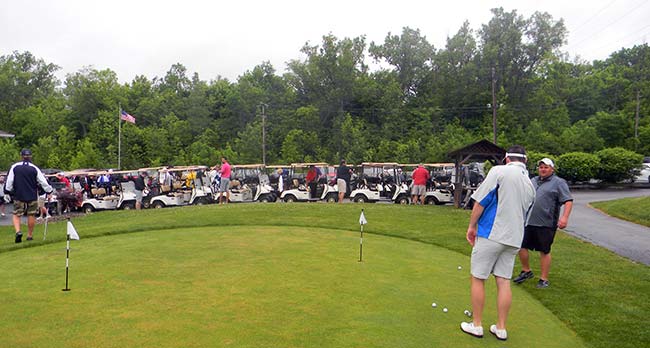 – determining the event name, tournament format, date and starting time;
– creating an entry blank outlining the format, entry fee amount, prize breakdowns, optional side games, pro/am status requirements, entry deadlines, etc.;
– accepting players' or teams' entries by phone/email/mail/in-person for the tournament;
– setting the groupings and starting times for the field;
– handling player check-in, entry fee collection, and starter's duties on event day;
– creating and distributing a rules sheet and scorecards to the players;
– setting up a scoreboard with a summary sheet and posting full hole-by-hole scores and the final payouts;
– handling the distribution of prizes and optional game winnings;
– typing up the full field results for the event;
– writing up a game story or notes;
– taking photos of the winners plus providing other action photos to enhance the game story;
– sending the game story, scores and photos to NEOHgolf.com and to other media outlets to inform players and build the event for the following year.

If a golf course or golf association "runs" all of the above operational details, then northernohio.golf is responsible for "promoting" the event. Our promotional service is a part of the Course Member or Tournament Promotions fee.
But if Northern Ohio Golf is asked to take on all of the operational details outlined above plus the promotions, then we are "running" the tournament. As such, an additional fee is charged for that significant operations work that is over and above the Course Membership or Tournament Promotions fee.