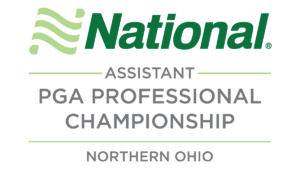 Twenty-five Northern Ohio PGA Assistant Professionals will compete for a chance to play in a national tournament on Tuesday at the Mayfield Club.
The Northern Ohio PGA Section will hold its 36-hole NOPGA Assistant Professional Championship, with the top two finishers advancing to the 46th National Car Rental Assistant PGA Professional Championship held Nov. 17-20 at the PGA Golf Club in Port St. Lucie, Fla.
Included in the field are reigning champion Michael Balcar of Brandywine Country Club in Toledo and runner-up Darin de Lelys of Westfield Country Club.
Three others will earn alternate spots.
Balcar, who played at Cleveland State, won the championship last year when it was held at Weymouth Country club with rounds of 66-73 for a five-under 139. de Lelys, finished second with rounds of 73-70—143.
The alternates were Bowling Green head coach John Powers (73-71), The Country Club Assistant Professional Collin Slattery (72-73) and Pepper Pike Club Assistant Professional Sean McGuire (76-71).
The field also will have to contend with Jim Troy, who recently won the NOPGA Professional Championship for the second straight year two weeks ago. A status change enables Troy, who recently became a PGA Assistant Golf Professional at Windmill Golf Center, to qualify to compete as an assistant. The 41-year-old from Strongsville previously was a regional sales manager for Honma Golf USA.

ROUND 1 STARTING TIMES:
2022 NOPGA Assistant Professional Championship
Mayfield Club, South Euclid
Tuesday, September 6, 2022
8:30 AM
Augustin Lanshe, Zack Ford
8:40 AM
Thomas Reckart, Cooper Wrobel
8:50 AM
Kelcey Eberle, Ryan Cook, Mark Scott Jr.
9:00 AM
Darin de Lelys, Jordan Paolini, Emily Heikkila
9:10 AM
Tyler Peterson, Seth Carn, Michael Miller
9:20 AM
Brian Suydam, Dylan Champney, Sam Wilding
9:30 AM
Sean McGuire, Michael Balcar, Ian Haidle
9:40 AM
Derek Smith, DJ Holub, Jim Troy
9:50 AM
Julian Pina, Andy Silverman, Zac Cork