For the start of the 2020 season, the Akron District Golf Association is going "virtual"!
Golf has been played under social distancing guidelines since early April. So the ADGA and the golf courses that we play will follow all of those same guidelines for as long as the Governor and local health departments require it. That means a bit more time between starting times, pool noodles in the holes, solo rider carts or walking, player spacing, etc.
That also means that all of the event operations will be virtual for the time being, all handled online, so that the golf course runs just like it does every other day under the current guidelines. So entries must be made in advance by phone or email, players may arrive no earlier than 30 minutes in advance of start, rules will be posted online with the starting times, and scoring, results and prizes will all be managed online after play. When your round is over, please provide your scores then head on home.
Once the State of Ohio lifts all of the golf clubhouse restrictions that are currently in place, the ADGA will go back to traditional tournament operations, including scoreboards that players can relax around with a beverage, and all of the pre- and post-event camaraderie we all know and love.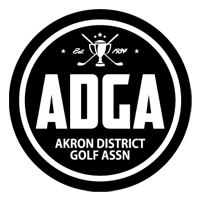 The season kicks off with the Parke H. Thornton 2-Man Better Ball on Saturday, May 2nd. Entries for Championship and Senior Divisions (ages 50+) are now being accepted for this event, by phone/text at (330) 608-2096 or by email at golf@ADGAgolf.com. Entry deadline is Thursday, Apr 30th at 10p, no exceptions.
New for 2020, the ADGA is eliminating the yearly membership fee and instead is charging a $5 event fee per player per event. Easier for the ADGA, less expensive for players who can't play in every event. Players can see more of the 2020 schedule on the ADGA home page on Northeast Ohio Golf.
So get registered now. I look forward to seeing you all at the ADGA Turkeyfoot 2-M Better Ball on May 2nd.