"I can't believe my name is on a trophy with Arnold Palmer!"
— every winner of the NEO Am in the last 30 years

Having your name on a trophy right next to Arnie's is unbelievable. It's historic. And, well, it's just flat-out cool.
The Northeast Ohio Amateur Championship offers that one-of-a-kind opportunity.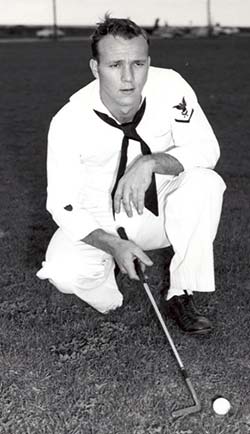 Arnold Palmer began winning golf tournaments in Northeast Ohio as a young Coast Guard member in 1953. When he arrived in town, he was welcomed to play (for free) at then-private Pine Ridge Country Club in Wickliffe — mostly so he could play on their Interclub team. That's good recruiting.
Palmer won the 1953 Ohio Amateur in early July of that year, which was a home game for him as the tournament was conducted at Pine Ridge.
The following week after that victory, Arnie competed in the Plain Dealer Invitational. The first round was played at Aurora Country Club, round two at Highland Park, and a few days later the 36-hole finale was held at Shaker Heights Country Club.
Palmer shot 69-68-71-72 for an 8-under par 280 total to win by eight shots. In doing so, he set a new tournament record by five shots.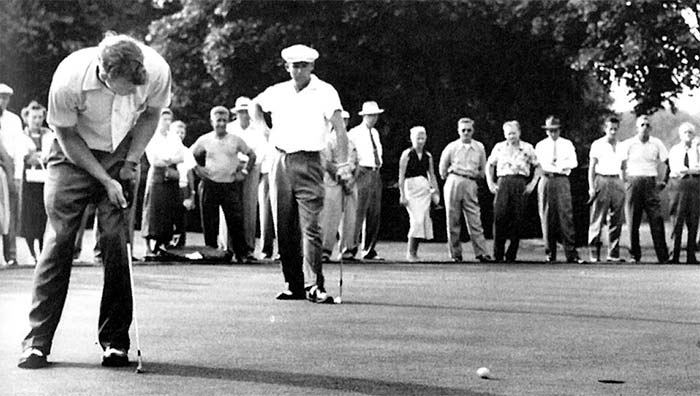 Was Palmer's win a big deal back in the day? Check out the front of the Plain Dealer sports page from July 17, 1953 and decide for yourself:

Note how many spectators are watching Arnie hit a shot at Shaker in the photo on the right — in an amateur tournament! It's worth reading the game story PDF, too, as Arnie was slashing even then: he hit a shot OB for double then a few holes later drove a par-4 for eagle on his way to victory. Oh, and the girl in the picture on the left is his caddie, some club member's daughter — more good recruiting.
The following year, Palmer left Northeast Ohio for good to pursue his golf dreams. He won the 1954 U.S. Amateur at the Country Club of Detroit, and his global professional golf career took off from there.
Back in Greater Cleveland, time rolled on.
In 1965, the Northern Ohio Golf Association rescued the then-flagging Plain Dealer Invitational, rebranding it as the Northeast Ohio Amateur Championship to continue its legacy.
From there, more champions, more stories. The lore continues, with the event reaching its 89th edition this year.
Now, you can have your chance to be a part of that history. The 54-hole 2019 Northeast Ohio Amateur will be played at Windmill Lakes Golf Club in Ravenna from Saturday, June 8th through Monday, June 10th. Championship, Mid-Amateur (age 25 & up) and Senior (age 55 & up) divisions.
Let's see if you can put your name next to Arnie's…