Last week we announced that starting February 1st, all area golfers and a few industry insiders would get a chance to vote for the Northern Ohio Golf 2021 Best Courses lists in Private, Public, Range and "Hot List" categories.
We also promised that this week we'd detail which courses are eligible for voting, and provide some current lists of the top courses in our area as chosen by the national golf publications.
So here we go…
GEOGRAPHIC ELIGIBILITY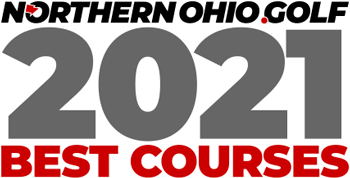 The "Northern Ohio Golf" territory is defined differently by the USGA and the PGA of America. The USGA uses counties to create the boundaries for the Northern Ohio Golf Association. The PGA of America uses the north, west and east state lines, plus "an imaginary line drawn between the cities of Martins Ferry, Ohio and Union City, Indiana" as the southern border of its Northern Ohio PGA Section.
Since it's a tiny bit easier to use county boundaries than an imaginary line, we're going to use the USGA territory to determine eligibility in 2021. (Maybe next year we'll go with the PGA and use their slightly bigger geo.)
So this year, golf courses, private clubs and ranges in the following Ohio counties are eligible for ranking: Allen, Ashland, Ashtabula, Carroll, Columbiana, Cuyahoga, Defiance, Erie, Fulton, Geauga, Hancock, Henry, Holmes, Huron, Jefferson, Lake, Lorain, Lucas, Mahoning, Medina, Ottawa, Paulding, Portage, Putnam, Sandusky, Seneca, Stark, Summit, Trumbull, Tuscarawas, Van Wert, Wayne, Williams, Wood, Wyandot.
NATIONAL GOLF MAGAZINE RANKINGS
Below are the most recent editions of rankings from the national golf magazines/websites for courses in Northern Ohio. The Ohio courses not located within our geographic area have been removed from each list; you can see the full list by clicking on the title link to each list.
These lists are provided for informational purposes only; your Top 25 results will vary.
Golfweek's Best Private Courses by State – Ohio 2020
4. Inverness Club, Toledo
6. Brookside, Canton
7. Canterbury, Beachwood
10. Kirtland, Willoughby
Golfweek's Best Courses You Can Play in Ohio 2020
1. Fowler's Mill (Lake and River), Chesterland
2. Manakiki, Willoughby
4. Sleepy Hollow, Brecksville
5. Boulder Creek, Streetsboro
7. The Quarry, Canton
8. Little Mountain, Painesville
Golf Magazine / Golf.com Best Ohio Golf Courses 2020/2021
2. Inverness, Toledo
7. Kirtland, Willoughby
8. Canterbury, Beachwood
9. The Country Club, Pepper Pike
10. Brookside Golf and Country Club, Canton
12. Firestone South, Akron
13. Pepper Pike Club, Pepper Pike
15. Sand Ridge, Chardon
Golf Digest Best Golf Courses in Ohio 2019
5. Inverness Club, Toledo
7. Brookside CC, Canton
8. Kirtland CC, Willoughby
9. Canterbury GC, Beechwood
11. Sand Ridge Club, Chardon
12. The Country Club, Pepper Pike
14. Firestone CC South, Akron
17. Firestone CC North, Akron
19. Shaker Heights CC, Shaker Hts
Golf Advisor/Golf Pass Golfers' Choice 2021 Best Golf Courses in Ohio
2. Manakiki Golf Course, Willoughby
3. Pine Hills Golf Club, Hinckley
6. The Sanctuary Golf Club, Canton
8. Shale Creek Golf Club, Medina
9. Fostoria Country Club, Fostoria
10. Loudon Meadows Golf Club, Fostoria
12. Chippewa Golf Club, Curtice
13. Sleepy Hollow Golf Course, Brecksville
14. Oak Shadows, New Philadelphia
15. Ashland Golf Club, Ashland
17. Raymond C. Firestone Golf Course, Akron
19. The Quarry Golf Club, Canton
21. Eagle Creek Golf Club, Norwalk
24. Gleneagles Golf Club, Twinsburg
Insiders Lists Next to Come
As we get closer to February 1st and the opening of voting for the Northern Ohio Golf 2021 Best Courses, we'll begin highlighting some of our 'golf industry insiders' who will be voting with us.
Throughout the month of February, we'll post some of the final votes from a handful of these industry insiders, showing which courses and ranges earned a spot on their own personal lists.
That way, you'll have a consideration set as you mull over your own slate of votes.
In the meantime, we've made significant updates and additions to our Course Directory in preparation for the vote. Check it out…