We love telling golf stories here, filling them with grand words for big shots and important putts. But today at Zoar Golf Club, there was a true life-and-death situation that was handled with clear thinking and real courage.
25-year old Shawn Mills, playing the 7th hole on a split scramble team with his father Tim Mills in today's Zoar 2×4 Scramble, suddenly slumped over the steering wheel of his golf cart.
He was completely non-responsive.
The players in Shawn's group started yelling for Shawn's father to come help them, which also brought over Brian Smith, who was playing for the opposing team in the same group as Tim.
There was a sense of panic upon their arrival.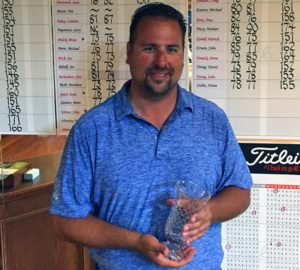 "I had a bunch of cold water and we started trying to cool the kid down," said Smith (pictured), who initially thought Shawn might be having a heat stroke. "We got him out of the cart and lied him down, but he wasn't breathing. His eyes were rolled back and he was completely limp. So we started doing CPR with chest compressions and breathing, but he wasn't responding."
Since Smith had been well trained for CPR in a past job, he could see that Shawn wasn't getting the air he needed. So he instructed another of Shawn's playing partners, Kevin Krysty, to make sure to blow deep into the lungs as Smith did chest compressions.
Eventually, a nurse who had been playing in another part of the course arrived at the scene, and a defibrillator from the clubhouse was used. Seconds after that the paramedics arrived, took over, shocked him three more times, then sped off to the hospital.
The latest word is that Shawn is in stable but guarded condition, and that he might have suffered a heart attack.
"It was the craziest thing I've ever been involved with on a golf course," said Smith, who still was emotional from the day's events. "I hope everything is alright for the kid. A situation like that really puts everything into perspective."
The EMTs who handled the emergency at Zoar Golf Club called back to the pro shop later and made it clear that the efforts of Smith, Krysty, et al, had saved the life of Shawn Mills.
"I just hope for the best for him," Smith said. "I look forward to the day when I see him back on the golf course."