–
It was a victory march. A coronation. A record-setting win against a big and talented field.
Parker Hewit of Westfield Center used big drives and a solid putting touch to roll to a five shot victory with a record-setting score of 5-under par 137 in the 2013 edition of the Summit County Amateur Golf Championship at Good Park.
Yes, this final round lacked drama. Hewit wanted it that way. A first round 66 was good for a two shot lead and set the tone heading into Sunday. Sure there were a couple of early round hiccups by Hewit, but no one else near the lead really made a charge during Hewit's little slips.
Then it was all over for sure when Hewit made three birdies in a row at the toughest holes on the golf course: 8, 9 and 10.
The birdie on nine was the most absurd, given the cliffside pin that tournament chiefs Larry Zimmerman and Dante D'Andrea decided to unleash on the Good Park field Sunday. So what if the scoring average for the hole went to 3.9 on this already challenging par-3? (Stats courtesy of Todd Berterman at Tournament Expert!) Hewit simply stuck his 204-yard tee shot to inside two feet and made the putt — a putt that still broke a full cup from 24 inches.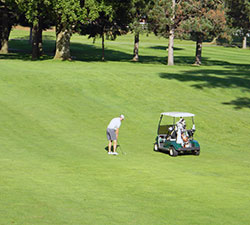 From there, Hewit traded birdies and bogeys while cruising around the back nine, finishing at even par 71 with nary a challenge on the day.
Cakewalk complete. Candy successfully taken from 167 babies.
Hewit graduated from Bowling Green in 2012 and will launch his professional career later this fall. But first, he will compete in the U.S. Amateur Championship next week at The Country Club in Brookline, MA. Given this performance, he should do well.
Jake McBride of Hartville, a Wolfpack player at North Carolina State, grabbed the runner-up spot with solid Sunday round of 1-under par 70 to finish at even-par 142.
Steve Blackburn Jr. finished alone in third place another shot back, and the veteran trio of David Trier, Ty Kovach and Dave Oates notched T4 at 144. Complete results below.
And of course let's not forget the annual Summit County Am skins game, the biggest of the year in Northeast Ohio. $1,400 per day was in play this year.
In round one on Saturday, Bruce Bailey eagled the par-5 fifth hole; Jason Chadima jarred a 9-iron from 140 yards on the par-4 seventh, and Tommy Miano made eagle on the par-5 14th, to each earn $470.
On Sunday, there were no outright skins winners (although Blake Foutty's eagle at 14 would have held for $1,400 had he ponied up the measly $20 to enter the skins game — ouch!). So the least-tied hole earned the Sunday skins, which turned out to be the shortened par-4 12th hole with two eagles on the day: by Niko Anagnost and by AJ Spalding good for $700 each.
Special thanks to Dave Chapple and Tim Davis for all their work at the scoreboard (even while fighting some health issues), to Steve Kosar and Pat Wheeler for the sponsorships they provide that make this event a great one, and to Mary and family for honoring Dave Barnes once again through the event.
And of course, kudos to Larry Zimmerman, Dante D'Andrea, Greg Enright and the rest of the Good Park staff for their hard work on the tournament. The players most certainly appreciate it!


FINAL RESULTS:
2013 Summit County Amateur Golf Championship
Good Park Golf Course, Akron Ohio
August 3 – 4, 2013
| | | | | |
| --- | --- | --- | --- | --- |
| Player | Rd 1 | Rd 2 | Total | Prize |
| Hewit, Parker | 66 | 71 | 137 | $750.00 |
| | | | | |
| McBride, Jake | 72 | 70 | 142 | $650.00 |
| | | | | |
| Blackburn, Steve | 72 | 71 | 143 | $600.00 |
| | | | | |
| Trier, David | 74 | 70 | 144 | $500.00 |
| Kovach, Ty | 73 | 71 | 144 | $500.00 |
| Oates, David | 70 | 74 | 144 | $500.00 |
| | | | | |
| McHugh, Tyler | 75 | 70 | 145 | $400.00 |
| Crewse, Aaron | 70 | 75 | 145 | $400.00 |
| Hennigan, Bob | 75 | 70 | 145 | $400.00 |
| | | | | |
| Clendenin, Howard | 73 | 73 | 146 | $337.50 |
| Anderson, Josh | 73 | 73 | 146 | $337.50 |
| | | | | |
| Marek, Ian | 74 | 73 | 147 | $237.50 |
| Miller, Fred | 74 | 73 | 147 | $237.50 |
| McLaughlin, Mac | 76 | 71 | 147 | $237.50 |
| Archer II, David | 71 | 76 | 147 | $237.50 |
| Peterson, Kurt | 69 | 78 | 147 | $237.50 |
| Sotka, David | 68 | 79 | 147 | $237.50 |
| | | | | |
| Bryne, Brendan | 73 | 75 | 148 | $125.00 |
| Bryson, Rick | 73 | 75 | 148 | $125.00 |
| Spino, Bobby | 72 | 76 | 148 | $125.00 |
| Kabasky, John | 75 | 73 | 148 | $125.00 |
| Talbott, Alex | 72 | 76 | 148 | $125.00 |
| Kirby, Tanner | 71 | 77 | 148 | $125.00 |
| Cutlip, Dean | 70 | 78 | 148 | $125.00 |
| Paxos, Nick | 75 | 73 | 148 | $125.00 |
| | | | | |
| Lahnan, Larry | 73 | 76 | 149 | $100.00 |
| Thomas, Mark | 72 | 77 | 149 | $100.00 |
| Ungvary Jr., Joe | 75 | 74 | 149 | $100.00 |
| | | | | |
| Guadagni, Mark | 76 | 74 | 150 | $100.00 |
| | | | | |
| Lemon, Nevada | 78 | 73 | 151 | $ 50.00 |
| McKiernan, Conor | 77 | 74 | 151 | $ 50.00 |
| Krivanec, Jim | 73 | 78 | 151 | $ 50.00 |
| Knight, Jeremy | 72 | 79 | 151 | $ 50.00 |
| Kastor, Jack | 76 | 75 | 151 | $ 50.00 |
| Li, Tommy | 75 | 76 | 151 | $ 50.00 |
| | | | | |
| Stallsmith, Anthony | 73 | 79 | 152 | |
| Hinchcliffe, Tim | 76 | 76 | 152 | |
| Mosteller, Alex | 76 | 76 | 152 | |
| Sullivan, Kyle | 76 | 76 | 152 | |
| Maxwell, Ryan | 76 | 76 | 152 | |
| Mosholder, Zach | 73 | 79 | 152 | |
| McCaulley, Connor | 76 | 76 | 152 | |
| Schustrich, Rob | 76 | 76 | 152 | |
| Agarenzo, Mychal | 75 | 77 | 152 | |
| Chadima, Jason | 70 | 82 | 152 | |
| Clay, Josh | 75 | 77 | 152 | |
| | | | | |
| Baugh, Tom | 80 | 73 | 153 | |
| Heavner, Tim | 80 | 73 | 153 | |
| Marr, Dan | 77 | 76 | 153 | |
| Tidenberg, John | 74 | 79 | 153 | |
| Cea, Jim | 73 | 80 | 153 | |
| Spalding, AJ | 73 | 80 | 153 | |
| Yacovazzi, Anthony | 76 | 77 | 153 | |
| Loomis, Rob | 71 | 82 | 153 | |
| Oldfield, Ryan | 72 | 81 | 153 | |
| | | | | |
| Parker, Quinn | 79 | 75 | 154 | |
| Anagnost, Niko | 78 | 76 | 154 | |
| Headley, Ryan | 78 | 76 | 154 | |
| Vincelette, Brian | 77 | 77 | 154 | |
| Spalding, Stephen | 74 | 80 | 154 | |
| Kreider, Matthew | 77 | 77 | 154 | |
| King, Mike | 73 | 81 | 154 | |
| Okeson, Chris | 75 | 79 | 154 | |
| | | | | |
| Foutty, Blake | 80 | 75 | 155 | |
| Grieve, Mike | 75 | 80 | 155 | |
| Bethune, Wil | 77 | 78 | 155 | |
| Kammer, Lonnie | 76 | 79 | 155 | |
| | | | | |
| Lewis, Alan | 79 | 77 | 156 | |
| Bell, Ron | 80 | 76 | 156 | |
| Warren, Matt | 78 | 78 | 156 | |
| Furlong, John | 78 | 78 | 156 | |
| Merrow, Rick | 74 | 82 | 156 | |
| Bognar, Michael | 76 | 80 | 156 | |
| Freeman, Al | 76 | 80 | 156 | |
| Lenartowicz, Michael | 76 | 80 | 156 | |
| Slates, Chris | 73 | 83 | 156 | |
| | | | | |
| Gomez, Erron | 80 | 77 | 157 | |
| Miano, Tommy | 80 | 77 | 157 | |
| Loftin, Alex | 78 | 79 | 157 | |
| Cockerham, Jeff | 78 | 79 | 157 | |
| Arison, Tom | 75 | 82 | 157 | |
| Koza, Chris | 78 | 79 | 157 | |
| Metzendorf, Daniel | 77 | 80 | 157 | |
| Kraus, Mathew | 77 | 80 | 157 | |
| Simpson, Mike | 77 | 80 | 157 | |
| Uecker, Jack | 77 | 80 | 157 | |
| Lerner, Evan | 76 | 81 | 157 | |
| Minko, Paul | 75 | 82 | 157 | |
| Earle, Kenny | 75 | 82 | 157 | |
| | | | | |
| Goda, Dave | 79 | 79 | 158 | |
| Witmer, Michael | 78 | 80 | 158 | |
| Feith, Taylor | 74 | 84 | 158 | |
| Nixon, Brandon | 76 | 82 | 158 | |
| | | | | |
| Schreiber, Austin | 82 | 77 | 159 | |
| Boccio, Nick | 82 | 77 | 159 | |
| Moody, Nick | 81 | 78 | 159 | |
| Payne, Jeremy | 81 | 78 | 159 | |
| Kloetzer, Shaun | 79 | 80 | 159 | |
| Ciccarello, Mark | 74 | 85 | 159 | |
| Patella, Dominic | 76 | 83 | 159 | |
| | | | | |
| Hochschwender, Michael | 81 | 79 | 160 | |
| Markham, Tom | 79 | 81 | 160 | |
| Shomo, Matt | 80 | 80 | 160 | |
| Wenger, Jeff | 80 | 80 | 160 | |
| Lowry, Rich | 79 | 81 | 160 | |
| Zachardy, Jason | 80 | 80 | 160 | |
| Carpenter, Jay | 78 | 82 | 160 | |
| Thompson, Drew | 74 | 86 | 160 | |
| | | | | |
| Yanko, Rob | 78 | 83 | 161 | |
| Klein, Adam | 85 | 76 | 161 | |
| Griffith, David | 79 | 82 | 161 | |
| Harmon, Bobby | 79 | 82 | 161 | |
| | | | | |
| Richardson, Kevin | 83 | 79 | 162 | |
| Fleming, Doug | 77 | 85 | 162 | |
| Allio, Ryan | 81 | 81 | 162 | |
| Prokop, Ray | 86 | 76 | 162 | |
| | | | | |
| Alcorn, Dustin | 82 | 81 | 163 | |
| Berkheimer, Dennis | 81 | 82 | 163 | |
| Sloan, Kevan | 86 | 77 | 163 | |
| Kayafas, Chris | 83 | 80 | 163 | |
| | | | | |
| Shannon, Brandon | 79 | 85 | 164 | |
| Reed, Dieken | 79 | 85 | 164 | |
| | | | | |
| Chadima, Brian | 82 | 83 | 165 | |
| Wheeler, Pat | 85 | 80 | 165 | |
| Mastran, Mike | 83 | 82 | 165 | |
| | | | | |
| Scala, Sam | 85 | 81 | 166 | |
| | | | | |
| Bailey, Bruce | 81 | 86 | 167 | |
| Feeney, Pat | 80 | 87 | 167 | |
| Ward, Thomas | 85 | 82 | 167 | |
| Wilson, Steve | 85 | 82 | 167 | |
| Horne, Chris | 85 | 82 | 167 | |
| | | | | |
| Plute, Chris | 84 | 84 | 168 | |
| | | | | |
| Dugan, Michael | 81 | 89 | 170 | |
| Hamilton, Mike | 82 | 88 | 170 | |
| Kerns, Larry | 85 | 85 | 170 | |
| | | | | |
| Moore, Robert | 82 | 89 | 171 | |
| | | | | |
| Armour, Mike | 82 | 90 | 172 | |
| Barbas, Jeffrey | 89 | 83 | 172 | |
| Beresh, James | 85 | 87 | 172 | |
| | | | | |
| Chuparkoff, Kenny | 87 | 86 | 173 | |
| Lynum II, Warren | 86 | 87 | 173 | |
| | | | | |
| Shortridge, Mike | 87 | 87 | 174 | |
| Troutman, Ken | 79 | 95 | 174 | |
| Watkins, Tyler | 83 | 91 | 174 | |
| D'Andrea, Dante | 90 | 84 | 174 | |
| | | | | |
| Krill, Denny | 89 | 86 | 175 | |
| | | | | |
| Laubscher, Rocky | 90 | 86 | 176 | |
| Brown, Jim | 90 | 86 | 176 | |
| | | | | |
| Schustrich, Mike | 91 | 86 | 177 | |
| | | | | |
| Roth, Bryan | 82 | 96 | 178 | |
| | | | | |
| Pupino, Sam | 91 | 89 | 180 | |
| | | | | |
| McSteen, John | 94 | 88 | 182 | |
| | | | | |
| Sattler, Dave | 94 | 90 | 184 | |
| Feith, Dale | 93 | 91 | 184 | |
| | | | | |
| Reed, James | 92 | 93 | 185 | |
| | | | | |
| Corrao, Ryan | 94 | 94 | 188 | |
| | | | | |
| Harper, Kevin | 95 | 96 | 191 | |
| | | | | |
| Good, John | 102 | 102 | 204 | |