The team of Vaughn Snyder and Dave Oates shot one better than they did last year in the Joe Ungvary Sr. Memorial Jumble, and this time their victory was an outright one.
Last year, Oates and Snyder tied with Bobby Spino and Tom McBride at 66.
This year, their 4-under par total in the Scramble segment, 2-under par in Better Ball and even par in Alternate Shot earned them the 2020 solo victory. Their first place finish overall and T1 in Scramble earned the pair $787.50 total.
But the big winners on the day were Tommy Miano and Connor McCaulley. The pair made an eagle-2 on the par-4 12th hole to win the only skin on that six holes, capping off a spectacular Better Ball segment at 5-under par.
They began with a 3-under par Scramble and got to 8-under par after Better Ball, but struggled coming in at 3-over in Alternate Shot to finish one shot shy of the winners. But their T-2 overall combined with the Better Ball rout and solo skin earned the pair a tidy $1,115 on the day.
Good Park Golf Course was in great shape, the weather was ideal, and Tim and Kristin Davis put on a great event — thank you!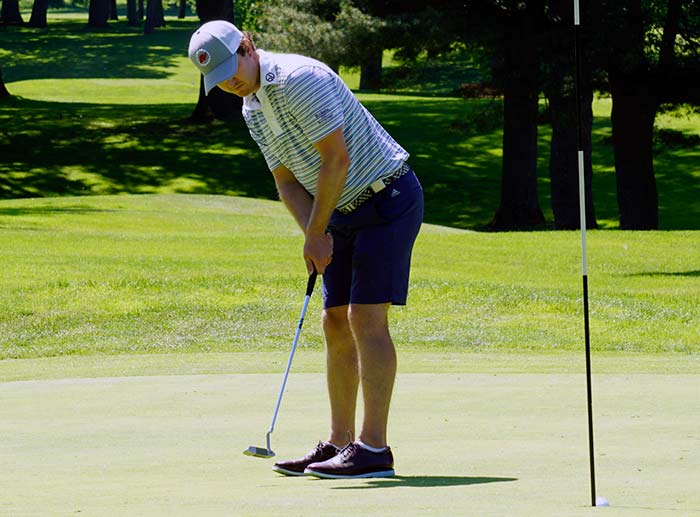 FINAL RESULTS:
2020 Joe Ungvary Sr. Memorial Jumble
Good Park Golf Course, Akron, Ohio
Saturday, June 6, 2020
OVERALL RESULTS:
1 Vaughn Snyder / Dave Oates 65 $600.00
T2 Miano / McCaulley 66 $400.00
T2 Stefanski / Wild 66 $400.00
T2 Garwood / Martina 66 $400.00
T4 Lieser / McVey 67 $65.00
T4 Wakeling / Simpson 67 $65.00
T4 Strope / Waligura 67 $65.00
T4 Cea / Bell 67 $65.00
T4 Freeman / Kovach 67 $65.00
T4 Clendenin / Blackburn Jr. 67 $65.00
T4 Karamas / Kloetzer 67 $65.00
Parker / Jones 68
Spino / Marr 68
Levengood / Miller 68
Schnur / Frey 68
Cutlip / Marsinek 69
Sotka / Anagnost 69
Koprevic / Bishop 69
Schneider / Prok 70
Ungvary / Griffith 70
Cutlip / Stormer 70
Loftin / Trent 71
Hull / Sutter 71
Beebe / Trier 71
Miller / Lahnan 71
Thomas / Fleming 72
Durban / Durban 72
Crewse / Lambos 72
Wenger / Kabasky 72
Luckenbaugh / Byers 73
Vincelette / Vincelette 73
Warren / Watkins 73
O'Boyle / Kreider 74
Miller / Stopps 75
Foschia / Decheco 75
Ream / Rybka 75
Fricker / Dante 75
Johnson / Jadgchew 76
Mastcko / Regpoulos 79
Wilson Jr. / Wilson Sr. 79
Terry / Nesic 80
Skorman / Landen 81
Carpenter / Jersey 83
Failor / Sweat NC

RESULTS: SCRAMBLE SEGMENT HOLES 1-6 – Par 24
T-1 Wakeling / Simpson 20 $187.50
T-1 Snyder / Oates 20 $187.50
T-1 Stefanski / Wild 20 $187.50
T-1 Karamas / Kloetzer 20 $187.50
SCRAMBLE SKINS: $30 Team (least tied)
Hole 2 – Eagle 3
Koprevic Bishop
Vincelette Vincelette
Crewse Lambos
Oates Snyder
K. Miller Levengood
Strope Waligura
Hole 4 – Birdie 2
Hull Sutter
Blackburn Clendenin
Luckenbaugh Byers
Wakeling Simpson
Spino Marr
Lahnan Miller

RESULTS: BETTER BALL SEGMENT HOLES 7-12 – Par 23
1st Miano / McCaulley 18 $350
T2 Strope / Waligura 20 $200
T-2 Cea / Bell 20 $200
BETTER BALL SKINS: $365
Hole 12 – Eagle 2
Miano / McCaulley

RESULTS: ALTERNATE SHOT SEGMENT HOLES 13-18 – Par 24
T-1 Lieser McVey 23 $125
T-1 Sotka Anagnost 23 $125
T-1 Schneider Prok 23 $125
T-1 Stefanski Wild 23 $125
T-1 Freeman Kovach 23 $125
T-1 Garwood Martina 23 $125
ALTERNATE SHOT SKINS: $365
Hole 14 – Eagle 3
O'Boyle / Kreider