Efforts of a small group of Northeast Ohio greenskeepers led to worldwide affiliation of profession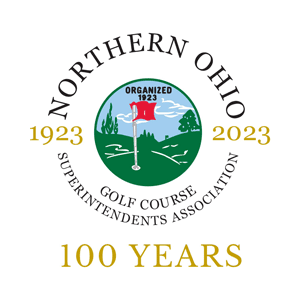 The Northern Ohio Golf Course Superintendents Association – the men and women who keep a watchful eye on the area's golf courses — will celebrate its 100th anniversary starting on May 12, 2023, by returning to its roots.
The NOGCSA will begin commemorating its milestone year with a kick-off event on May 12 at Youngstown Country Club, the home Colonel John Morley, who founded the NOGCSA . Leadership in Northeast Ohio eventually led to the 1926 formation of the Golf Course Superintendents Association of America three years later, which now totals 19,000 members in close to 80 countries.
"The efforts of Colonel John Morley and our founders laid the groundwork for the success of our industry not only in Northeast Ohio, but the world," said Mark F. Jordan, CGSC, natural resource leader at Westfield Group Country Club in Westfield Center, Ohio, and GCSAA and NOGCSA past president.
"The NOGCSA board has been planning a meaningful celebration of this milestone over the past year and we look forward to celebrating not only with our members but the community," continued Jordan.
The NOGCSA currently has more than 300 members at approximately 154 facilities and companies in Northern Ohio and extending into Michigan and Pennsylvania.
The parent GCSAA is located in Lawrence, Kansas.
NOGCSA History
On May 12, 1923, during a meeting at Westwood Country Club (WCC), the organization that began as the Cleveland District Greenskeepers Association became the Northern Ohio Golf Course Superintendents Association. Fred Burkhart, the greenskeeper at WCC, joined Morley as a founding father and was an early influencer in the new organization.
That led to the founding of the national GCSAA in 1926 – first known as the National Association of Greenkeepers of America — also organized by Colonel Morley. From there, affiliated chapters have been founded all over the world.
Essential to the Game
Superintendents are essential to the game, an absolute necessity in a billion-dollar business. They oversee the playability, the aesthetics and environmental leadership of their respective facility.
These are not people whose role is simply to cut the grass, water the flowers, rake the bunkers and set pin placements. These are people who have devoted their lives to the industry. A formal education is often required, encompassing agriculture, agronomy, landscaping, plant sciences, business management, personnel administration, and even public relations.
The NOGCSA chapter includes superintendents and their assistants, golf course equipment managers, turfgrass educators, students pursuing a career in golf course management and representatives of companies that provide golf course products and services.
HAPPENING IN 2023
The year-long celebration includes special events for members and invited guests at key locations in Northern Ohio:
• May 12, Celebrating Col. Morley – Youngstown Country Club
• June 5, Club Officials – Elyria Country Club
• September 11, Annual Clam Bake and Scholarship & Research Tournament – Portage Country Club
• November 11, Gala Celebration Westwood Country Club
About Northern Ohio Golf Course Superintendent Association:
The Northern Ohio Golf Course Superintendent Association is a professional non-profit organization founded in 1923. Our mission is to provide members a network of opportunities to excel professionally by sharing experiences on the maintenance and upkeep of golf courses and contributing to the enjoyment and the vitality of the game of golf. To learn more about the NOGCSA, visit https://www.nogcsa.com/