NOPGA Section raises $165,655 for Northern Ohio charities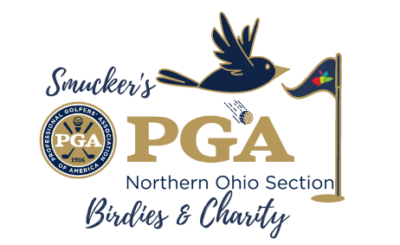 Members of the Northern Ohio Section of the Professional Golfers Association turned in a record-setting performance on Monday during the fourth Smucker's Birdies & Charity event at Avon Oaks Country Club.
Professionals from 24 clubs and facilities throughout Northern Ohio raised a record $165,655 by making 777 birdies throughout the day in the event conducted by the NOPGA Section Foundation. The money will be distributed to several charity organizations throughout the area as well as used in the section foundation's programming.
The total erased the previous record of $130,000 raised in 2022 and far exceeded the goal of $150,000.
NOPGA members solicited pledges from their respective club members for each birdie they made and collected flat donations.
The team of Kirtland Country Club Head Professional Mark Bixler and Director of Instruction Mike Pickett were the leading fund-raisers for the second year in a row, raising $46,986. Glenmoor Country Club Head Professional Meghann Glass-Stem was second with $14,241 and the Barrington Golf Club trio of Head Professional Todd Ekstrand, Todd Casabella, and Mark Sierak were third at $13,950.
Shady Hollow Country Club assistant Ian Haidle led everyone with 35 birdies, worth $3,950. Portage Country Club Head Professional Adam Lewicki was second with 34 birdies – worth $12,331 – and Stonewater Golf Club Director of Player Development Joe Meglen was third with 33 birdies that raised $5,409.
"I am extremely proud of our PGA Professionals and their dedication to our NOPGA Section Foundation and growing the game of golf in Northern Ohio," said NOPGA Executive Director David Griffith. "The money raised today will impact six deserving charities as well as help expand our foundation's programs."
PHOTO GALLERY from Avon Oaks >