The Northern Ohio PGA Section Foundation once again awarded two graduating high school seniors with $10,000 scholarships to pursue their higher education today. The Kenny Novak Scholarship Day is a Pro-Junior-3 Amateur format where the professional and junior play their own ball and the three amateurs play a shamble at 80% of their handicaps. Proceeds from the day were dedicated towards funding this year's scholarships.
The team of Joe Meglen, PGA, Jim Fisher, Ed Taber, Jerry Brown, and Ayden Richmond took home the Kenny Novak Pro-Junior-3 Am title at 28-under par.
The Northern Ohio PGA Section Foundation is proud to award Sophia Rosa and Daniel Donegan the 2022 NOPGA Section Foundation Scholarships.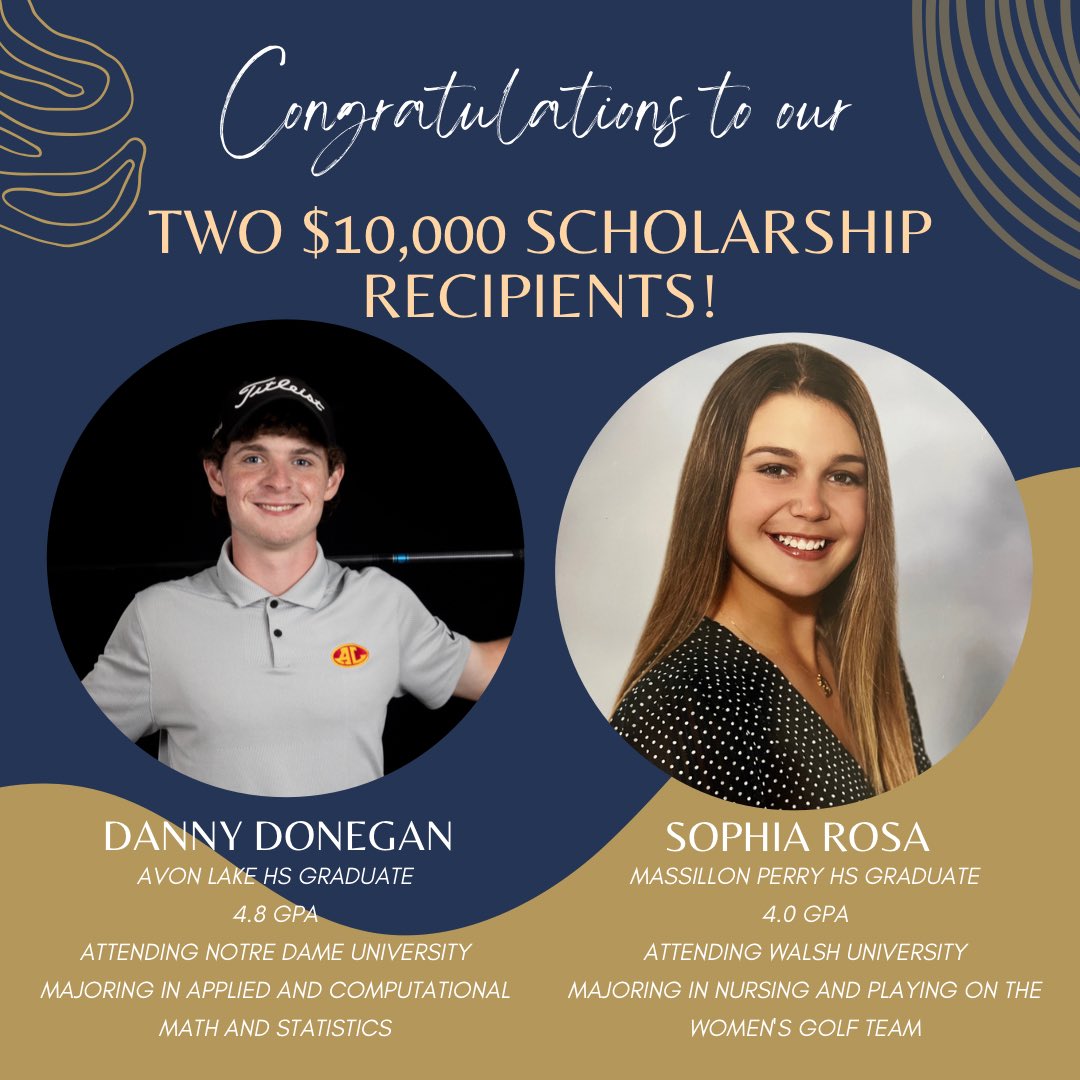 Sophia Rosa, Massillon
The female recipient of the 2022 NOPGA Section Foundation Scholarship is Sophia Rosa.
Sophia graduated from Massillon Perry High School this June with a 4.0 GPA. She has a passion for nutrition and fitness that will help her as she looks to major in nursing while playing on the Women's Golf Team at Walsh University this fall. It will be a difficult course load, especially while playing a collegiate sport, but Rosa feels that golf has been influential in developing her time management skills.
In her spare time, Sophia finds time to volunteer at the Stark Park Wildlife Center, a hobby that she has been actively involved in since seventh grade when she started volunteering with her grandma. During this volunteering, she would help make clean animal habitats, create the animals' diets, and spend time with the animals. In addition, Sophia was in the National Honors Society as well as the Interact Club and Athletic Leadership Council.
She feels that her greatest accomplishment was being named the 2021 Northern Ohio PGA Girls 16-19 Player of the Year and is looking forward to representing the Northern Ohio PGA throughout her career.
Daniel Donegan, Avon Lake
The male recipient of the 2022 NOPGA Section Foundation Scholarship is Daniel Donegan.
Danny Donegan graduated from Avon Lake High School with a 4.8 GPA. When asked what his favorite subject in high school was, Danny chose calculus, so it comes as no surprise that he will be majoring in Applied and Computational Math and Statistics at The Notre Dame University in South Bend, Indiana. Danny was a member of the National Honors Society as well as president of the Future Business Leaders of America. He hopes to use his mathematics major and background to help him work in sports analytics one day.
Danny was able to help volunteer with a Special Olympics physical education class after his high school basketball coach asked him to help out during some free periods in school. He enjoyed teaching others how to play sports and felt very fulfilled seeing others appreciate sports.
Danny feels his greatest accomplishment was being accepted into Notre Dame University and appreciates how this scholarship is going to help make school more affordable for him and his parents.
About the Northern Ohio PGA Section Foundation Scholarship
The Northern Ohio PGA Section Foundation Scholarships were created to annually provide two high school seniors with a four-year, $10,000 scholarship to assist with their college education. The recipients were chosen based on their merit in scholarship, community service, leadership, and financial need. The students selected to receive the scholarships will receive it in $2500 increments over the course of four years. To receive funding each year, additional paperwork including a copy of the student's transcript must be submitted to the NOPGA Section Foundation to ensure that the student is performing at an acceptable level. This year, the Scholarship Committee was made up of the following individuals:
Mark Sierak, NOPGA Foundation Committee Chairman
Michael Balog, Club Walden Member and Scholarship Supporter
Mark Telerico, Club Walden Member and Kenny Novak Supporter
Mitch Camp, Club Walden Director of Golf
Lynne Plaisance, NOPGA Director of Operations & Ohio Girls Golf Foundation Executive Director
Eileen Antenucci, Retired NOPGA Junior Golf Director
Dominic Antenucci, Retired NOPGA Executive Director
Steve Vaughn, Assistant Golf Professional at Weymouth CC & Retired High School Teacher
If you would like to contribute to next year's scholarship fund, checks can be made out to the Northern Ohio PGA Section Foundation and can be mailed to the following address:
Northern Ohio PGA
4735 Richmond Road
Warrensville Heights, OH 44128